Finishing off our look back at the 2007 season we take a look back at the Penn State Nittany Lions secondary.
Previously on TNL: Quarterbacks, Running backs, Wide Receivers, Offensive Line, Defensive Line, Linebackers.
Expectations
Coming into the season Penn State had a highly touted group in the secondary led by Justin King who many believe would turn the season into a coming out party as a superstar and can't miss NFL draft pick. Anthony Scirrotto was returning at safety and an emerging Tony Davis left his cornerback position to switch to safety to allow either Lydell Sargeant or A.J. Wallace to see the field. Both Sargeant and Wallace had plenty of potential and athleticism but lacked experience. King proved himself a formidable cover man in his sophomore season and teams went after Davis who often proved himself accumulating 13 pass breakups at corner the previous year. The cupboard was pretty full in the eyes of most people.
Reality
Amazing how things change so quickly in one season. The bad: Justin King became a liability at corner against bigger, taller wide receivers. Stats, oh we have stats!
| | | | | |
| --- | --- | --- | --- | --- |
| RECEIVING | No. | Yds | TD | Lg |
| Benn, Arrelious | 6 | 84 | 1 | 29 |
| Hardy, James | 14 | 142 | 2 | 26 |
| Thomas, Devin | 7 | 139 | 3 | 33 |
| | | | | |
I still have nightmares involving James Hardy absolutely owning Justin King. Ugly.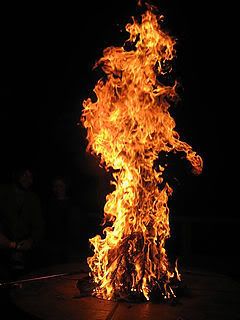 Justin King: man on fire!

Davis suffered several injuries including appendicitis which had him out for two games. The move to safety never really took as he was undersized for the position.

The Good: Lydell Sargeant established himself early on and threw in an amazing 70 tackles on the season to place him third on the team behind Connor and Lee. He was also second on the team recording 2 int's. Statistically speaking, Scirrotto had a decent year chipping in 65 tackles of his own and led the team with 3 interceptions. A.J. Wallace got better as the season went along and came on late recording his best game against Texas A&M in the bowl game.

He made five tackles (three solo), grabbed an interception, and made a crucial fumble recovery in the 24-17 victory over Texas A&M. He hustled to snare a fumble at the Aggies' 11 just before it went out of bounds in the second quarter. On the next play, Daryll Clark burst for the game-tying score.
Wallace also established himself as one of the most dangerous kickoff returners amassing a school record 581 return yards. Mark Rubin filled in for an injured Tony Davis nicely and established himself enough that Davis will return to corner leaving Rubin the full time starter for 2008.

Prospectus

This is Scirrotto's last chance at redemption after all the off-the-field stuff is now behind him. Elected a captain on defense, it will be up to him to show leadership now that Lee is out for the season. Mark Rubin makes up for his less than stellar coverage with a decent nose for the football and gives Penn State respectable run support. The trio of Davis, Wallace, and Sargeant give Penn State three experienced and athletic corners. The weakness of this team is depth, after those five it gets kind of thin but avoiding the injury bug, there's no reason why this unit cannot outperform last year's version. Sargeant, Davis, and Wallace have all started and done well in the past there's no reason they can't repeat that success this year. I think the move back to corner for Davis will pay dividends for Penn State as that seems to be his more natural position.