Screaming toward 2008 (it's the last full week of July already!?!?) it's time to finish out our look back at 2007 before moving on. Without further ado, here is a look back at 2007's version of Linebacker U.
Previously on TNL: Quarterbacks, Running backs, Wide Receivers, Offensive Line, Defensive Line.
Expectations
Gone was Paul Posluszny, leaving Penn State the leading tackler in school history but few had worries because waiting in the wings was Dan Connor who would move from outside to inside just as Posluszny did. Unheralded Sean Lee gave Penn State a one two punch that few Big Ten teams could match. With a bunch of talented yet untested linebackers vying for the last spot, this unit was supposed to be the strength of the defense. Connor was expected to overtake Posluszny in the career tackle race and compete for several post season awards.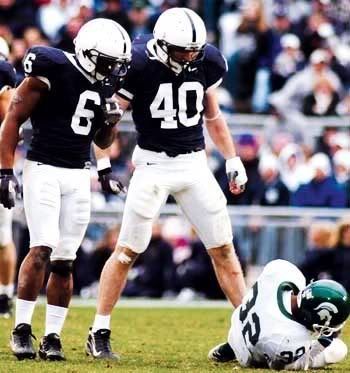 I care not for your tone of voice, sir.
Reality
The 2007 linebacking corps lived up to all the hype and then some. Dan Connor left Penn State with well over 400 tackles and was up for a bevy of awards including the Bednarik, which he won. Connor finished the season with 145 tackles, 6.5 sacks and 15 tackles for loss. Not to be outdone, Sean Lee nearly matched Connor with 138 tackles with 10.5 for loss. The winner of the "I get to be the 'other guy' sweepstakes" was Tyrell Sales who had a quiet but productive year chipping in with 5.5 tackles for loss and 3 sacks and 50 tackles overall. This unit was an incredible asset to the team and played game in and game out on a consistent, high level.
Prospectus
Sean Lee was supposed to return and anchor another great group of linebackers in 2008 but the universe gave Sean a swift kick to the crotch when he tore his ACL… in a non-contact drill. Let's just move on, typing that pissed me off. Tyrell Sales returns as the only veteran and will need to lead a young group. Even with the loss of Lee this unit should not be a liability, they are young but very talented. Chris Colasanti was one of only two true freshmen to see the field in 2007 and will get his fair share of playing time. Bani Gbadyu who saw action in every game last year also returns as does Josh Hull who played in every game the last two seasons. If Navorro Bowman gets out of JoePa's doghouse he will also get a good look, and don't forget about some of the incoming freshman. The first couple of games will probably be a showcase for all the possible options at linebacker and we probably won't see a concrete starting three until a couple games in. Regardless of who gets the job this unit will still be good, and as I said in my Defensive Line preview, the line will probably draw most of the blocking attention alleviating some of the pressure from the linebackers. This unit will be talented but it will definitely miss the on-field leadership of Sean Lee. Can someone step up and replace him? Only time will tell.