It's the middle of July, summer practice is right around the corner, and it will soon be time for unbridled enthusiasm and overly optimistic outlooks for the 2008 Nittany Lions but before we partake in that insanity we need to finish looking back… so that we may look ahead. It's a yin and yang thing. Anyway, here is a totally uneducated look at the 2007 Nittany Lion offensive line.
Previously on TNL: Quarterbacks, Running backs, Wide Receivers.
Expectations
With A.Q. Shipley, Rich Ohrnberger, and John Shaw all returning last season, no one believed the offensive line would be a liability but with the loss of first round left tackle Levi Brown, many were concerned Clubfoot Morelli's blindside would not be adequately protected. Up to 2007 Gerald Cadogan had been an up and down player who never really played at a level consistent enough to take over the starting role. There were also questions surrounding the guard position where redshirt freshman Lou Eliades was projected to start. While no one was ready to hit the panic button many (myself included) worried that this unit would struggle; especially against the big teams in conference.
Reality
The offensive line gelled quickly and by mid-season was the strength of the offense. Gerald Cadogan, Rich Ohrnberger, Dennis Landolt, and A.Q. Shipley were rocks all season long starting every game for the Nittany Lions. By the 7th game true freshman Stefen Wisniewski had battled his way into the lineup and got the starting nod against Indiana. Quantifiable statistics: As a team the offensive line did give up 20 sacks but how much of that was missed blocks or assignments by the linemen and how much of that was Anthony Morelli's lack of mobility and inability to THROW THE BALL AWAY! Sorry, flashback there. They came in 5th in conference in rushing offense and Scoring offense and a pedestrian 7th in total offense, but I'll defend the line by saying two words when it comes to the Penn State offense: Jay Paterno. Nuff' said, moving on: Rodney Kinlaw averaged just over 100 yards per game once he became the every day starter when Austin Scott was booted from the team. It speaks volumes that a perennial backup can step in have a 1000 yard season and the offensive line had a lot to do with that.
Prospectus
If the offensive line were a stock I would suggest you buy, buy, buy! All five starters return and this unit should be one of the best in the Big Ten.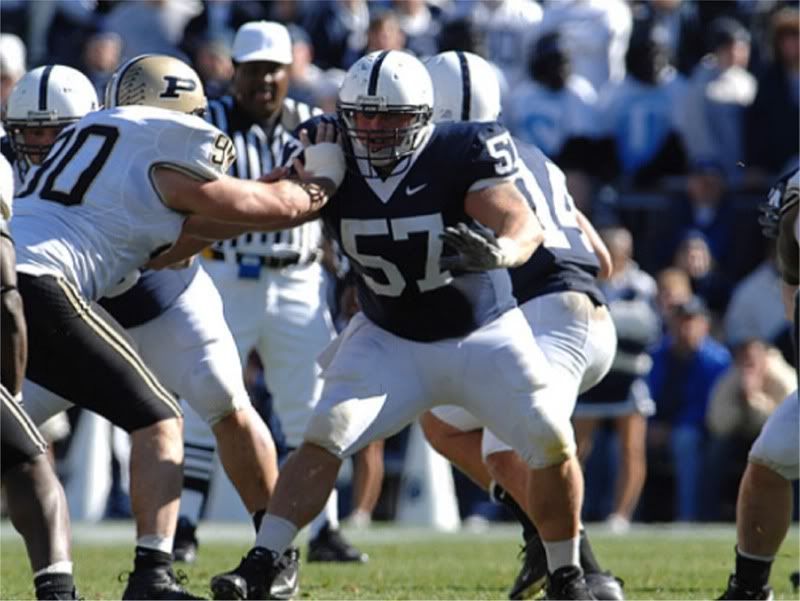 None shall pass!
Whoever starts at quarterback will certainly be more mobile than Anthony Morelli and with the mysterious 'Spread HD' offense the sky's the limit. Yeah, I chuckled too when I wrote that. The only thing that could slow this line down is injury and remember; Penn State pulled in two junior college transfers in Nerraw McCormack and Ako Poti to provide depth in just such an emergency. For the first time in several years Penn State fans don't have to worry about the big boys protecting their quarterback and opening holes for their running backs. Whoever ends up in the backfield will have plenty of time to throw and lots of holes to run through.