Moving on with our look back at the 2007 Nittany Lions; now that we have the offense covered it's time to move to the defensive side of things.
Previously on TNL: Quarterbacks, Running backs, Wide Receivers, Offensive Line.
Expectations
Coming into the 2007 season many 'experts' believed that the defensive line would be an asset especially with Sean Lee and Dan Connor gobbling up the blocking attention of opposing offenses. Sure there were question marks with the departure of end Tim Shaw and tackle Jay Alford but Maurice Evans showed a glimpse of brilliance in his limited playing time as a true freshman and Josh Gaines gave the team a solid end on the other side but the tackles were untested. But Phil Taylor gave Penn State a run clogging body and Jared Odrick bulked up and moved over from end to give PSU a second quicker D tackle. The line was young but talented and with LJ Sr. coaching them no one was worried.
Reality
Even the most optimistic outlook for the defensive line could not have predicted how good this group was. Even with injuries to Jerome Hayes, who moved down from linebacker to give the Lions a rush end, and Odrick the line dominated most of the season. Maurice Evans exploded for 12.5 sacks and 21.5 tackles for loss keeping opposing offensive tackles awake at night.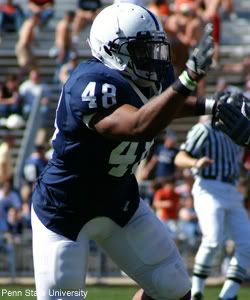 While not spectacular Josh Gaines, was solid chipping in 40 tackles 5 for loss. Chris Baker and Phillip Taylor combined for 57 tackles 14.5 for loss and 7.5 sacks. Aaron Maybin became a terror off the bench on passing downs and Ollie Ogbu and Abe Koroma provided depth.
Prospectus
As good as the defensive line was in 2007, this unit could be downright scary in 2008. All twelve players that saw action last season return. Maurice Evans will demand attention while Baker and Taylor should be a step better this season (provided they get out of Joe's doghouse) It appears Jerome Hayes and Jared Odrick are recovering nicely and should add depth. This unit has so much depth it's basically plug and play (how's that for a geeky computer reference), someone goes down, just insert the next guy and there won't be a drop off. As deep as this unit is the imminent return of Tackle Devon Still after redshirting due to a knee injury should add even more depth. Paterno was genuinely disappointed that Still got hurt at the beginning of last season actually making reference to it in one of his press conferences. When Paterno gives a true freshman credit you know he's something special. I wouldn't be surprised if Still ends up a starter before the season ends.
The bad news is this unit will draw all the blocking attention now that Sean Lee is shelved for the season. With no "star power" at the linebacker position the D-line will be the main focus of opposing offensive coordinators. That's not saying the linebackers aren't good, they will just have to prove themselves. Even with teams focusing on them, the D-line should still be the best unit in the Big Ten and one of the best in the country.