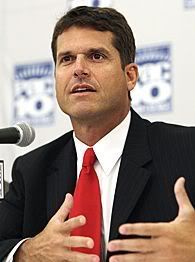 An open letter to the readers of The Nittany Line by Jim Harbaugh
Jim Harbaugh here – that's Coach Jim Harbaugh. The fine gentlemen at this esteemed weblog have done a fantastic job of covering my growing pains as a first-year head coach and I wanted to take the time to thank them. Galen has some sort of man-crush on me but I'm ok with that. While my comments have produced considerable resentment in Michigan fandom I stand by my assertions and patiently waited for the day they would be redeemed. I thought I would fire back with the fact that the University of Michigan only graduates 38% of its African American students as proof but that would be too easy. I needed something that drives my point home like a Mac truck through a house made of pudding but my target seemed to turn into a white whale. That is until today.
Let me put an end to the Michigan discussion in the most final way imaginable. Patrons of the Blogosphere I give you exhibit A: Michigan's own Marques Slocum and his fuck lion.
Michigan fans: Checkmate.
Have a fiend out day.
Signed,
Jim Harbaugh
Editor's note: as always, big HT to RUTS