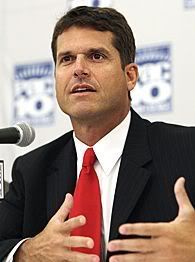 No, not according to ESPN…yet…but according to incoming Stanford coach and erstwhile Michigan QB Jim Harbaugh. "They may be the best team in the history of college football. My opinion," said Jimmy H at the Pacific-10 football media day, "I think their current team is that good."
Pete Carroll's response: "Gotta love Jim, don't you? I'm glad he thinks that."
So far Harbaugh has done a fine job of endearing himself to Carroll. Earlier in the spring Harbaugh said that a member of the USC coaching staff told him that Carroll would only be at the school for one more year.
While Carroll's team is picked to finish first in the Pac 10 by almost everyone, Harbaugh's team is just about as unanimously picked to finish last in the division. So this may be a chance for Harbaugh to build up the confidence of his #1 target in the conference but he would be wise to set his sights a little lower – angering the 800 pound gorilla on your schedule isn't the best strategic move.
UCLA defensive end Bruce Davis, who beat the greatest team in college football history last season, tends to have a different opinion. "I think that's part of the arrogance that comes with USC…If people want to say they're the greatest, yeah, that's fine. But what does that make us, if we beat the best college football team ever?"
I don't know what is more ridiculous – Harbaugh's comments or Pat Forde's article chastising those comments. Little history lesson for you Pat, lest you forget, the company you work for said the same thing about a past USC team. You remember, right before they lost the championship game to Texas a few years back? It may be totally absurd but don't be surprised if USC gets on an early roll that the Worldwide Leader will be right there with Jim.