For those of you new to The Nittany Line (TNL) or those of you that forgot we are having a weekly competition to see who the better prognosticator is: ESPN "experts" or our dogs. The original post with rules can be found
here
. In short, we will pick the best/juiciest game of the week and pit our dogs ability to choose the winner vs. Lee Corso (college) and Hank Goldberg (pro). But it doesn't end there; you the reader get a vote as well. We will post a poll each week and allow the wonderful readers of this blog to have their say, whoever gets the most votes will be considered the readers choice for the week. We'll keep tabs so keep coming back to vote. Since the pro's haven't started yet, we will only concentrate on this week's college game: Florida State vs. Miami on Monday September 4th.
Method: I placed two identical doggy treats on clearly marked team papers and let Brandi choose which treat (team) she thought was best. Week 1 is under way and Brandi, our college football expert has already made her pick. Without further ado, week 1's winner will be… (drum roll)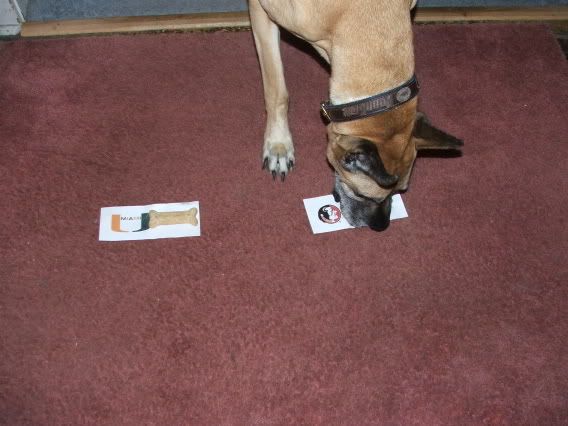 Florida State!
An informed choice by our expert, makes her master proud. Now we will wait for Lee's pick later this week. But you can vote now! To enter, click on your pick to the right under "The Game Of The Week" section.