Last Season:
Wisconsin played the usual role of overachiever last season going 10-3 and surprising Auburn in the Capital One Bowl 24-10, a game they thoroughly controlled much to the dismay of the experts. What kind of year was it? Going into week 10 against Penn State, Wisconsin was looking to take the lead in the Big Ten race which they would have with a win. The Badgers beat Michigan, but lost to Northwestern and a sinking Iowa late in the year, only to go on to throttle Auburn for Barry Alvarez's last game as a football coach before moving on to AD.
Outlook:
New coach and former defensive coordinator Bret Bielema takes over and returns what could be a significant improvement on defense (Wisconsin ranked 79th against the rush, 88th against the pass) with 7 returning starters from last season. The Badgers return only 2 on offense, with 3rd year starter John Stocco at quarterback and All-American tackle Joe Thomas. With non-conference games against Bowling Green, Western Illinois, San Diego State, and bottom feeder Buffalo, Wisconsin is all but guaranteed 4 wins. Couple that with no Ohio State or Michigan State and you have a tailor-made schedule for a big bowl birth and possible Big Ten championship.
Offense:

Returning starters: 2
Key Losses:

RB Brian Calhoun (1728 yards, 22 TD, 571 rec yards, 2 rec TD)
WR Brandon Williams (1095 yards, 6 TD)
TE Owen Daniels (268 yards, 4 TD)
TE Jason Pociask (79 yards)
WR Jonathan Orr (688 yards, 8 TD)
Key Returnees:
LT Joe Thomas (preseason first-team All-American & 2005 Academic All-Big Ten)
QB John Stocco (2,920 yards, 21TD, 9 INT)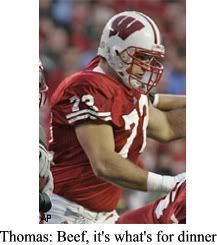 Defense:
Returning starters: 7
Key Losses:
LB Dontez Sanders (95 tackles, 9 TFL, 3.5 sacks)

Key Returnees:
DE Joe Monty (30 tackles, 3.5 sacks, 4.5 TFL)
DT Nick Hayden (56 tackles, 5.5 sacks, 9 TFL)
DT Jason Chapman (27 tackles, 1.5 sacks)
DE Matthew Shaughnessy (39 tackles, 2.5 sacks, 7.5 TFL) – both he and Jamal Cooper return from ACL injuries
MLB Mark Zalewski (83 tackles, 2.5 sacks, 12.5 TFL)
CB Allen Langford (39 tackles, 2 INT)
SS Joe Stellmacher (90 tackles, 2 INT)
CB Jack Ikegwuonu (26 tackles, 3 INT)
FS Roderick Rogers (56 tackles, 3 INT)

Game Outlook: Last season Penn State's defense looked at All-American running back Brian Calhoun as a challenge and limited him to 38 yards on 20 carries in Happy Valley; easily season lows. On the other side of the ball, the Nits controlled things from the start and finished with two 100 yard rushers in Tony Hunt (151) and Michael Robinson (125). There will be an emphasis on defense this year by Wisconsin and don't expect the same kind of output from Nittany Lion rushers. This could be a low scoring affair with both teams looking to control the ball. Wisconsin was always a ball control, run first play action pass second type of team and don't look for that to change with a new coach. There will be interesting matchups with Wisconsin's experienced front seven versus Penn State's offensive line, and Penn State's linebackers versus Wisconsin's bruising running backs.