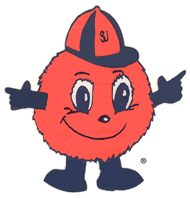 TNL said – 56-7 (PSU)
Actual Score – 55 – 13 (PSU)
I'll take that as a win thank you very much, you can't get a whole lot closer to the actual score without… well… guessing the actual score. Hey I was actually sober for the game so I can give some genuine analysis this time around.
Offense
It's so hard to pick through a game in which a team rolls up 393 yards… in the first half. Penn State put the game away by halftime 38-6 which is pretty much the way most of us expected against lowly Syracuse. Clark had what could be considered an "off" day fumbling on the second play and going a pedestrian 10-21 for 163 yards. Most of his throws on the day were high making his receivers do a little extra work to make the catch. But I don't think it's anything to be concerned about, they'll watch game film and make a couple tweaks and he still has one more tune up game. <sarcasm on> He does have a top notch QB coach to work things out with him <sarcasm off>. The only other negative to come from the game was the three fumbles but I think they're more of an aberration then a chronic problem.
While Clark struggled a bit, Penn State inserted Devlin in the second quarter and he took up the slack completing his first six passes and the first touchdowns of his career (2 total). At this point in the season I'm pretty comfortable with either quarterback in this system and if one is having an off day I feel confident the other can step in and get things going.
Evan Royster – still great. <sarcasm on> He did only averaged 7.8 yards per carry that's down from his season average of 8.1 per carry; he's just gonna have to work on that it's totally unacceptable <sarcasm off>.
Your attempt at a tackle displeases me
I swear each week the receivers get together and decide who's going to have a great week. This time around it was Deon Butler catching 7 passes for 110 yards and two touchdowns.
Paging Derrick Williams – you're up next
Not to be outdone Jordan Norwood put in his usual lunch pail afternoon catching 5 passes for 113 yards and two touchdowns.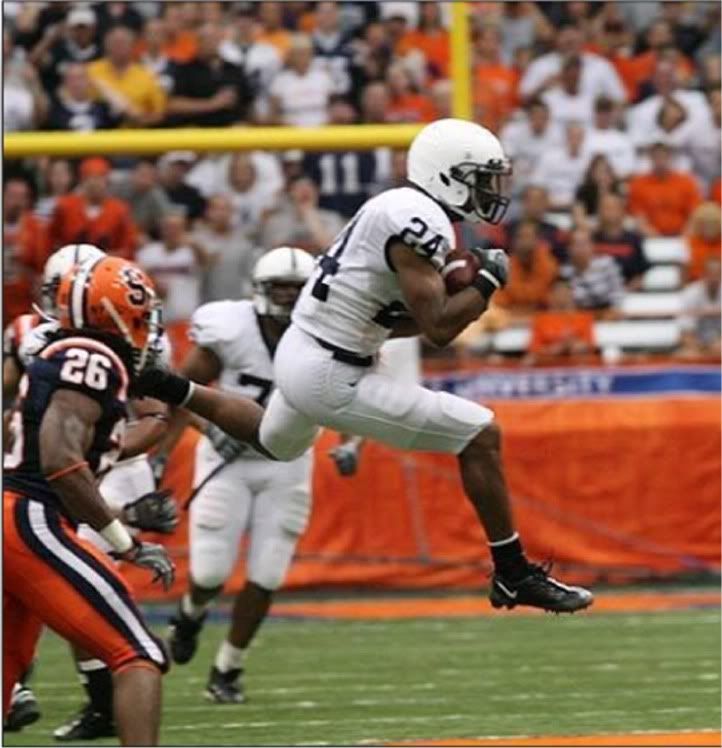 Weeeeeeeeee!
Norwood even attempted a WR pass to a wide open Butler in the second quarter and by "attempt" I mean he threw something that looked like those pass attempts you try with your left arm just to see if you can do it… you know; the ones that make you look like a girl when you throw it. Yeah, it wasn't even close, no more throws from Jordan please.
*NEW FLASH* the offensive line gave up a sack! Hey it was bound to happen sometime this year; they're still looking like a brick wall.
Defense
The defense held the orange to 8 first downs and 159 total yards, not too shabby. Ollie Ogbu and Jared Odrick did a great job of pressuring the quarterback and clogging up running lanes. Orange running back Curtis Brinkley, who was averaging almost 100 yards per game, had 30 in 14 tries and Cam Dantley only completed 40% of his passes for a meager 110 yards. The outside linebackers are really starting to step up. Navorro Bowman was around the ball all afternoon leading the team with 8 tackles and Tyrell Sales was second on the team with 5. Sure those aren't huge numbers but they didn't play most of the second half, both were around the ball and that's what we want to see from these guys. Aaron Maybin had Penn State's only sack on the day and Drew Astorino had the game's only pick.
Special Teams
Kevin Kelly finally connected on a long field goal converting a 52 yarder as time expired in the first half. It wasn't good by a little bit mind you it would have been good from 62- easily. Heck even backup Collin Wagner got in on the fun and easily hammered a 43 yarder, at this point it appears the Nittany Lions are good in the field goal department. Chaz Powell made up for his fumble by returning a kickoff 69 yards. Anthony Scirrotto did a nice job of fumbling a punt away, hopefully he's got that out of his system.
Overall
I walked away from this game satisfied that I saw pretty much what I wanted to see. Syracuse was grossly overmatched and Penn State throttled them from the start. It was great to see the defense step up and get the ball back when Clark fumbled on the second play of the game. It could have given the Orange some momentum had they scored but the D was having none of it. We still don't know how good this offense is, or this defense for that matter, and we won't know until Illinois comes to town. Penn State now gets a Temple team that suffered a last second hail marry loss to Buffalo, a game the owls gave up 449 yards. So they won't be much of a test either.