RUTS has portions of the police report regarding the "facts" of the Chris Bell attack. The affidavit can be found here but these little tidbits are the most important.

"Still reported he had an earlier conversation with Bell regarding stolen property. Still stated he suspected Bell had taken his cell phone case from the locker room earlier in the day, and also believed Bell had stolen some other property from him in the past. Bell denied the accusations to Still, and remarked he was going to purchase a new cell phone case, bring it to Still and see if Still would try to take it from him."

"Still advised later that evening, Bell entered the dining hall, approached him, and pulled a long fixed-blade knife from his shirt sleeve. Still stated Bell challenged him to take the cell phone case from him and stated, 'Come get the case and I'm going to stab you!' Penn State Football Offensive Graduate Assistant Samuel Perryman escorted Still away from the confrontation, and McQueary, Anderson, and Buggs disarmed Bell. Still advised as Perryman was leading him away from the area, Bell shouted to him, 'I have more knives and a gun up here!"

"The knife, which was recovered from Anderson, was a Good Cook straight blade cooking knife with a black handle. The blade measured approximately eight (8) inches, and the overall length of the knife was approximately twelve (12) inches. Perryman witnessed Bell standing before Still, holding the knife in his hand."
So there you have it, Still accuses Bell of stealing some stuff and Bell feels the need to go all Emeril Lagasse on his ass with a Good Cook knife.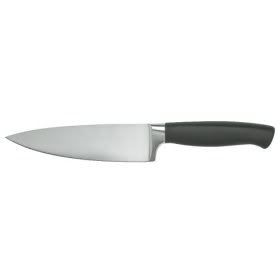 BAM!