Penn State closed out the home dual meet portion of the schedule by hosting Michigan State on Friday night and Purdue on Sunday afternoon, neither foe was ranked. As expected, Penn State thrashed both unranked opponents beating MSU 26-13 and Purdue 33-6. Sunday's dual was the last time Penn State fans got a chance to see three seniors: Tim Haas, Mark McKnight ranked 10th and 3-time All-American Phil Davis.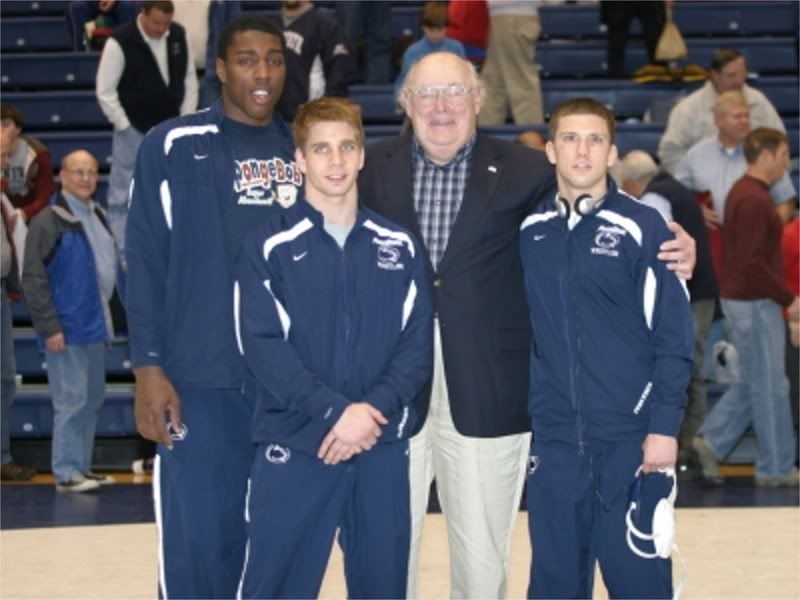 Thank you seniors!
The only matchup of ranked wrestlers in Friday's dual was at 197 were Phil Davis ranked No. 3 in the nation took on No. 16 ranked Joe Williams of Michigan State. It was clear from the start that Williams wanted absolutely nothing to do with Davis as he continually stalled during the first period and refused to try anything that resembled an offensive attack. At the end of the first period Davis had a 1-0 lead due to two stalling calls against Williams. In fact, by match end Davis would score another point on a stall call. Davis notched an escape and a takedown in the second but again could not turn Williams to his back. In the third Williams managed to attempt something that resembled offense and had Davis' leg only to be countered and taken down at the edge with time running out. Davis walked away with a ho-hum 7-0 victory.
The rest of the dual went as expected on Friday, Penn State lost a total of three matches: Rella, Haas, and freshman Eric Caschera who filled in for Mark McKnight. Dave Rella suffered a very bad lower leg cramp early in his match and had to injury default. Tim Haas faced the No. 4 ranked wrestler in the nation in Franklin Gomez at 133 and lost by a 13-5 major. Caschera made his Penn State dual meet debut by losing a 7-1 decision to Joel Trombley at 125. The rest of the team held serve and Penn State walked away with a 26-13 Big Ten dual victory.

In Sunday's dual, the team steamrolled (pun intended) an overmatched Purdue team 33-6. The only victory for Purdue was at Heavyweight where PSU's John Laboranti wrestled his usual boring close match before getting decked in the third period while trying to come from behind. Laboranti was down 6-5 and had just notched a takedown to close the gap. He let Purdue's Chris Kasten up to go for the bout tying takedown and was in deep but got caught on his back and pinned. Rumor has it that Laboranti is a takedown machine in practice, while that may be true, all the matches I've seen John wrestle have been close ones no matter who the opponent it. John seems to have the tools to be a good HWT but he is just way too timid.
Speaking of boring, pretty much the rest of the Purdue dual was a snoozer. Purdue chose to stall most bouts because in most cases they were outmatched. All three seniors wrestling their last home duals won. Phil Davis beat Purdue's Logan Brown at 197 16-5, Mark McKnight beat Akif Erin at 125 15-5 and Tim Haas defeated Sean Schmaltz 6-2 at 133. In the only matchup of ranked wrestlers, Bubba Jenkins defeated 14th ranked Jake Patacsilc 6-1. The only other match of note was Garrett Scott's pin of Matt Redmond at 141. Scott has really been impressive in the few matches I've seen of the true freshman and the future looks bright for him.
Penn State finishes out the dual meet schedule traveling to Lock Haven this Saturday night in what should be nothing more than a tune-up for the Big Ten Championships held the weekend of March 8th and 9th in Minnesota.