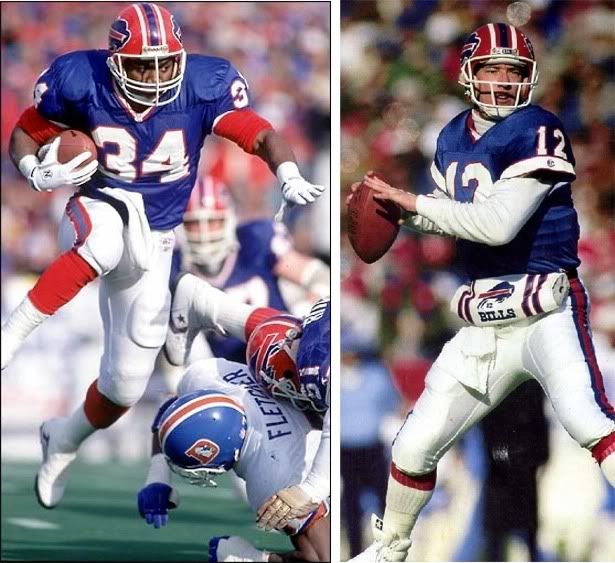 Who could forget Thurman Thomas, Jim Kelly, Bruce Smith, and Andre Reed of the late 80's 90's? The Buffalo Bills used a fast-paced, hurry up offense to overwhelm opponents in the AFC often blowing through the conference playoffs with ease. The only problem was, while they were winning four straight AFC titles, when they got to the Super Bowl they laid an egg – four straight times. Congratulations Ohio State, you are the Buffalo Bills of the college world.
Similarities:
Both teams won consecutive conference/division titles (4 straight for Buffalo - 3 straight for OSU).
Both teams generally won with ease (3 of the 4 years for the Bills – 2 of the 3 years for OSU).
Both teams had one close winnable game in the championship and consecutive blowouts to follow.
Both have become a running punch line (trust me Buckeye fans it's only a matter of time).
Differences:
If not for a late pass interference call there would be no differences but alas, OSU did win the one close game they were in; the Bills… still searching.
Random Thoughts

Even though Chris Wells ran for a 65 yard touchdown early on ,(slowly because the Big Ten doesn't have any speed) when Ohio State got down they panicked and abandoned the run way too early.
For the second year in a row Jim Tressel got completely outcoached again. For a team that puts a metric assload of talent into the NFL, OSU should be winning these games; this team should be a dynasty.
Big Ten coaches across the board should be watching the last two championship games because the SEC coaches have found something, if you can't glean anything from these two beatdowns you shouldn't be coaching.
If you can cover, blitz the hell out of OSU because they fold like Superman on laundry day (gratuitous Seinfeld reference).
Hey OSU, when Ryan Perrilloux enters the game it's going to be a run. Really. The God damn FOX announcer knew that why didn't you? Remember last year when Tim Tebow entered the game and you knew it was going to be a run yet you let him run all over you? Deja vu.
Where's the great D?: LSU had 326 total yards, 25 first downs and were 11-18 on third down. The 31 unanswered points spelled doom for Ohio State just like the 21 unanswered last year.
If you get flagged for 7 penalties, most of which are at the most inopportune times, you are probably going to lose.
Quote of the day - LSU safety Harry Coleman: "They didn't fight back like an SEC team would do." Ouch.
Thank God I wasn't rooting for Ohio State, it made it easier to go to bed long before this stinker was over and I don't feel bad about the loss.
OSU: time to change the locks to 38-24.