You know a lot of my Penn State brethren are actually pulling for Ohio State in tonight's "Championship" game sighting a myriad of reasons to do so. Hell even some Michigan fans are pulling for them. While I fully understand the reasoning behind it and don't totally disagree, rooting for the Buckeye's makes me feel a tad on the queasy side.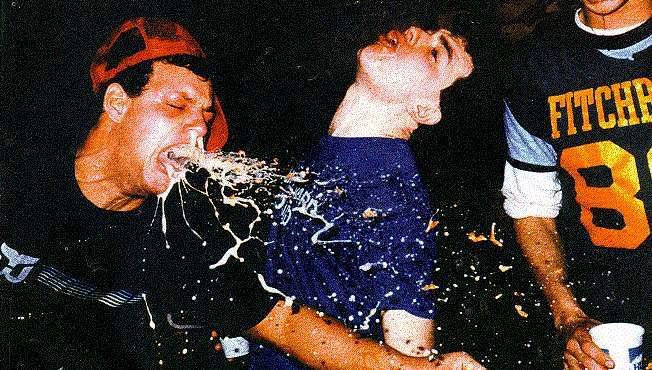 Me thinking about rooting for tOSU

The last time I actually rooted for Ohio State was when they played Notre Dame in the bowl game back in 2005, only because I think Notre Dame is probably my least favorite team. Now I know I'm going to get arguments on this I fully understand that. Everyone is hoisting the Big Ten flag and claiming it's a conference thing and that's exactly why I will NOT be rooting for OSU tonight: fuck the Big Ten. Why should I back the Big Ten when they failed to do the same for Penn State when they needed them most (at least the AP writers in the Big Ten)?
It goes way back to 1994 when Penn State had one of the most prolific offenses and an undefeated season but walked away uncrowned. Penn State was the first team in 26 years to make it through the Big Ten unblemished and they pounded most of the competition. They beat Michigan in Ann Arbor, killed Ohio State 63-14, and drove 94 yards in the final moments to beat Illinois 35-31, a team that had one of the best defenses in the country. Yet despite that, the AP voters that covered the Big Ten voted for Nebraska. Where was the Big Ten loyalty then? Most of those dipshits watched the Nittany Lions march all over the teams they cover (probably in person) yet they had the balls to vote for the cornhuskers. Kiss my ass; I have no loyalty at all to the Big Ten whatsoever. Before you flame away in the comment section, allow me to interject that I'm not rooting for LSU either; ESPN's pandering to the SEC has made it all but impossible for me to root for an SEC team. No, I will simply watch what I hope is a good football game with the knowledge that this is NOT a national championship game. Sure the winner will get to hoist the trophy but in a year where there were no clear-cut top 2 teams at least 4 or 5 teams can claim they deserved to be in this game and that's really sad. The records will say that the winner was the champ but in my mind it won't be decided after the final seconds tick off the clock. Just like 1994.
Go ahead, flame away people!