Penn State took on No. 17 Cornell Friday night at Rec Hall and destroyed the Big Red 35-10. While it was a dominating performance for the Nittany Lion wrestlers the outcome could have been a little different if Cornell had a full lineup. At 149 the Big Red chose to forfeit and at 157 Cornell's Jordan Leen, ranked No. 7, did not wrestle Dan Vallimont ranked No. 11 which would have been an exciting match, instead Vallimont posted a 12-3 major decision against backup Drake Hovis.
Celebrating 100 years of wrestling, Penn State broke out special white singlets for the match instead of their usual navy blue.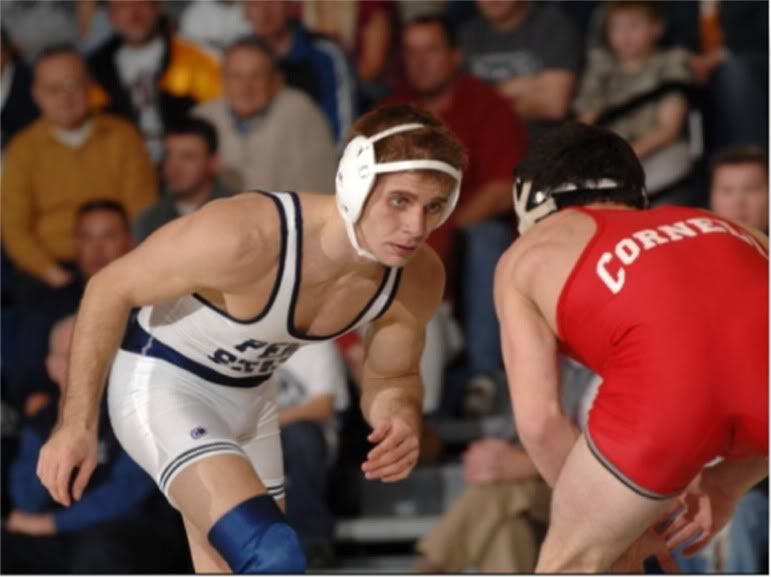 Stylin' baby!
The difference in the match was bonus points; Penn State had a 14-1 edge using three pins to lead the way. Jake Strayer dominated Eric McGill at 141 securing a technical fall with 5 seconds left but managed to turn Gill to his back and get a fall with 1 second left in the bout. Mark McKnight was in the midst of a scoreless bout at 125 when he reversed Cornell's Mike Rodriguez and caught him on his back for the pin to start the second period. The third pin was by cradle-master Phil Davis who quickly took down Matt Panasevich of Cornell and began working for his signature move. He nearly got it in the first minute but couldn't secure the pin. After a reset though, Davis cranked the cradle up again and this time planted the Big Red wrestler at the 2:15 mark of the first period.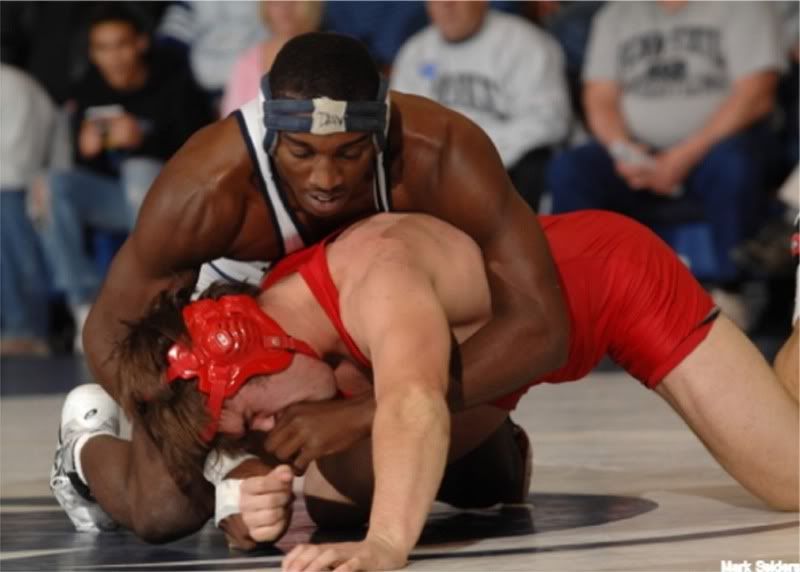 Yes it's as painfull as it looks
The other big win for Penn State came about at 174 where sophomore David Erwin, unimpressive so far this season, pulled out a stunning 6-4 victory over eight-ranked Steve Anceravage of Cornell. After a first period of flurries of shots, both wrestlers fought off everything thrown at them and the period ended scoreless. Erwin chose down to start the second and was turned to his back for two nearfall points. Controlled most of the period Erwin got all his points on one move. With just 7 seconds left, Anceravage tried to turn Erwin but was called for an illegal hold and Erwin turned into Anceravage and reversed him on his back for three back points. Anceravage started the third period down and quickly escaped to cut the lead to 6-3 and with his riding time point secured, the match was basically 6-4 and all Anceravage needed to tie the match was a takedown. But Erwin was the aggressor for most of the period and kept Anceravage on his heels securing the impressive win.
Penn State now heads out to Iowa next weekend for the 2008 National Duals hosted by Northern Iowa. The tournament features nine of the nation's top ten teams and 14 of the top 17.

Bout by Bout breakdown
133: #7 Mike Grey CU dec. Tim Haas PSU, 6-1
141: #2 Jake Strayer PSU pinned Eric McGill CU, WBF (6:59) 6-3
149: Garrett Scott PSU win by forfeit CU 12-3
157: #11 Dan Vallimont PSU maj. dec. Drake Hovis CU, 12-3
165: #3 Mack Lewnes COR maj. dec. Dave Rella PSU, 12-4
174: David Erwin PSU dec. #8 Steve Anceravage COR, 6-4
184: #15 Phil Bomberger PSU maj. dec. Michael Moore COR, 14-6
197: #2 Phil Davis PSU pinned Matt Panasevich COR, WBF (2:15)
HWT: #10 Zach Hammond CU dec. John Laboranti PSU, 3-1 29-10
125: #7 Mark McKnight PSU pinned Mike Rodriquez COR, WBF 3:37 35-10