I predicted 47-7 and the final score was 45-24 so I was off a tad but who would have thought our defense would allow that many points against Buffalo? I'd like to believe the team was looking ahead or insert some other excuse/cliché here but I'm a little on the worried side going into the start of the Big Ten schedule. Michigan looks like they have their Mojo back and will be ready and waiting for the Nittany Lions next Saturday. Let's hope the team is as hungry for a win against Michigan as the fans are. On to the specifics…
Offense
Facing a pretty bad Buffalo defense the Penn State offense did what it had to do – managed 393 yards of total offense with a lot of diversity gaining an almost equal number of passing yards and rushing yards (191-202). The offense started off slow and turned the ball over twice but managed to come through in the second and third quarters. The big story of the day was Rodney Kinlaw who came in to relieve an ineffective and fumbling Austin Scott. Kinlaw ran for a career high 129 yards and added a touchdown. Scott did reenter the game in the second half and ripped off a 40 yard touchdown run but it was evident the coaching staff felt better with Kinlaw.
Anthony Morelli rebounded from a sub-par game last week to complete 20 of 27 passes for 202 yards and a career high 4 touchdowns. Deon Butler led all receivers with 5 catches for 72 yards but it was Jordan Norwood's spectacular circus catch in the endzone for a touchdown that thrilled the Lion faithful.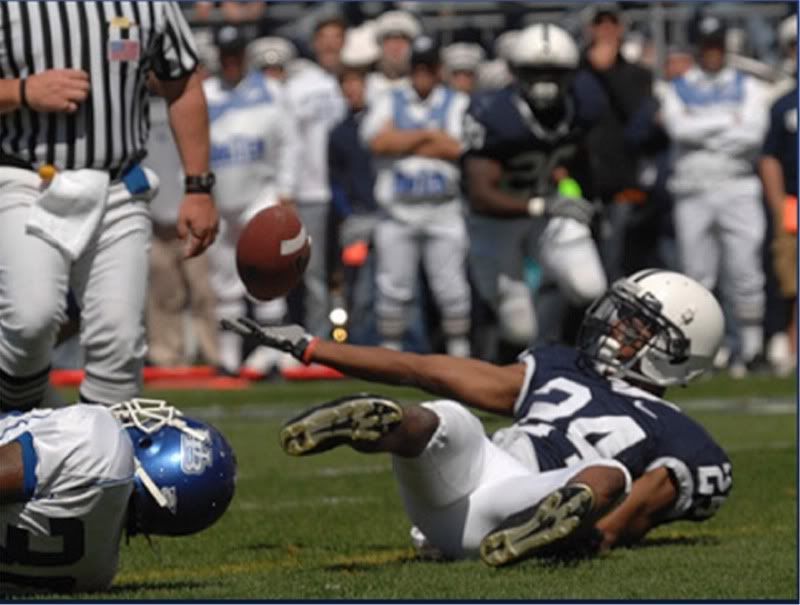 Andrew Quarless saw his first action of the season and he didn't disappoint catching two touchdown passes. Paterno seems pleased with Andrew and you can tell it's a different offense with him in there.
Apparently they taught Andrew some new tricks while he was suspended: good tight end, good boy!
Defense
This was the first game that the Penn State defense showed vulnerability. For the first time PSU gave up more yards (395) than the offense gained (393). They also gave up 24 points and their first touchdowns of the season. The coaches substituted pretty liberally early in the second half and it burned them – later the first team defense had to reenter the game to try and contain Buffalo. Despite the letdown the usual suspects turned in pretty good performances. Dan Connor and Sean Lee each had 12 tackles to lead the defense and they combined for 2 TFL and 1.5 sacks. No less than 11 players were in on tackles for loss and the team managed 4 sacks. It wasn't a great day for the defense but I don't think it's time to worry.
Special Teams
Kevin Kelly was one for two on the day missing a 46 yarder and making a 27 yard chip shot. Kelly continues to kick the ball deep on kickoffs registering 2 touchbacks. Jeremy Boone only punted the ball twice but made the most of it averaging 44 yards per kick with one inside the 20. Overall kick and punt coverage was good despite allowing a 52 yard kick return. The special teams are where they need to be entering the Big Ten part of the schedule.
Overall
The worst thing that could have happened to Penn State happened on Saturday – a Michigan blowout of Notre Dame. Michigan has their confidence back and now has motivation with the Big Ten schedule starting. Michigan can still win the Big Ten and get to the Rose bowl; Penn State has its hands full with them next Saturday. If Penn State turns the ball over and starts out slow against Michigan like they did against Buffalo, they will get creamed.