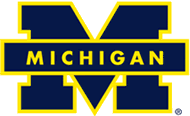 Schedule/Results
Appalachian State L
32-34
Oregon L
7-39
Notre Dame W
38-0
Team Overview
How scary is a wounded animal backed into a corner? Just ask Notre Dame. After two humiliating losses Michigan mauled Notre Dame from the start of play last Saturday causing 4 turnovers (two fumbles and two INT's) and holding Notre Dame to 79 total offensive yards. Yes this team is without their All-American quarterback Chad Henne but they still have unstoppable truck Michael Hart and the knowledge that they OWN Penn State.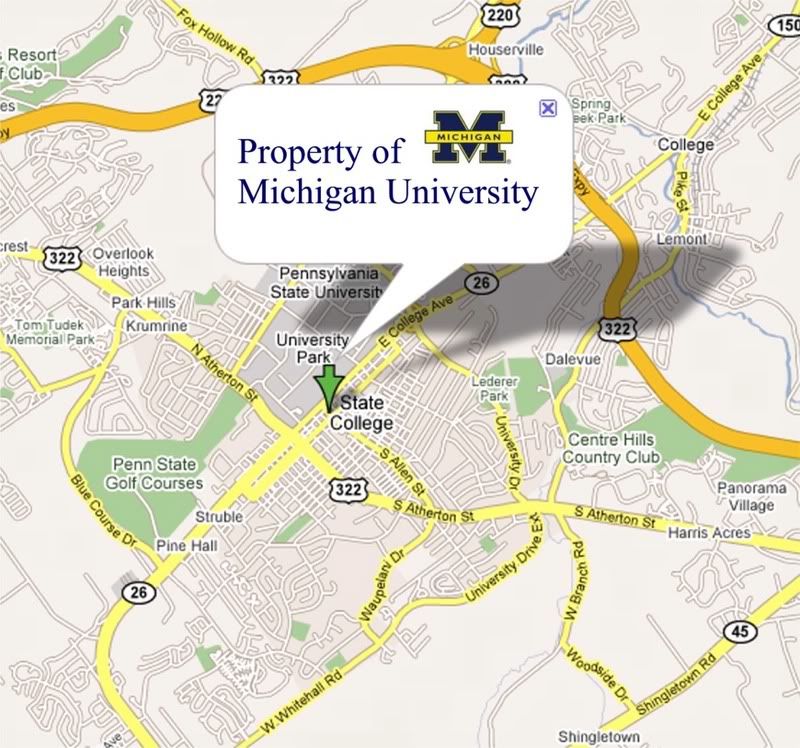 It doesn't take a genius to understand that with an 8 game win streak and talent that had them ranked in the top 10 in the preseason, this team will be the toughest test for Penn State.
Offense
Taking over for the aforementioned injured Chad Henne is true freshman Ryan Mallett the second highest ranked quarterback behind Jimmy Clausen in last year's recruiting class. You can't glean anything from Mallett's first start because he simply wasn't needed. The defense gave Michigan good field position and the running game provided all the offense the Wolverines needed. For the record Mallett completed 7 of 15 passes for 90 yards and 3 touchdowns. Throwing three TDs in 7 passes should tell you how much the running game carried them.
Against Appalachian State and Oregon the offensive line was dismal giving up 5 sacks and allowing Henne to get knocked out for 3 to 4 weeks. Even stud left tackle Jake Long looked lost at times as more speedy D-ends beat Michigan's tackles time and time again. The line hasn't had problems run blocking, although it helps to have Mike Hart, but Michigan has ran for no less than 221 yards in a game all season.
WR Mario Manningham was quiet in the opener but had 8 catches for 117 yards against Oregon and is still one of the biggest deep threats in the country. For the season Manningham has 218 yards with 1 TD and Adrian Arrington has chipped in with 136 yards and 2 TDs receiving.
Offensive player you should fear: Is it really necessary for me to type this? Mike Hart has been the lynchpin of the wolverine offense. He's not only the leader on offense he's unquestionably the team leader guaranteeing a win against Notre Dame and then coming through with 187 yards and 2 TDs. Hart is a very vocal, fiery guy who plays with a chip on his shoulder and has been the only consistent player on the offensive side of the ball. If it were not for him this team would have lost to Appalachian State much worse than they did. On the season Hart has 502 yards rushing, 5 touchdowns, and a 6.0 yard per carry average. Fear him.
Defense
What can you say about a defense that gave up 72 points to Appalachian State and Oregon and then rebounded to shut out Notre Dame? Schizophrenic? Granted Notre Dame is one of the worst offenses in the NCAA this year (God that was fun typing) but Michigan looked pretty strong against them. Still nothing has changed from last year except for the loss of some of their best talent. Their weakness is still the secondary and teams with a decent quarterback are going to exploit them. The defense has managed 13 sacks and 4 INTs this year but got torched by the two teams with something resembling an offense.
Defensive Player you should fear: Shawn Crable is a captain and leader of the defense. On the season he has 23 tackles, 6 for loss and 2 sacks. Crable sometimes lets his emotions get the best of him but he's a force on defense and will be tough to run against.
Special Teams
Amazingly the Michigan return game has been mediocre at best. Greg Mathews has handled the punt returns for an average of almost 7 yards with a long of just 13 yards. Similarly Johnny Sears is averaging just 22 yards per kick return with a team long of just 31 yards but it appears he's been kicked off the team for drugs. Penn State always gets burned by Michigan's return game so you know that will all change.
Kicker Jason Gingell has only made 3 of 6 field goals but two of those were not his fault because they were blocked. Manning the Punting position for Michigan is world dominator Zoltan Mesko. All kneel before Zoltan! The dominator has an average of 44.7 yards on 13 punts with 4 inside the 20. Fear the mighty leg of Zoltan.
Game Outlook
Until Penn State can prove they can beat Michigan I'm not going to pick them. A team that was on the cusp of packing it in for the season, Michigan now has momentum and dreams of a conference title with such a down year for the Big Ten. It's probably sad to say but the winner of this game has the inside track for the conference title. If Penn State doesn't turn the ball over they will win but that is a big if and I don't see it happening. When was the last time we saw a complete Penn State victory? When was the last time they played great in all facets of the game and controlled a game from start to finish? 1999 was probably the last time I remember.
Final Score
Michigan 17
Penn State 14
Rayden says:
The evil sorcerer Lloyd Tsung has defeated the virtuous warriors of Pennsylvania 8 times in a row and threatens to take control of all of Big Ten Realm. But Lloyd Tsung's powers have been weakened and his soldiers are injured - now is the time to strike. Concentrate on the opponent at hand and forget the past, trust in your training and destroy the sorcerer once and for all. The fate of millions rests in your hands, warriors of the Nittany Lion, do not disappoint us.