Notre Dame Fighting Irish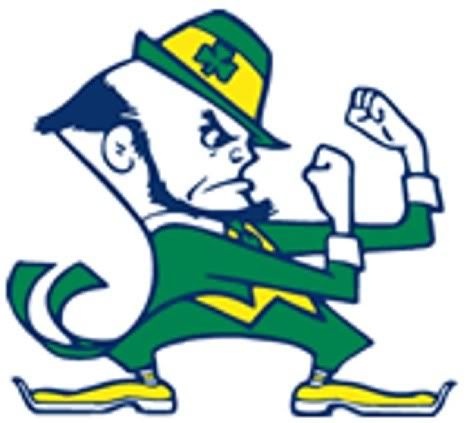 Team Overview
ND Coach Chuck Weis played his cards close to the vest last weekend hoping to gain an advantage on a very good Georgia Tech defense. Weis didn't name a starting quarterback in the hopes that preparing for three different styled QBs would be an advantage and instead of the pass happy attack of the previous year Notre Dame chose to grind it out on the ground to prevent mistakes. The results: 122 yards of total offense, 3 turnovers and a lopsided 33 – 3 defeat. So yeah… back to the drawing board.
Offense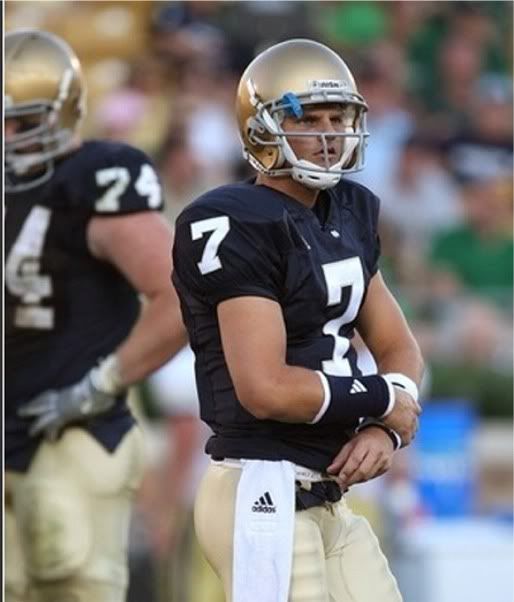 Abandoning all the cloak and dagger B.S., Weis named Jimmy Clausen his starting quarterback on Tuesday. Clausen didn't exactly light the world on fire in his first game going 4 for 6 for 34 yards in mop up time, but a week of practicing behind the first team offense should make things better for the celebrated freshman. QB Demetrius Jones was ND's leading rusher which should tell you something about how well the running game went. Notre Dame ended the day with minus eight yards rushing thanks in part to seven sacks on quarterback Evan Sharpley by the Tech defense. Notre Dame's longest run was 11 yards and no receiver had more than 30 yards. Georgia Tech gave the Nittany Lions a blueprint for shutting down the Notre Dame offense and it's one word: blitz. "We thought the challenge was to stop the running game to see if they could throw the ball well enough to beat us," said Georgia Tech coach Chan Gailey, "I thought we would play pretty well defensively."
Defense
Notre Dame's defense gave up 386 total yards of offense but more importantly they gave up 265 yards on the ground. Tech was able to pound the ball much to the amazement of their coach - "I did not know we would run the ball as well as we ran it today," said Gailey. While the 33 points was a lot to give up not all of the blame can be placed on the Irish defense, the offense had three turnovers and 5 of Tech's 7 scoring drives started at their own 40 or better. Linebacker Maurice Crum and Safety David Bruton had decent games getting 9 tackles each and combining for 3 TFL and a sack. Tom Zbikowski had a quiet day probably because Tech didn't throw his way.
Special Teams
Punter Geoff Price saw a lot of action punting the ball 7 times for a pedestrian 38 yards per. He did, however, boom one for 55 yards so the leg is there. Kicker Brandon Walker made a chip shot 24 yarder on his only attempt but let's see how the freshman handles the pressure of 110,000 screaming fans. The longest kickoff return was 25 yards and that was with eight tries.
Game Outlook
It's very tough to gauge this Notre Dame team, there are just so many caveats. Was the offensive line that bad to give up so many sacks or was it Tech's blitzing? Will a true freshman making his first start on the road be able to play the mistake free game they need to pull out an upset? Does Notre Dame have a viable running attack to keep pressure off said freshman? Was Penn State's outlook overinflated because they played one of the worst teams in Div I?
A lot of Penn State fans think this will be a blowout but I don't think so. Notre Dame will play much better than they did last week and Penn State has yet to play anything but a glorified scrimmage. Make no mistake, it's Penn State's game to lose, if they come out and play solid defense and protect the ball on offense it should be a win simply because PSU has a much more experienced team and it's Notre Dame's first game on the road in a hostile environment.
PSU 24
ND 10