So I thought Penn State would win by two touchdowns and it was three, I'll take that. The game pretty much unfolded like most thought – tough defense on the Nittany Lions' part and an opportunistic offense. Kudos to Penn State fans for pulling off the white out it was absolutely amazing.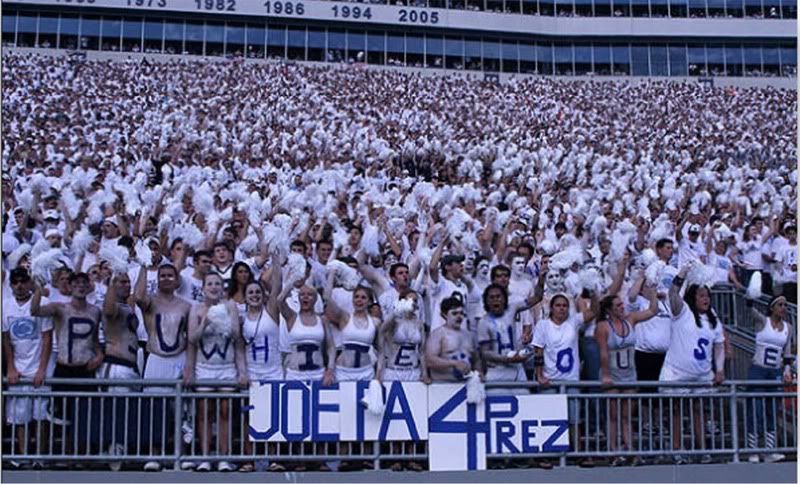 Offense
A far cry from a week ago the Lions relied on the ground game for points against the Irish. Austin Scott had a good day rushing 28 times for 118 yards and two touchdowns. In the second half Scott looked like the back everyone expected this season, he ran tough and showed some decisiveness hitting holes hard. Matt Hahn did a good job blocking and showed a good change of pace from the fullback position.
Outside of the running game though the offense was very pedestrian. Penn State gained only 295 yards while throwing for less yardage (131) than Notre Dame (144). Anthony Morelli gave the Fighting Irish 7 when he threw a pic-six to Darrin Walls in the first quarter on a horrible throw, and Scott fumbled on the next possession. Morelli finished a tad above 50% on the day and none of the big three receivers had more than 20 yards. The offensive line did ok giving up 2 sacks but doing a decent job run blocking.
The offense has to get much more consistent on both running and passing if this team is going to contend for a Big Ten title, but they were once again perfect in the red zone scoring on all four of their chances. That aspect of the game has greatly improved from a year ago.
Defense
What can be said about this defense so far this season? Yeah they have yet to face a good offense but they've completely shut down everything they've faced so far. Notre Dame managed one first down in the entire first half. Going into the season the only questions on the defensive side of the ball were on the defensive line and those have been answered. Maurice Evans looked great totaling two TFL with a sack and Jerome Hayes provides a nice rush end on obvious passing downs. Justin King was his usual stellar self.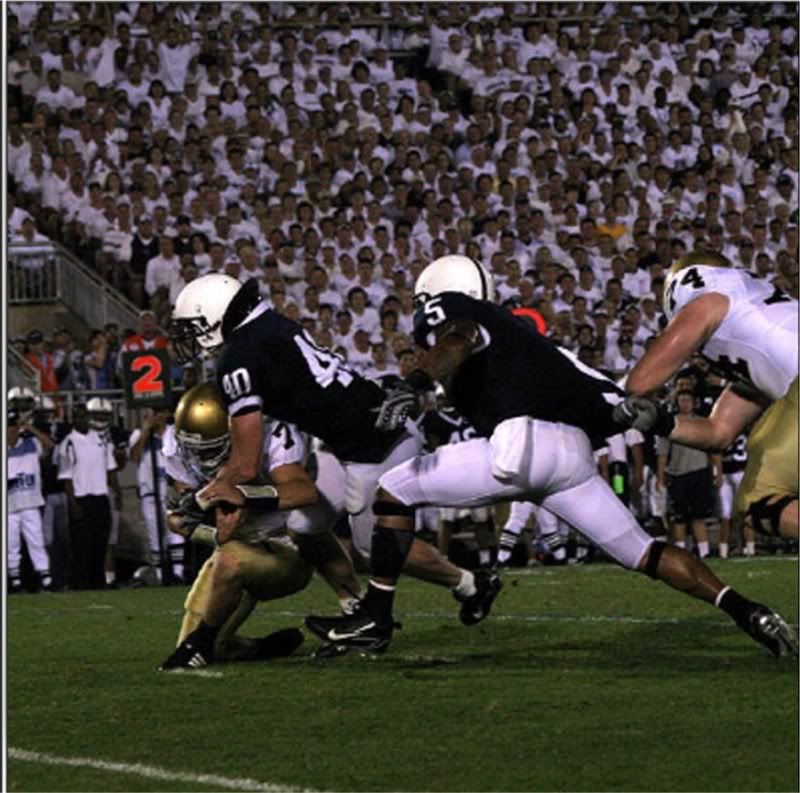 Then there's the linebackers. Dan Connor was named the Walter Camp Football Foundation's National Defensive Player of the Week for his effort against Notre Dame. Connor had a game-high 12 tackles with 2 TFL a sack and a pass breakup. Sales and Lee combined for 8 tackles 2 TFL and 1.5 sacks. This group continues to dominate opposing runners and has yet to allow a single net rushing yard.
Special Teams
The special teams are well… special. Jeremy Boone continues to impress averaging over 43 yards a punt with two inside the 20. Kevin Kelly made his only attempt and had enough leg to get two touchbacks despite the new kickoff rules. Derrick Williams punt return was electric and sent the crowd into frenzy. A. J. Wallace is a threat to take a kickoff to the house on any given return. The special teams will win a game for Penn State this year. The punt coverage on the Zbikowski return was a bit suspect but overall the coverage teams did well.
Overall
This was a night game with an amped up crowd hungry for revenge. Notre Dame just couldn't hang with a more experienced Penn State team. While I wouldn't consider the Irish a great team at least PSU manhandled someone with a pulse. I'm not ready to jump on the championship bandwagon yet but this team seems to be improving. I'm not too concerned with Morelli's numbers, PSU knew they could run against Notre Dame and they did. Now comes one more glorified scrimmage until a big road game in the big house.