It's Humpday and that means it's time to fire up the ever popular Blue & White Roundtable. This week RUTS has the questions and they're coming to you with an east coast flavor now that he has finally moved back home to the great state of PA. I'll post Nick's responses for now but due to technical difficulties I won't post mine until lunchtime. Hey look at it this way you can read now and then stop back this afternoon for my uninformed opinion – it's the gift that keeps giving.
Butch Davis says that he wants his North Carolina program to schedule road games against big-name schools in key recruiting areas. The UNC athletic department recently "sent letters inquiring about future games with several schools, including Penn State, Oklahoma, Texas and Texas A&M. If Penn State ever decides to stop picking on teams like Temple, Buffalo, and Florida International, what regions would you like the Nittany Lions to infiltrate for recruiting purposes?
Nick:
Well the line sure as hell won't start at UNC, unless it's for basketball. I want marquee appeal with the match-up as well. We get Alabama on the schedule soon, so out of the South (Georgia, Miami, Virginia Tech, LSU, Florida, or Florida State, maybe Georgia Tech), Texas (Texas or Texas A&M, maybe Texas Tech) and California (USC or UCLA, maybe Cal). Oklahoma, Nebraska and Notre Dame are neat match-ups from a tradition standpoint, but not necessarily for recruiting purposes, except for the TV exposure that contests like those are certain to provide.
Galen:
wooooh, what a visionary Butch Davis is – he's catching up with the 1970's. Isn't this standard practice for just about every school out there? But to the point… I would like Penn State to keep scheduling the Florida teams and concentrate on Texas. Back in the 90's PSU played Texas and Texas Tech but we've kind of lost sight of it. OSU played Texas the past couple years and they were barn burners with national attention; don't be surprised if it helps the Buckeyes in recruiting the state of Texas. It couldn't hurt to try and it could make for some interesting matchups.
Every season starts with concerns about certain players and positions. This year, someone has to fill the linebacker spot vacated by Paul Posluszny. Everyone knows that. Which position battle, currently flying under the radar, should Penn State fans be concerned with?
Nick:
It's not a battle per se, but rather how are we going to get Chris Bell on the field more and who's going to suffer for playing time between Williams Butler, and Norwood. Those guys are all pretty much the same receiver, whereas Bell has the size to make things happen that they just aren't capable of. Maybe split the backfield with Scott and Williams in a Reggie Bush type of role, Bell and Butler/Norwood at the receivers and Quarless at tight end, that gives you a lot of versatility. Scott really looked especially good in the Orange Bowl running when he lined up short, ran on instinct and didn't get stuck dancing. Meanwhile putting Williams deep set can either let him use his newly re-found speed and elusiveness or set up an option pass.
Galen:

I will have to agree with RUTS that the defensive line might be one of the more open battles but LJ Sr. will have them ready whoever gets the starting nod. The same cannot be said for the other side of the ball the offensive line battles scare the Hell out of me. The only consistent thing about the offensive line the past couple years is its propensity for inconstancy. I have very little faith in the coaches on that side of the ball and this year's outcome is strictly contingent upon above average line play. If this year's line plays similar to last year's it's going to be a long season of low scoring again.

The Big Ten Network promises to show 600 hours of Penn State athletics, including at least three football games. Out of 600 hours, how many will you actually give a crap about? Do you think the conference will get a deal done with Comcast in time for the season opener against FIU?

Nick:

A good deal of it, I'd watch basketball (men's and women's), as well as sports like wrestling, women's volleyball, soccer and maybe even gymnastics. I know we have great teams in those sports and outside of the couple times I'm on campus each year, don't get to see them. I would even like to watch some fencing, matches are fast and a little confusing, but we're badass and I want to see it. As for Comcast, they can suck it I have DirecTV.

Galen:

It's looking more and more like Comcast is just going to stonewall the BTN. I can't put a finger on how much I'll watch but I probably would watch volleyball (both M & W), Baseball, some softball and without a doubt everything remotely associated with Wrestling. So yeah, the BTN is probably something I'm going to like too bad it may be on my new Direct TV dish and not Comcast. That's not an idle threat.

Michigan's generally regarded as the conference favorite heading into this season. Who will be the worst team in the Big Ten?
Nick:

I don't want to say it, but probably Indiana. The Terry Hoeppner tragedy has the terrible potential to destroy everything he was able to gain with that program.

Galen:

With the unfortunate loss of coach Terry Hoeppner Indiana could be in for some rough times this year. The only think going for them is they don't have to play Michigan or Ohio State but if they lose an early game to Illinois it could shake the players confidence and start the ball rolling toward a very bad season. With returning starters Kellen Lewis (QB – Soph.), James Hardy (WR – Jr.), and Marcus Thigpen (RB – Jr.) the offense will be intact but the biggest losses came on the defensive side which couldn't hold a decent team below 20 points last season. The Big Ten will score often against this unit.

Awww, did you get frozen out of season tickets this year? Don't worry, you can always be a gate attendant, parker, or usher! If you don't have tickets, would you take one of these jobs just to get inside the stadium?

Nick:

No, but if you've got tickets I need them. This is the first time I was able to afford to do the Nittany Lion Club and season tickets, since I had just paid off my lifetime Alumni membership. Guess what, you fucked me over already (great business decision Penn State!) you may have potentially alienated a long time giver right out of the gate. I swear to God if I see those same fucking scalpers outside the stadium that I do every year I am going to be royally pissed and won't be donating anymore money to you assholes.

Editor's note: Somebody needs a hug!
Galen:
I went to the post office Monday afternoon and was greeted with this: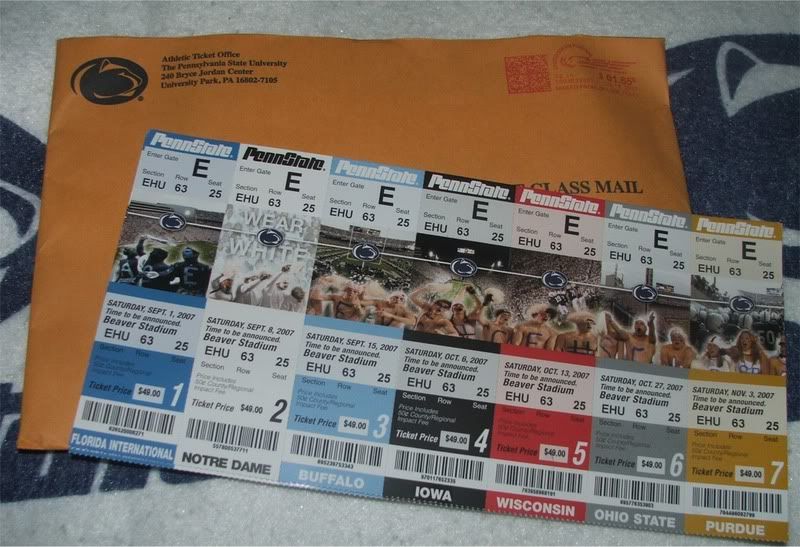 Considering it was Monday and I usually only get bills in the mail it made me freakin' happy. If I was locked out this year I would still go over, tailgate, and sit in the parking lot and watch it on Direct TV. Screw the usher jobs I wouldn't want to deal with drunks… well… like me.
Lightning Round

Who are your favorite college football play-by-play and color announcers?
Nick:
Ron Franklin and Todd Blackledge are the guys I enjoy the most, Herbstreit isn't too bad either. They're knowledgeable and for the most part unbiased, you would almost have no idea Blackledge played at Penn State if it wasn't mentioned.
Galen:
I really enjoy Herbstreit as color man, he's knowledgeable and fair. As for play-by-play I would have to say anybody but Pam Ward. If I have to hear her awkwardly husky voice one more time I'm going poke my ears out with toothpicks.
Lee Corso: Blight on the football world or coy, lovable jackass?
Nick:
Both, he can be a lovable Jackass when he's doing his shtick, but a blight on the football world if he tries to make any honest, insightful observations.
Galen:
He's completely harmless as long as you don't take him too seriously.
Which non-Penn State, non-Big Ten game would you seriously consider selling a kidney to attend?
Nick:
LSU – Alabama, you just have to make time for that shit.
Galen:
The World's Largest Outdoor Cocktail Party – or whatever they PC police want to call it today.
There you have it head on over to RUTS, BSD and There Is No Name On My Jersey to get their take and as always leave your thoughts in the comment section.