It's Wednesday and that means it's time for…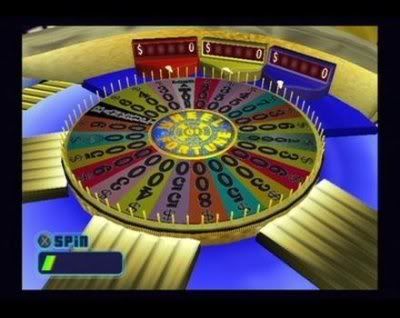 wheel…
of…
fortun...
oh wait… I mean Blue and White Roundtable. Sorry game show fever got me there. This week it's Mike's turn from Black Shoe Diaries and he wants to know about my car. Scary. There's some stuff about recruiting and there may even be a Jim Delany sighting, won't that be fun? Here goes…
Last week Indiana head coach Terry Hoeppner died from his year long fight with brain cancer. Will this serve as an inspiration that will lead the Hoosiers to their first bowl game in 14 years or will it plunge them into the basement of the Big Ten?
Well looking at their schedule the Hoosiers get Indiana St., Western Michigan, Akron, and Illinois to start. Out of those Western Michigan is the only team with a winning record. Maybe a 4-0 start will help build momentum enough for a "win it for Terry" type campaign. Iowa is the first road test and as bad as the Hawkeyes were last season maybe Indiana can pull off the mild upset. Anything can happen; I'll be cheering for them.
Negotiations between Big Ten chief Jim Delany and cable television provider Comcast over distribution of the Big Ten network are getting ugly. Now each side is demanding the other side apologize for public remarks they made. Who is the bad guy in all of this and who is going to get screwed?
Who is getting screwed!?? ME DAMNIT!! Me and everyone else that has Comcast – if it weren't for the high speed internet that cable offers I would have ditched Comcast years ago, they are the worst cable system in America and they are extremely expensive and now they want us to buy their "digital tier" to see the Big Ten network: go screw yourself. If I have to buy Digital I'm going dish, assholes – count on it. I love how they classify the BTN as "niche market" and that they don't want to "force customers who have no interest in the content to have to pay for it." Hell I have no interest in ¾ of their stations why do I have to pay for them? And they're trying to tell me that broadcasting women's sports won't bring in a female demographic previously apathetic to sports? The BTN won't be better then say TNN or Hell MTV or VH1 for that matter? Don't get me wrong Jim Delany is a chest pumping, narcissistic, jackass who makes it his goal to embarrass the Big Ten on a semi-annual basis but Comcast is more at fault – their service is shitacular and overpriced.
This week Penn State picked up two linebacker commitments from Mike Mauti and Mike Yancich. Mauti and Zordich are legacy recruits and Yancich isn't even the most coveted linebacker on his high school team. Do you think PSU should have held out for a bigger name recruit like Jon Major or would you rather take the safe choice and get the roster spot filled with solid though not All-American-type talent?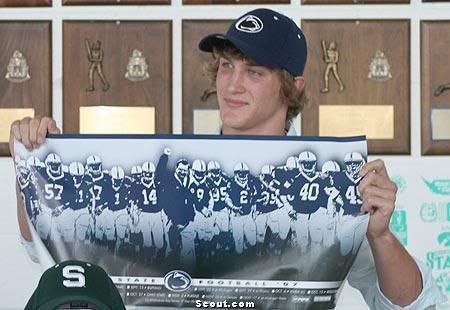 You have to be careful when comparing two guys that are highly recruited (Yancich is listed as 4 star by Scout) – who will end up the better college player is anybody's guess. He impressed people at combines when compared side-by-side with some more highly recruited athletes and the coaches must see something in him for them to go after him so hard. You have to build depth and Linebacker is one position Penn State can afford to take someone that may not be a sure-fire All-American but that doesn't mean he won't have a great career. Trying to figure out how 17 year old kids are going to handle college football is a crap shoot.
Many people are picking Wisconsin as a darkhorse to win the Big Ten. Where do you think the Badgers will finish this season?
Again you have to look at the schedule and their out of conference schedule is pathetic. They don't get OSU or the Wolverines until late in the year and their first big road test is against the Nittany Lions which happens to be their 7th game of the season. If they are 7-0 and can get by Penn State (yes I just cramped up typing that) they have as good a shot as any to win the Big Ten. If they played Michigan at home I would be even more of a believer but it's in Ann Arbor so that probably will be a loss. Michigan would be my pick right now but I think 3 or 4 teams could win it if things fall in the right place.
Editors Note: I'm a moron that can't read schedules the Michigan game is a HOME game for Wisconsin. That's what I get for drinkin' and bloggin'.
Last week Paterno was in Pittsburgh and the local media asked him about renewing the series with Pitt. Paterno basically said over my dead body. Is there any scenario under which you could see the series resumed?
Yes: Pitt gives Penn State a 2 for 1. It's really that simple. Penn State fans aren't going to buy Pitt-Connecticut tickets to go on the road to watch PSU – Pitt anymore; that garbage is for the birds. We'll do it once for every 2 trips Pitt makes to Happy Valley but not one for one. Pitt had it their way in the distant past when Penn State traveled 2 for 1's and sometimes more to play Pitt but now Penn State is the bigger program and Pitt has to swallow their pride and take it like men – otherwise have fun playing Grambling State and Eastern Michigan.
Lightning Round – Pimp My Ride Edition
What kind of car do you drive?
Now THAT is funny. I like to call it the pimp sled, baby… that's right a 1995 Geo Tracker which I'm told is the car of choice of lesbians for some reason. It's rusty as hell but it's 4 wheel drive, has been good to me and gets 30 miles per gallon. I'll drive it into the ground.
How do you get the tunes you listen to while driving: AM/FM, Satellite, CD's or iPod?
CD's and a very old Kenwood CD player which is about as old as the car but like the Tracker it's been good to me. I just recently purchased an MP3 player for my Vegas trip (welcome to the 21 century Galen) and I don't know how I lived without one. My next car stereo will be MP3 player compatible.
On a scale of 1 to 10, how clean is your car? Ten being a surgical clean room and one being a toilet seat recently used by Paris Hilton?
Oh God I'd say 1 but I'd burn my car if Paris Hilton was anywhere near it so I'll go with 2 – washed once a decade.
There you have it for this week head on over to BSD and RUTS to get their thoughts. Also I want to pass along another important link. A lot has been said lately about Judicial Affairs handling of the Nittany Lion Fight Club but the real scoop can be found at Fire Mark May. Trev has an exclusive one on one with Joe Paterno's oldest friend and strength and conditioning coach - he sets things straight. Go take a look and as always leave your thoughts in the comment section below.