It's Wednesday and that means Blue & White Roundtable. The illustrious Mike from Black Shoe Diaries has the questions this week and he's getting all techy on us with iPod questions and stuff…




The NFL combine was this past weekend. How do you think the Penn State players did? Did anyone help or hurt their stock?


As Run points out -Tim Shaw may have just made himself some serious "screw you money" by running a 4.43 40-yard dash. Think about it, you're an NFL scout watching Paul Posluszny and feeling pretty good about him even though he ran a 4.67 forty because the intangibles probably make up for his lack of speed. Then comes this Tim Shaw guy, an almost physical clone of Paul (Tim is 2 pounds lighter and 1/10 of an inch shorter), who blows everyone away by running faster than most running backs. I'm sure a lot of scouts made some calls - after verifying their stopwatches where indeed working.

Who would you take as the #1 overall pick in the NFL draft this year?


Without a doubt, Calvin Johnson but a wide receiver is the last thing the Raiders need. If I were the Raiders, I would take Jamarcus Russell in a heartbeat. The guy has a rocket arm, great touch, and can get himself out of trouble with his legs. Throw in the fact that he's roughly the size of an male Grizzly bear at 6-6, 260ish and I think you have a no-brainer.
Caution: Do not feed Jamarcus
The men's basketball program has been a complete disaster this year. Besides coaching changes (we'll get to that later), is there anything the athletic department can do to improve the Penn State basketball program or are we destined to be the Big Ten doormat forever?

Coaching changes aside, what more CAN they do? They built a top-notch facility with the Bryce Jordon Center and thanks to football money the team doesn't have to worry about fiscal responsibilities. I don't know what else the university could do – perhaps more midget wrestling at half time?
Much has been said about Jim Delany's letter disputing the article in the Chicago Sun Times claiming that the Big Ten cannot compete with the SEC anymore in recruiting talent. What's your reaction to all of this?

Actually I wrote a very detailed response to his letter earlier. He didn't actually say the Big Ten can't compete anymore, he said we won't lower our academic standards to allow more athletic but academically sketchy players onto our teams. I think it's funny but it sure has pissed off a lot of SEC fans, and the response has been amusing. At least it gives us something to argue about in this dead period.
Winter drills are underway for the football team and spring practice starts in a few weeks. Which position battles interest you the most?

I would love to see the battle for Defensive End. There are a lot of young, talented kids at that position and I really don't know if there is a favorite. Actually most of the defensive line should be a tossup.
Sticking with the tailgating theme from last week, it's 7 AM and you're rolling into State College and setting up your tailgate party. The game starts at 8 PM and you've got 12 hours to kill. How do you pass the time?
-Beer Pong
-Redneck Golf
-Redneck Horseshoes
-Satellite TV

*Note: Order subject to change.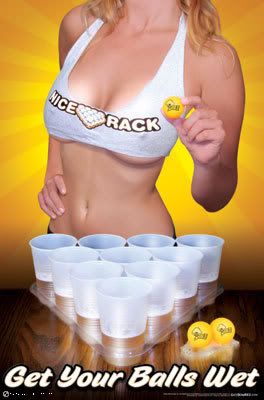 I love a tailgating question because it's an excuse to use this picture

Lightning Round
Should Ed DeChellis be fired?
No way, not yet – one year of underachieving can be tolerated after a year of overachieving.
Besides Penn State, who are the best fans in the Big Ten?

I've not traveled to any away games but friends that have like Purdue. I've been to West Lafayette and it's very similar to State College.
What's on your iPod?

iPod!?! Don't have one. I'm a music lover but the music industry has become an assembly line of homogenized crap. To answer the question: I have very eclectic tastes, I like everything from classical to rap. The only style I can't stand is country.

There you have it, leave your thoughts in the comment section and head on over to Black Shoe Diaries and Run Up The Score for their answers… I'll wait here.