Last Season:
The boilermakers received the biggest disappointment award in the Big Ten last season going 5-6 despite returning 20 starters. Most "experts" didn't predict a great defense but everyone was shocked at the incompetence shown on the offensive side of the ball. With the Tiller machine gun offense in place, most thought Purdue would stick with any team in the conference but with nasty, one sided loses to Iowa, Wisconsin, and Penn State it wasn't pretty for Purdue.
Outlook:
The offense gets 7 returning starters back but you could easily say 8 with the return of Uche Nwaneri from a one year suspension. Purdue will have one of the best offensive lines in the Big Ten and should, once again, return to offensive supremacy. The fear, with a capital "F" is the defense which only returns 4 starters. The secondary was dismal last season and a bunch of untested players will have to try and produce this year. Depth is a concern at most schools but it's a gargantuan concern at Purdue, if the injury bug hits, there will be serious problems.
Offense:

Returning starters: 7
Key Losses:

TE Charles Davis (311 yards, 1TD)
Key Returnees:
QB Curtis Painter (932 yards, 3 TD, 289 rush, 4 TD)
WR Dorien Bryant (960 yards, 4 TD)
WR Kyle Ingraham (500 yards)
LT Mike Otto
LG Uche Nwaneri
C Robbie Powell
RG Jordan Grimes
RT Sean Sester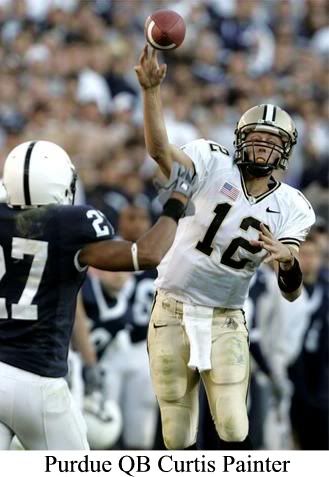 Defense:

Returning starters: 4
Key Losses:
DB Bernard Pollard (92 tackles, 1.5 TFL, 3 INT)
DE Ray Edwards (28 tackles, 11 TFL, 5.5 sacks, 1 INT)
DE Rob Ninkovich (48 tackles, 17.0 TFL 8 sacks, 2 INT)
Key Returnees:
DE Anthony Spencer (23 tackles, 7.5 TFL, 3 sacks)
LB Stanford Keglar (50 tackles, 3.0 TFL, 1 sack, 1 INT)
LB George Hall (77 tackles, 2.0 TFL)
CB Zach Logan (43 tackles, 2.5 TFL, 1 sack)
Game Outlook:
With an innocuous early schedule, Purdue's young team should build some confidence. Unfortunately, the schedule gets a little bumpy with games at Notre Dame, at Iowa, before hosting Wisconsin and Penn State. That's a tall order for any team but especially for a young team like Purdue. The game is on the road for the Nits, but Penn State will be coming off a probable win against Illinois and looking to continue through the Big Ten with the meat of their schedule behind them. On paper, Penn State will match up well with their strength (wide receivers) matching up against Purdue's weakness (secondary), and it should be a win for the Lions, but with Purdue's offense, anything could happen.