TNL said - 45-7
Actual score – 66-10
So yeah, I was pointed in the right direction but it was more of a blowout than I anticipated, who knew Penn State was going to keep the foot on the gas like that even with the third string offense? My quick impressions: Quarterbacks are just fine thanks, the same with the running backs and entire offense for that matter; Defense… not so much.
Offense
Daryll Clark was very impressive starting out completing 10 of his first 11 passes. Oh, and that incompletion… a throw away when his receiver was covered.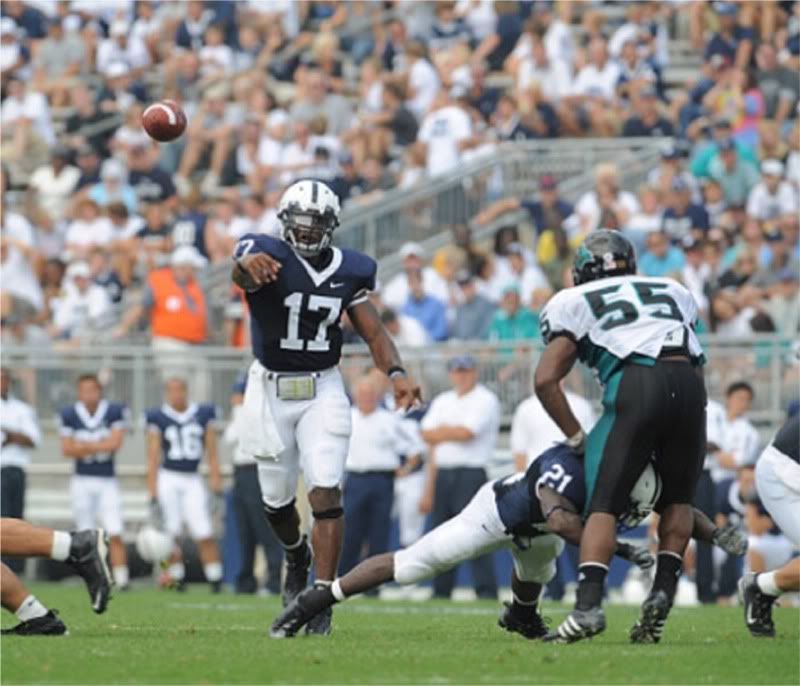 At this point he's already ahead of Anthony Morelli when he left but let's officially move on and forget that Morelli ever existed, deal? His backup did just fine as well completing his first pass – a beauty of a throw right into Jordan Norwood's breadbasket, at this point Penn State is fine with either Clark or Devlin.
The running backs showed that this team is deep at that position; Royster was his usual self running for three scores and 64 yards on just eight carries. Stephfon Green showed that he can carry the ball in-between the tackles but even more impressive was the play of third stringer Brent Carter who rushed for 67 yards on nine carries. The offensive line was stellar and the receivers caught everything that was thrown their way.
All in all, even though it was Coastal Carolina, you have to walk away feeling good about the offensive side of things. PSU rolled up 594 yards and 29 first downs. Clark never ran the ball once and showed very good decision making throwing the ball away when he could have tucked and ran. There were no turnovers and no injuries to speak of so it was a good day.
Defense
Let's put it this way, we're going to miss Sean Lee… a lot. The Chanticleers threw for 198 yards often fooling Penn State on screen passes. Every offensive coordinator in the Big Ten just wrote down two things screen and throw over the middle… in big letters. This wasn't Ohio State throwing against the Nittany Lions, hell it wasn't Temple throwing against them… this was Coastal Carolina. Navorro Bowman looks like he may be the best of the new guys totaling 6 tackles good for second best on the team. For the record Tyrell Sales led the team with 7 but the play of the safeties on the pass was a bit scary especially on Coastal's only touchdown throw.
It wasn't all bad, the defensive line looks as nasty as advertised but they weren't really tested, it will be nice to see if they can keep up the pressure when forced to play a full game. Aaron Maybin has turned into a pass rushing nightmare and should give Penn State a shot in the arm off the bench. The defensive line caused a lot of havoc Saturday and conspicuously missing from the list of big games was Maurice Evans who only managed one solo tackle all day – that's a good thing. If Evans is getting attention the rest of the line has to step up and they did.
Special Teams
It's pretty much all good as far as special teams goes. The one punt went for 46 yards and the one chip shot field goal was made. Of course Derrick Williams made the electrifying 89 yard kickoff return for a touchdown just when it looked like Coastal was going to get some life; that pretty much ended the day for the Chanticleers. Even the kickoff coverage was a lot better than last year, hopefully that's a trend.

Overall
It's hard to come away from this game with anything decisive in mind, it was a Coastal Carolina, but we can at least get a feel for the team. Clark looks really poised in the pocket and both lines were stellar. When you roll up 594 yards on a team any complaining it just getting nitpicky. Hopefully Oregon State will provide more of a test but I don't see that game giving Penn State a taste of what the Big Ten will be like. Yeah the defense has some weaknesses but hopefully a week of watching film will allow the young guys to learn from their mistakes, Paterno is fond of saying you learn the most between game 1 and game 2.