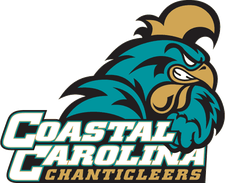 Team Overview
The Chanticleers (read: Chickens) of the NCAA Division I Football Championship Subdivision and Big South Football Conference have five players on the preseason All-Conference list. They are picked to finish second in the division and have won or shared three of the six Big South championships since the League started football in 2002.
Offense
Last season the Chickens were lead by junior quarterback William Richardson (yes that name should be familiar to Penn State fans he's the brother of Wally *shudder*). This year redshirt freshman Jamie Childers showed his skills in the spring, as he was named the starter heading into fall drills. Wait… a freshman can start… at QUARTERBACK… OVER A SENIOR!!! Is that legal? Somewhere Joe Paterno just had a mini stroke. Coastal lost a running back and two wide receivers to the NFL last season but they are deep at running back with sophomore Eric O'Neal and senior Arthur Sitton. The offensive line returns all five starters led by senior All-Big South selection Britt Leggett.
Defense
On the defensive side of the ball Coastal is led by All-Big South linebackers senior D.J. Rice and junior Phillip Oboh. The line is rebuilding but the secondary is boosted by first Team All-Big South selections senior Marrio Norman and junior Brandon Autry.
Special Teams
Last season Coastal had to replace everyone whole-sale on the special teams unit with freshmen and had to overcome some growing pains. With a year's experience they should be better but don't expect the world of this unit.
Game Outlook
Ok, having said ALL that it's not going to be a close game. Penn State will keep things simple and we will probably walk away saying "that was the Spread HD!?!" I don't except the game to be tight but if it is at halftime (God help my liver) Penn State will overpower them in the second half. The Nittany Lions could probably stick to running the ball and use their road-graders but I hope they allow Clark to air it out some, he needs this kind of tune up.
TNL's Prediction
PSU 45
Coastal 7