Now that we have three games in the bucket it's time to bring out TNL's wildly popular (read: my mom likes it) look at past acquaintances and see how they are doing.
Coastal Carolina (1-2)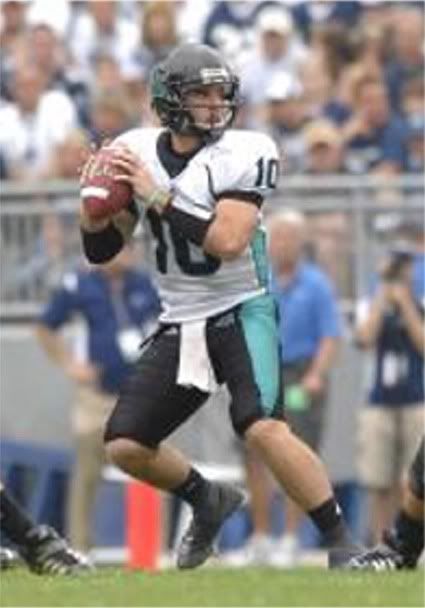 Now: After suffering a tough loss to Colgate, the Chicken bounced back and pounded winless Monmouth 26-7 Saturday afternoon. The Chanticleers opened up a 20-0 advantage at halftime and finished with 416 yards of offense. Quarterback Zach MacDowell completed 17 of his 26 pass attempts for 223 yards and a touchdown to earn him Big South Offensive Player of Week honors. He diversified his output, throwing to eight different receivers on the day. Next up: the chicken return home to take on Towson who also has an equally unimpressive 1-2 record.
Oregon State (1-2)

Now: Also sitting at 1-2 are the Beavers of Oregon State after they manhandled Hawai'i 45-7 Saturday afternoon. OSU was able to return to more of a balanced attack then previous weeks rushing for 217 yards and throwing for 268, while rolling up 485 yards of total offense. True freshman running back Jacquizz Rodgers finished with 110 yards rushing, his first 100 yard game, and quarterback Lyle Moevao completed 20 of 34 passes for 268 yards, tossing 3 touchdowns and running for another. Wide Receivers Shane Morales and Sammie Stroughter each caught 5 passes and a touchdown. Next Up: Oregon State gets a deserved week off. How so, you ask? Because a week from Thursday USC comes to town and anyone deserves a week off to prepare for that buzz saw.