The amazing (I mean really… how can someone write so eloquently about Northwestern? NORTHWESTERN!!) Lake The Posts has called upon us for this week's version of the Big Ten Bloggers Roundtable and when LTP calls you answer. Onward!
The national media is using the Big Ten Conference as a punching bag in 2008 ranking us somewhere between the Big East and the MAC. Based on Ohio State's no-show, Purdue's "APPLE!!!" and Michigan's debacle, it is redemption week in Big Ten Country. However, several teams have very respectable, yet no-name teams (ie. Troy, Central Michigan, Ball State). Tell us how the Big Ten will respond this week in the final week before conference play.
Redemption week in the eyes of the media – no freakin' way. The only way the Big Ten can squelch the negative fervor coming from the SEC-loving media is to actually win the MNC. The only other way they will shut the windbags up is to win every single bowl game at the end of the season and even then I'm not sure it will end. Look, it's posh (and easy and we all know writers like easy) to beat on the Big Ten right now and nothing short of total dominance in the post season will stop the garbage talk. But hey, thanks OSU and Michigan for the effort, you just made us slip somewhere near the Big West conference in some eyes.
As for the actual games this week, Indiana has its hands full with Ball State. Ball State is 19th in the country in scoring after pounding three opponents and they're closest margin of victory was 12 points. Central Michigan amazingly has a statistical edge in the passing department but they rank 71st in scoring so Purdue will probably blitz them at home. Troy doesn't stand a chance against a pissed off Ohio State team even thought they come in 2-0 after blowout wins over cupcakes… mmmmmm cupcakes.
The conference standings look like someone took the 2007 results and flipped it upside down. Which of the undefeated teams are contenders and which are pretenders (another way of saying which teams have put lipstick on a pig)? Recalibrate your preseason rankings and tell us who the conference favorites are now.
Ah yes preseason rankings have now become preconference rankings. To say that Ohio State is somehow not the favorite to win the conference before a single conference game is played is a tad on the audacious side. THEosu is still the team to beat and Wisconsin by way of schedule is sitting firmly in second. They get a week off before heading to Michigan then get THEosu and PSU at home (both night games). Get by those three and they'll probably run the table. Third would have to be Penn State simply because they've gang raped every patsy they've faced so far but that November schedule of Wisconsin, Michigan, and THEosu, two of which are on the road and at night, will probably prove to be their downfall. You know what, now that I look at it my preseason rankings have changed a damn bit, man I'm a stubborn son of a bitch.
Javon Ringer has emerged as the early season best-bet Heisman hopeful from the Big Ten. Real deal or non-conference smoke screen? Does anyone from the Big Ten have a prayer for the Heisman, or is it too late?
Javon Ringer? Really?!? Ah I don't think so. Look Ringer is looking great and he may end up being the best running back in the conference but he's from Michigan State and unless Spary rips through the conference, gains national media exposure, and Ringer saves a bus load of nuns from certain doom, you won't see him even invited to the Heisman party. Now that THEosu has flushed their hopes of a third straight BCS championship bitchslap assrape SEC gangbang invite down the shitter, Bennie is pretty much out of it and that was the conference's best chance at a Heisman.
After three weeks it is time to give your team a new slogan. What is it and why is it what it is?
Slogans? What am I a marketing dumbass? I'll let the wonders of the intertubes do my work for me, I logged-on (web surfing technical term) to The Advertising Slogan Generator webby-doohickey (also web surfing technical term) and typed in "HD" and here are my favorites:
HD Unscripted – Can you really think of a better way to describe Jay Paterno's game planning?
Wait till we get our HD on you – yes tremble in fear of the HD… FEAR US!!
HD – the appetizer – Can you think of a better way to describe Penn State' schedule to this point?
Honorable mention
Chocolate HD since 1911 – Really… what the fuck?!?! I laugh every time I read it, but that's just me.
By now, you've likely adopted a favorite non Big Ten team to watch. Flex your football worldliness by convincing your fellow Big Ten kool-aid drinkers to watch your "other" team.
Well to be honest I'm a crabby motherfucker so instead of adopting a team to watch and root for I would much rather feel the hate and root against teams. In that light here is a list of teams I love to hate on any given Saturday.
Notre Dame – is an explanation really necessary? Charlie Weis taking one on the sideline last week almost made my year. I mean 855 year old Joe Paterno takes a direct shot from two football players and almost walks off the field under his own power but 855 pound Charlie Weis gets brushed up against, loses his balance, and shreds his knee requiring a battalion of slaves to haul his fat ass around for the rest of the year. Awesome.
Miami
South Florida
Florida State
Florida - really is there anyone not from the state of Florida that likes any team from the state of Florida? I didn't think so.
Texas
Texas A&M
Texas Tech – there's only two things that come from the state of Texas…
USC – Need I say more?
Brigham Young – The Church of Jesus Christ of Latter-day Saints – like religion but different.
Oregon – come see our uniform of the week!
Kansas – any school that is perennial power in basketball should be widely detested by college football fans, it's just natural.
West Virginia – West Fucking Virginia? Rednecks are fun to watch but let's not give them a reason to burn their trailers down.
Fresno State – Ok I'll admit I do root for Fresno State, a good reason? This guy.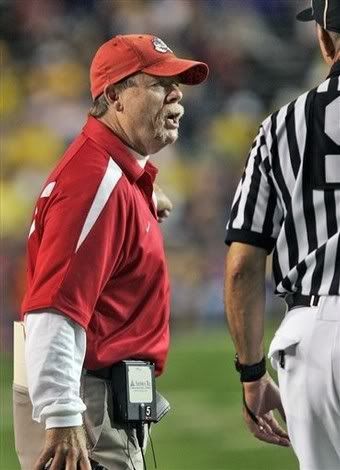 How can you not love Pat Hill?