Penn State headed into Minneapolis, Minnesota with the hopes of getting all ten wrestlers qualified for nationals. Realistically the Big Ten title was going to come down between Iowa and Minnesota with lots of teams looking to finish in the 3rd spot and PSU was definitely in contention for that. When the smoke all cleared the Nittany Lions finished a disappointing seventh but managed to qualify seven, although they needed help.
To qualify for nationals a wrestler had to finish 7th or better and Penn State had 9 wrestlers seeded 7th or better coming into the tournament.
125 -- Mark McKnight (Sr.) seeded 6 - NCAA QUALIFIER - 8TH PLACE - WILD CARD
Mark McKnight's season and Penn State career could have come to an end but in each Big Ten championship the coaches select two "wildcards" of the non-qualifiers to move on to the NCAA's. Due to Mark's three previous NCAA qualifications and national ranking, he was selected for one of the wildcards.
133 - Tim Haas (Sr.) seeded 8, - SEASON COMPLETE - 8TH PLACE
141 - Garrett Scott (Fr), seeded 5 - NCAA QUALIFIER - 7TH PLACE
149 - Bubba Jenkins (So.) seeded 4, - NCAA QUALIFIER - 5TH PLACE
157 - Dan Vallimont (So.) seeded 2 - NCAA QUALIFIER - 2008 BIG TEN RUNNER-UP
-Lost to Mike Poeta of Illinois (8-2)
165 - Dave Rella (So.) seeded 7 - NCAA QUALIFIER - 4TH PLACE
174 - David Erwin (So.) seeded 6, - SEASON COMPLETE
184 - Phil Bomberger (Jr.) seeded 5 - NCAA QUALIFIER - 5TH PLACE
197 - Phil Davis (Sr.) seeded 2 - NCAA QUALIFIER - 2008 BIG TEN CHAMPION Defeated Mike Tamillow of Northwestern (3-2)
HWT - John Laboranti (Jr.) seeded 7 - SEASON COMPLETE

Garrett Scott was injured so his 7th place finish isn't a disappointment but the same cannot be said for David Erwin and John Laboranti. Both should have finished 7th or better but both go home for the season. Laboranti already beat some of the wrestlers ranked ahead of him and Erwin had an early upset loss that he never recovered from. Both wrestlers would have helped enormously in the team race had they held their own.
Phil Davis was Penn State's only Big Ten champion but Vallimont finished strong and continues to beat everyone but Mike Poeta of Illinois (Vallimont's only two losses on the season). Phil Davis and Dave Rella where the only two wrestlers to finish ahead of their rankings and while Davis' win doesn't come as a surprise (he beat Mike Tamillow previously this year), Rella's amazing run to 4th was unexpected and is a really good sign. Hopefully Dave is fulfilling the lofty potential that followed him to Penn State as a highly touted recruit. Other positives to take from the tournament is Phil Davis' final against Tamillow. While Phil is a defensive wrestler most of the time he was the aggressor against Tamillow pushing the pace and even getting a stall call in the 2nd period. I've always felt that Phil relies too much on his counter moves in the nationals but he was aggressive and decisive this time around.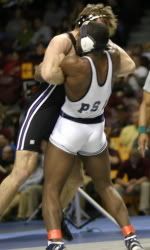 Phil heads to the NCAA's looking to become only the fourth four-time All-American in Penn State history. That's a huge accomplishment considering some of the great wrestlers that have passed through Penn State in the last 100 years. The wrestlers now get a week off to prepare for nationals which are held at St. Louis, Mo.