Friends, this will be the last of the B&W Roundtable for a while we are putting this baby on hiatus in the offseason. It's not a permanent thing but we can only come up with so many questions when there's no real football to talk about. There are only so many Charlie Weis fat jokes in this world. That being said here are the answers and, as always, go check out the other guys.
Run Up The Score
There Is No Name On My Jersey
Black Shoe Diaries
The Nittany Notebook
William F. Yurasko
PSU is lined up to play Texas A&M in the Alamo Bowl. How are you feeling about the match-up and Penn State's chances?
Galen: It's tough to tell just how good Texas A&M is, they beat Texas but lost to Texas Tech and Miami. Not only that but they will have an interim coach in Gary Darnell who is replacing Dennis Franchione after he resigned at the end of the season. Looking at the team itself, A&M has a decent running game (13th in the country) and a pathetic passing attack (98th), so it would seem that they play to Penn State's strength except they have a running quarterback and Penn State is notoriously bad against good running quarterbacks. On the defensive side of the ball they barely have a pulse coming in 83rd in total defense and 104th in passing defense, so it could be a good day for Anthony Morelli if he chooses to show up.
Nick: I generally like it from a standpoint of we have a very good chance in this game. I don't like it from the standpoint of what does winning this bowl really accomplish for us, other than washing the bad taste of Michigan State out of our mouth? It's similar to our last Alamo Bowl in so many ways – big expectations entering the season and horrible disappointment to end it. Honestly, I really would have preferred getting slaughtered by Florida and give next year's squad a grudge to redeem.

On a side note, make sure the coaches get the tape of the A&M-Texas game. It was a different look from the rest of the season and caught the Longhorns by surprise with less running and more passing. They're not strictly a running team.
The BCS, fire away.
Galen: I'd love to write a book about this but it's a gigantic waste of my time and yours. It sucks in every possible way. Penn State fans have been screwed by the old system time and time again but could you imagine how pissed Oklahoma, Hawaii, Virginia Tech, and Georgia are right now? College football needs a playoff system in the worst way but I doubt I'll see one in my lifetime. I hate the college presidents. Hate them.
Nick: Ugh, I was all for a playoff for as long as I can remember, because Penn State always seems to get screwed somehow and in a shocking turn of events this season has put it in doubt. A plus-one format is the most likely change in the future, but that would be a horrible failure in a situation like this year anyway. A full post regarding this topic should be put together if I get motivated to write about it. This year, no ONE team deserves the MNC, and if there was a playoff in place, it could legitimately be said that 10 teams would be left out of it that would have sound cases for inclusion. Listening to the arguments by the playoff partisans, I came to the realization that they leave huge logistical nightmares that would need to be worked out. Make no mistake about it, major college football is big business and simply said, at this point with a playoff there are too many leaks where money wasn't being made.
Will you be rooting for Tosu in order to help boost the profile of the conference or will you unmitigated hate win out?
Galen: I would love to root for them but it triggers a nasty gag reflex in me. Let me put it to you this way, with the matchups the Big Ten has the conference is going to look bad anyway so I might as well get a sick little thrill out of watching LSU go all Florida on Ohio State's ass. Let's take a quick look at the matchups:
Ohio State vs. LSU - probable loss
Illinois vs. USC – Loss with a capital bold-faced "L"
Michigan vs. Florida – let's see… team that hasn't won a bowl game in Joe Paterno's lifetime, check. Team that demolished OSU in last year's championship game, check. Probable Heisman winning quarterback versus a very average Michigan defense, check. Yeah it's going to be very ugly – loss.
Michigan State vs. Boston College – 7-5 vs. 10-3 need I say more? Loss
Indiana vs. Oklahoma State – first Big Ten game I actually think will end in a win for the conference - win
Purdue vs. Central Michigan – toss up
Wisconsin vs. Tennessee – everything screams loss for Wisconsin but they seem to make it a habit of beating SEC teams they should lose to on paper – win
Penn State vs. Texas A&M - toss up
All totaled that's two probable wins four losses and a couple toss ups, not exactly a sunny outlook.
Nick: Kind of, but I won't be upset if they lose. It doesn't seem to matter what happens in the bowls to change perceptions. Last year the Big Ten was 2-1 against the SEC in bowl games, but somehow the SEC is still an unstoppable conference of speed and winning.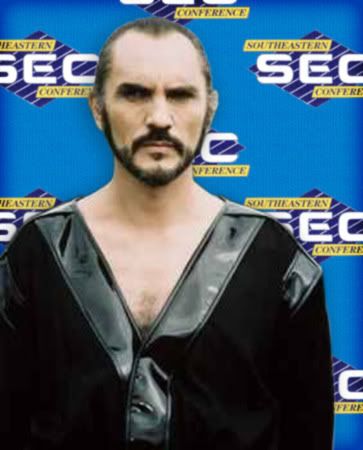 Kneel before Zod.
LIGHTNING ROUND
Are you going to the Alamo Bowl?
Galen: I have a friend within driving distance of the Alamo Bowl who would let me crash at his place but Hell no I'm not going to waste vacation time and money going to watch this team anymore.
Nick: No, but I will make it to a Penn State bowl game eventually.
How much playing time do Devlin and Clark see?
Galen: None – except to hand the ball off at the end of the game (maybe).
Nick: Barring an injury to Morelli, we'll only see them if Penn State is winning by 28 or more.