Penn State started the season out right pummeling the Maryland Terrapins 34 - 3 on Sunday. Maryland was outmatched from the start having only three ranked wrestlers and their best wrestler No. 7 Mike Letts (174 lbs.) was out with an injury, so the outcome was expected. Penn State won 9 of 10 bouts and I know you're thinking "wow that's impressive" but I can't be so optimistic there was some bad wrestling by Penn State. Mark McKnight looked sluggish at 125 and barely beat a wrestler that has yet to win this season. Tim Haas lost in overtime getting reversed for the fourth time in the bout – not what you expect from one of your captains. Despite having nearly a 50 pound advantage, heavyweight Stefan Tighe managed only a 3-2 decision. 184 and heavyweight are going to be weak spots in Penn State's lineup this year.

Bout by Bout breakdown:

125- Mark McKnight got taken down early and if not for two illegal hold calls would have been in trouble late in the bout. He did fight off a late flurry to win 8-7 but it was not what you would expect from the eleventh ranked wrestler in the country.

133- Tim Haas showed good work on his feet but gave up four reversals in the bout including the eventual bout winner in overtime. Even more disturbing was the fact that the first two reversals were given up in the same manner, like I said, not what you would expect from your captain.

141- The first Nittany Lion to show some fire was Jake Strayer who dominated No. 20 Charlie Pinto of Maryland. Strayer took Pinto down early and had him on his back but the referee didn't feel he had the pin (this was the theme for the day there were several matches that should have ended in pins that didn't). Still Strayer racked up over three minutes of riding time and didn't allow a point winning 14-0. Strayer should have left Pinto up late in the third and tried for the tech fall but it wasn't necessary to beat Maryland.

149 – Cat-like quickness is a term that gets overused especially when talking about wrestling but it definitely describes Penn State's Bubba Jenkins. If you've ever watched a cat stalk its prey you'll notice a calm approach with no wasted motion and patience waiting for the right time to strike, and when they strike they do so in a heartbeat- quick and precise. Jenkins showed that kind of skill pinning Erin Medina in the second period. Bubba nailed Medina with the fastest cement mixer I've ever seen (I know your glazing over at this point , don't worry one day I'll post videos of different wrestling moves). Bubba looks to be the real deal this year and is ranked No. 7 at 149.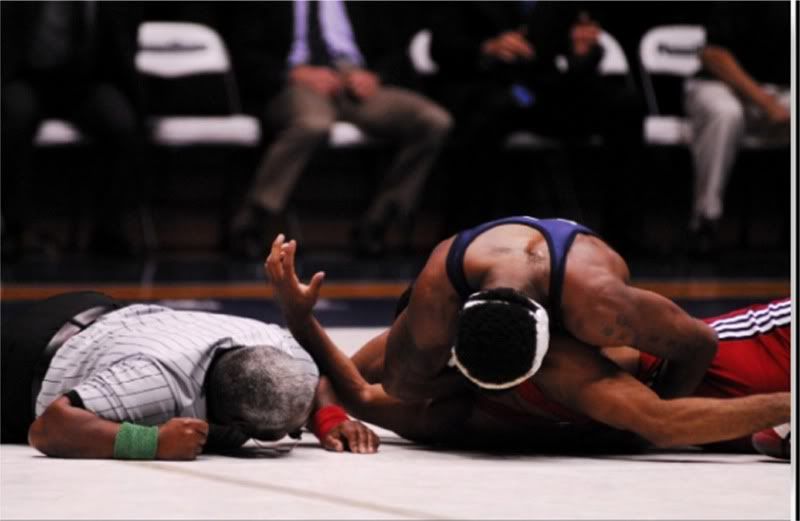 157 – After a shaky start to the match Dan Vallimont recovered well to beat Maryland's Brian Letters 13-4. Vallimont rode Letters out in the second period after a quick takedown and scored back points on an upper body throw in the third to cement the major decision.
165 - Dave Rella scored a close 7-5 decision that is a tad misleading because Maryland's Ryan Kennett wrestled a defensive bout. Still Rella gave up the first takedown and trailed to start both the 2nd and 3rd periods. But in the end Rella reversed Kennett to start the third and then got another takedown late in the period to seal the deal.
174 – Mark Friend controlled most of his match at 174 getting a takedown in each of the first two periods and road Maryland's Brad Nielsen to end each period. But in the third things tightened up as Friend gave up a takedown and stall point but managed to escape with a 7-5 victory. Unfortunately Nielsen was subbing for an injured Mike Letts who is ranked No. 7. It would have been nice to see how good Friend really is.
184 - Phil Bomberger started out strong getting two takedowns and two back points in the first to lead 6-2 to start the second. But Phil showed his weakness as he was ridden for the entire second period. In the third Maryland's Joshua Haines chose top to try and turn Bomberger but he managed a reversal and near pin before giving up an escape. Bomberger kept up the offense and finished the match off with a 12-6 decision.
197 – The premier matchup of the day was Phil Davis (ranked #2) vs. Maryland's Hudson Taylor (ranked #8). Premier from the standpoint that it matched up two highly ranked wrestlers, unfortunately for Taylor it didn't end as a premier bout. Phil Davis destroyed Taylor throwing him on his back three times and ending the match in a 17-2 technical fall at 4:12 of the second period. The match should have ended in a fall because in realty Davis pinned him twice – two of the times Taylor was on his back he was flat and pinned but the ref refused to call it. Needless to say, either Taylor was highly overrated or Phil Davis is a force that will eat your children if you let him near them. My money is on the former.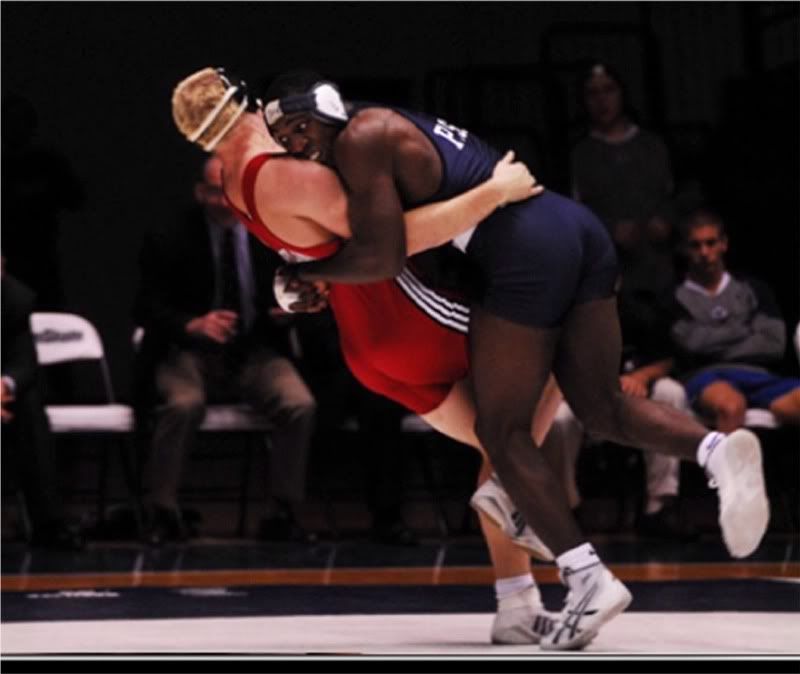 HWT – One of the most disappointing bouts of the night was that of Stefan Tighe (pronounced Tie). Despite having an almost 50 lb. Weight advantage over his foe, Stefan only managed an first period takedown in the entire match and almost gave up the winning TD with time running out. Tighe won 3-2 but will need to wrestle much better than that if he wants to be competitive in the Big Ten.
All in all it's a good win but many questions still loom over this team. We will get a real idea of how good this team is on Saturday when No. 10 Penn State hosts No. 12 Hofstra at 1:00 PM at Rec Hall. Yes you read that right someone was stupid enough to schedule a home dual meet the same day as a Penn State football game.