It's Wednesday and that means Blue & White Roundtable and this week's questions are brought to you by Mike at Black Shoe Diaries. It's rivalry week… yeah I know that doesn't hold water but how could it not be a rivalry with such a fantastic trophy at stake?!?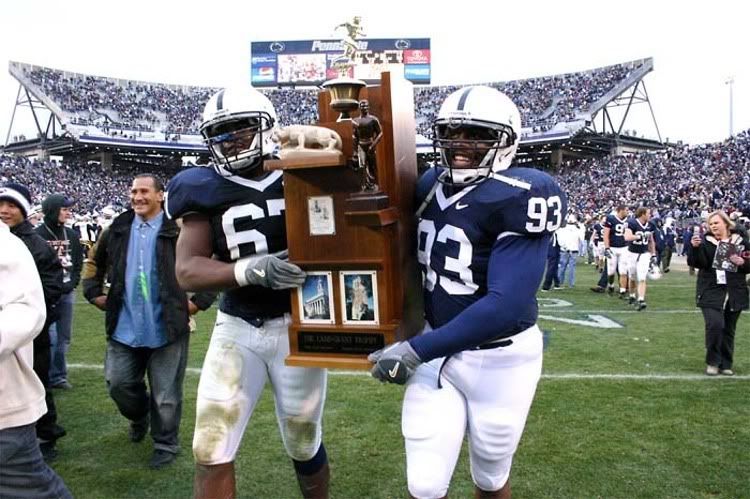 That's right it's so convoluted it takes two linemen to carry the thing
1. Why did Temple make our defense look like another MAC team in the first half?
Galen: Once again it comes down to coaching and the wonderful bend but don't break defense that allows opposing quartbacks all the time in the world to pick apart our defense. Cornerbacks are 10 yards off the ball and we don't blitz a single soul and it always works out the same – crappy. When Penn State does blitz they telegraph it and it's easily picked up. Look for more of the same against Michigan State.
Nick: Soft coverage, big cushions, poor tackling and a good game plan from Temple that they took out of the cookie cutter mold of the last several weeks.
2. Should Penn State burn Stephfon Green's redshirt if Evan Royster is inactive for this week?
Galen: As I stated yesterday, there's a morbid side of me that would like to see Green just out of sheer curiosity because "those in the know" are talking him up so much, but no way do I want to see him on the field unless Kinlaw goes down. If Rodney gets hurt, then there's no other choice but to bring Green in because Penn State would be down to one viable running back. In that scenario you throw your hands in the air and toss it up to fate but there's no reason Kinlaw can't handle the greater majority of carries with Brent Carter giving him a breather.
Nick: No, absolutely not – that would be totally insane on the part of the coaching staff.
3. Right now it's looking like Penn State will end up in either the Outback Bowl against an SEC opponent or the Alamo Bowl against a Big XII team. Which possible matchup looks the most intriguing to you?
Galen: Of course you would like to see the Outback Bowl because it would be against a team from the greatest conference ever in the history of college football. Penn State would lose, obviously because you can't beat someone from the SEC… oh wait there was that Tennessee game last season… never mind. Actually, the Outback Bowl may be out of Penn State's reach and it's looking more likely they will land in the Alamo Bowl… yeah for us!
Nick: An SEC team is the ideal match-up, because the SEC is the greatest conference known to man and any team from it could easily beat the New England Patriots. Also, lots of pretty girls to enjoy.
4. Was Ohio State's loss to Illinois a good thing or bad thing for the Big Ten?
Galen: It was a bad thing for the Big Ten because all the pundits are saying that the Big Ten is weak and it would have been great to have a Big Ten team land in the championship game for no other reason than to piss guys like Les Miles off. But now the Michigan – Ohio State game is much, much less intriguing than a week ago, even though it still is for the Big Ten title.
Nick: Good for the Big Ten, bad for Penn State. The Big Ten avoids a scenario like last year, being horribly exposed in the title game completely overshadowing the 2 non-BCS bowl victories against the SEC. Penn State most likely gets knocked down at least one bowl though.
Lightning Round
What was up with the bizarre quarterback rotation at the end of the Temple game?
Galen: You tell me, I'm completely lost on that.
Nick: No idea – Is that a preview of next year? Where there communication issues and the rotating QB's brought in each new play? Your guess is as good as mine.
It's Michigan State, and technically rivalry week. How bad do you want to beat the Spartans? Make me feel the hate.
Galen: Ahhhh… sorry, I just don't have a reason to hate Sparty.
Nick: I would love to beat the Spartans, but it has nothing to do with hate – just the best interests of Penn State.
Don't forget the others because I originally did:
William F. Yurasko
There Is No Name On My Jersey
The Nittany Notebook

William Yurasko
Run Up The Score