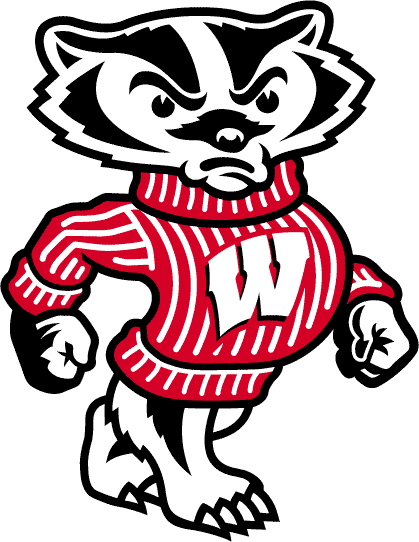 Schedule/Results
Overall Record (5-1)
Washington State - W 42-21
UNLV – W 20-13
The Citadel – W 45-31
Iowa – W 17-13
Michigan State – W 37-34
Illinois – L 26-31
Team Overview
Wisconsin looked shaky all season barely squeaking by UNLV, Iowa, and Michigan State. Finally the close play came back to bite them last week when they fell behind 17-0 midway through the second quarter. It was a lead they would never get back as the fighting Illini family-oriented-non-offensive-fluffy-mascots when on to post a 31-26 upset victory. Now Wisconsin comes in battered and bruised and for the first time in 14 games questions swirl around this team.
Offense
Wisconsin relies heavily on RB P.J. Hill but he limps into Beaver Stadium nursing a groin injury and backup Lance Smith will be watching back in Madison because of a university suspension. That leaves freshman Zach Brown to spell Hill. But Hill isn't the only offensive weapon; QB Tyler Donovan recorded career highs in pass completions (27), attempts (49) and yards (392) last week against Illinois. He is 7-1 in his eight career starts and the Badgers have scored an average of 30.8 points in those games. In his eight starts, Donovan is 136-of-221 (62.2 percent) for 1,936 yards, 15 touchdowns and six interceptions. WR Luke Swan tore his hamstring last week and will be out for the season leaving two true freshmen to start at wide receiver.
Offensive player you should fear: TE Travis Beckum leads all tight ends in the country this season with 41 catches and 485 receiving yards. He had career-highs in receptions (11) and yards (160) at Illinois. Last week was the second consecutive week that Beckum went over 100 yards.
Defense
The defense has been banged up but they get back Safeties Jay Valai, Kim Royston, and middle linebacker Elijah Hodge. Linebacker Jonathan Casillas leads the Badgers in tackles with 43 this season and defensive tackle Nick Hayden has recorded three quarterback sacks over the last two games. Wisconsin's defense has allowed 53 points in the second half this season and outscored their opponents 89-53 in the second half.
Defensive player you should fear: CB Jack Ikegwuonu is one of the best corners in the Big Ten and while his numbers aren't eye-popping he does have 4 pass breakups.
Special Teams
Taylor Mehlhaff missed a field goal in the first quarter last Saturday which broke a string of eight straight made field goals. Over the last three games punter Ken DeBauche has punted 15 times for an average of 44.3 yards per kick. Freshmen David Gilreath is the leading returner for both punts and kicks and owns a 56 yard kickoff return.
Game Outlook
Penn State is coming off a strong defensive performance and Wisconsin is coming off their first loss in 14 games. While the momentum looks like it's in Penn State's favor, off the field antics this week could be on Penn State players' minds. With P.J. Hill banged up and the loss of Luke Swan it's hard to believe that this game will be an offensive show. Look for Wisconsin to play conservative and wait for Morelli to throw one of his patent boneheaded picks. If the Penn State offense doesn't turn the ball over in their own territory, look for it to be a low-scoring, close game.
Final Score
Penn State 16
Wisconsin 14