It's Wednesday and that means the trend setting Blue & White Roundtable. There is No Name On My Jersey has the questions this week but unfortunately, JB forgot my e-mail address so I'll have my answers around lunch. Luckily, Nick got the questions and he has my back. Don't forget to check out the rest of the B&W Roundtable club.
RUTS
William Yurasko
Nittany Notebook
Black Shoe Diaries

Criminal allegations swirl around the squad; what impact will this have on the team? My own fall off of my high-horse-of-PSU's-sterling-reputation has been terrible, have you experienced the same?
Nick: The team will get through it. My disappointment is that there are no leaders on this team on the field. If this road rage rumor is true about JoePa, it will break my heart. That being said, I too would go into uncontrollable fits of rage if this were my team.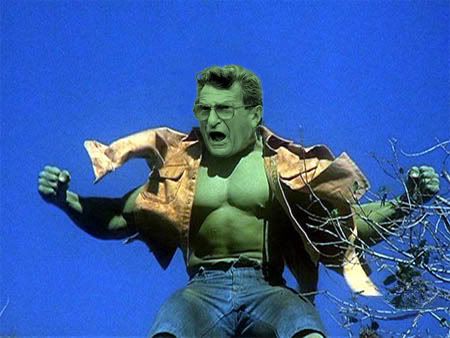 Don't make me angry, you wouldn't like me when I'm angry.
Galen: The allegations will not affect the team taking the field this week directly but, make no mistake, Penn State has become a walking joke of a team both on and off the field. When even the head coach gets in on the shenanigans, it's time for a change in leadership because there is none. As far as my personal feelings, I've never been a holier than thou type of PSU fan but I was once proud of how Paterno deals with trouble makers. Now, even that has changed: bust into an apartment and beat the snot out of a bunch of people you get a slap on the wrist – get caught for underage drinking you get suspended for two games. What? Yeah, that makes sense.
Evan Royster provided Penn State with the Spark it needed to get going on Saturday, did he win himself the starting job? If not, how does your depth chart read at RB and why?
Nick: Royster is the starter unless he's injured. Kinlaw sucks, can't block worth a damn AND fumbles (another one against Iowa and nearly two more later on). Green should suit up, but only waste his redshirt year if injuries force your hand, I would prefer a few sets with Derrick Williams in the backfield and not in trick plays, so maybe they will actually be surprising when you do run them.
Galen: Joe rewards people by age not by performance so no, we won't be seeing Royster in a starting role for at least another year. Having said that, I was impressed, he has a good combination of power and speed and he hits the hole almost as hard as some Penn State football players hit innocent bystanders at a party. Zing! I believe you will see a lot more of Royster in the coming weeks now that Austin Whats-his-name is no longer with the team.
Anthony Morelli gets it done while looking both awful and excellent in the same game. What the hell is PSU supposed to do at QB?
Nick: Play him until he gives you reasons not to play him. Make a decision who the future at quarterback is between Clark and Devlin and start working them in for a couple series each game.
Galen: Let's clarify one thing – he doesn't always get it done… exhibits A) & B) Michigan and especially Illinois but who else are you going to turn to? If Morelli is this poorly developed what makes anyone think any of the backups will be more prepared? Having said that whoever is going to take over next year needs to get some meaningful playing time; not just mop up duty.
Lightning Round
What games are you watching on Saturday?
Nick: Wisconsin at Penn State – will flip to LSU at Kentucky during commercials.
Galen: Let me put it to you this way – I'm attending a company funded tailgate for the game. Free food and beer on the company's dollar and no TV – I'll be watching the Penn State game and that's about it.
What are your predictions for the second half of the season?
Nick: Penn State keeps winning until Michigan State and blows another road game. Finishes third in the Big Ten, goes to the Outback Bowl.
Galen: I have no idea – PSU will probably beat someone they are underdogs against and lose to someone they are favored to beat. I know this much, Morelli ain't getting any better.
Who will be PSU's MVP come January?
Nick: Evan Royster – if he can bring stability to the running game.
Galen: Dan Connor – he'll pass Poz on the all time tackle list and win by default.