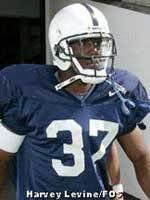 Spencer Ridenhour has told the Penn State football team that he intends to transfer to another university. According to his mom, Lani, her son harbors no ill will toward the school. It is more about finding a place to fit in. "We're still going to watch Penn State and follow Penn State and root for Penn State in the Big Ten," Lani Ridenhour said. "There is definitely nothing negative here… this is a business decision."

Ridenhour was bounced around from safety to linebacker and back to safety. With the graduation of Donnie Johnson, Spencer hoped he had the inside track to the starting safety spot opposite Anthony Scirrotto but with the move of starter Tony Davis from corner to safety the writing was on the wall. Ridenhour's only significant playing time came when he replaced an injured Johnson against Illinois last season making three tackles. Spencer hopes to decide on his next destination by next week.

While this does hurt Penn State depth-wise, I don't think Nittany Lion fans were expecting anything out of Ridenhour other than special teams play and the occasional nickel situation. You never want to see a kid transfer but it's good that he's leaving under positive circumstances – I think everyone can understand the decision he's made. I may be reading more into this but this might mean that Scirrotto isn't getting any serious punishment from the spring fight of '07. If Ridenhour knew that Anthony was going to be out for any period of time you would think he would have perceived that as a golden opportunity to fill in while Scirrotto sat out and play his way into serious playing time. At any rate good luck Spencer - we're sorry to see you go.