It's Wednesday and that means Blue & White Roundtable. B&WRT is getting as popular as Paris Hilton at the free clinic – we now added a fourth member to our group: JB from the appropriately named There Is No Name On My Jersey blog joins us. Poor bastard, feel for him. RUTS is in the process of moving so I'm not sure if he'll be checking in. This week Mike from BSD has the questions and he's fooling with Jerseys and stuff. Enjoy.
The big news this week is Spencer Ridenhour leaving the team to go play somewhere else. What effect will this have on the defense?
Like I said yesterday it's really a hit at depth more than anything. Spencer wasn't going to start unless Anthony Scirrotto is suspended for any length of time. Ridenhour was going to be a special teams player and possibly see some time at nickel but to this point he's bounced around. He was kind of a 'tweener in the sense that he was too big for safety but too small for linebacker and the coaches had a hard time finding a spot for him. I wish him the best though, I'm sure his decision wasn't an easy one but it makes sense and it appears he bears no ill will toward Penn State.
Do you think we've seen the end of the transfers or is there potential to see a few more kids announce their intention to leave the program in the coming weeks?
If there are going to be any more, now is the time because training camp is right around the corner. Off the top of my head I can't think of a junior that is in the same situation that Spencer was in. PSU is loaded at linebacker so it's possible one of the guys that doesn't get the last outside spot might transfer but other than that I doubt it.
Who was your favorite Penn State quarterback of all time?
Start laughing… NOW… Zach Mills. While Zach's career didn't end the way everyone thought it was going to no one can ever question his heart. Zach played behind a terrible offensive line and took vicious beatings his junior and senior years. Throw in the fact that I could have played wide receiver for Penn State either one of those years and it's not like Mills' was playing with a full deck (pun intended, he's also a good poker player). In 2003 against Akron he was the first quarterback under Joe Paterno to throw, catch, and run for a touchdown in a single game. Sure Kerry Collins was great and John Shaffer was a gamer, but those guys had something Zach didn't: great teammates.
I know this goes against 100 years of tradition, but should Penn State honor former players by retiring their jerseys?
No…
Way!
Sorry, I'm a pure traditionalist when it comes to PSU and I think even the players who would be honored wouldn't want that. Penn State has never been about the individual they've been about the team and retiring jerseys goes against that. I wasn't upset when the Nike swoooooosh was put on the Jerseys but I don't go for much more than that. Besides, it was great to see Paul Posluszny playing with the same number of some of the other great linebackers to wear the Blue and White.
Preseason projections and polls are starting to slowly leak out. What does your top five look like?
#1 – USC
#2 – Texas
#3 – Arkansas
#4 – West Virginia
#5 – Michigan

Allow me to qualify my choices – I'm ranking not on how good I think the teams really are but how I think they will finish before bowl season. I'm not a big believer in replacing your starting quarterback so that's why there's no Florida, LSU, or Wisconsin. I put West Virginia in there because their offense will be scary good and they will roll over a weak Big Least. Arkansas, Texas, Michigan, and USC all have legitimate Heisman candidates on the offensive side of the ball as well.
This year Michigan has to reload on defense while Ohio State has to reload on offense? Which is the better position to be in?
I would much rather reload on defense because it's the easier side of the ball to learn. Defense is more about reaction than reading and timing. Offense takes such timing and experience that often small mistakes turn into big ones. While an inexperienced defense can be exploited by a good offense for a score every now and then, inexperienced offenses can completely give a game away with turnovers and mistakes. It's much easier to call a conservative defensive scheme with an experienced offense to pick up the slack than the other way around.
Lightning Round
Do you have any crazy superstitions before or during the game? (I'll accept any pre-game ritual, even if it isn't done for good luck.)
Not now, but I used to always eat Penn State Nittany Lion franks before a game.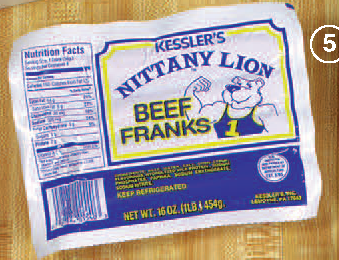 I'm drawing a blank for another question, so let's go with the old standby. Finish this sentence: Les Miles is so dumb…
… he sold his car for gas money. *knee slap*
Leave your thoughts in the comment section below and head on over to BSD, RUTS (if he's there – if not feel free to eat all his food, drink all his beer and steal some stuff) and make sure to break in the new guy at TINNOMJ. Hey that's catchy.