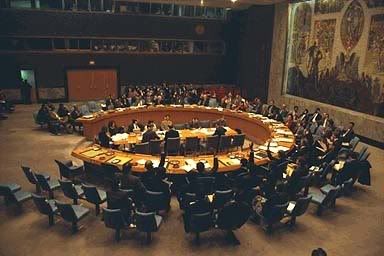 It's Wednesday and it's Blue & White Roundtable time. Mike from
Black Shoe Diaries
has the questions this week and I can't wait for this madness to stop! Enjoy.
How is your bracket doing?
Great, it's holding up my bookshelf nicely. Oh, you mean the Basketball thingy. I wouldn't know I don't get into them. I'm not a big gambler and I certainly don't bet on things I have no clue about (some would say I shouldn't bet on football), so I stay away from March Madness.
The 2007 NCAA Tournament is marked by a distinct lack of Cinderella teams and upsets. Only two double digit seeds made it past the first round. Of the sixteen teams left, 14 of them are a #5 seed or better. Only six at-large bids were given to mid-major schools this year. In 2006 they got eight. In 2004 there were twelve. Is the NCAA ruining the tournament by shuffling the mid-major schools to the NIT?
Well after looking at the numbers I would say two things have happened, either they have the strongest teams seeded properly, or the "Cinderella" teams don't deserve to be there. If most of the top seeds are left that means the selection committee chose the right top teams. Any more opinion then that and I would have to do some digging and number crunching and I'm
WAY
too lazy and apathetic for that. It's basketball – while everyone else at the bar was watching the North Carolina game Saturday night, I was watching the Wrestling championship.
Of the six Big Ten teams that made the tournament, only Ohio State is left, and they just barely got past Xavier. Do you think the Big Ten is falling from the ranks of the elite basketball conferences or was this just one down year?

I think both the Buckeyes and Wisconsin were overrated when they were ranked near the top – Wisconsin has proven so. I doubt Ohio State is going to get too much further along after the way they played against Xavier. It's tough to say if the Big Ten is weak or if this was just an unlucky year. Winning a tournament like that is contingent upon a team getting hot at the right time and I don't think the Big Ten teams are playing their best basketball right now.
On Saturday, Michigan fired head basketball coach Tommy Amaker after six seasons. He took over a program decimated under NCAA sanctions, led them to four winning seasons, a 109-83 overall record and 43-53 record in the Big Ten. The Wolverines scored NIT bids in three of the past four years. Obviously that wasn't good enough for Michigan, but as a Nittany Lion, would you take that?
As a Nittany Lion any postseason play is a good thing. We are definitely not comparing apples to apples when you talk about the Michigan and Penn State basketball programs; Wolverine fans have come to expect a high level of play from their teams since the Fab 5. Penn State fans would be happy just to take a step to becoming a middle of the road Big Ten team on a consistent basis. Until the Nittany Lions can start recruiting like Michigan, you can't expect great things.
Let's talk some football. Spring practice starts up this week. There are several starting positions up for grabs: Linebacker, free safety, defensive line, offensive line, and running back to name a few. For a lot of guys it's do-or-die time. They have been riding the bench for a couple years and their eligibility is running out. If they don't come out of the spring with a starting job they probably won't get one at Penn State. Who are the biggest do-or-die players?
Put a gigantic red bullseye on Austin Scott, not only is it a do-or-die year for him personally, but it's make or break for the team as well. Anthony Morelli isn't going to go Peyton Manning on Big Ten defenses; there will have to be balance. That means the running back has to be able to keep teams honest and mitigate some of the pressure on the passing game. That is where Scott comes in, if he runs like he did in the Orange Bowl, this team will have the chance to be a good offense, if he shows up to meetings late and doesn't work hard in the offseason, we could be in for another year like last year.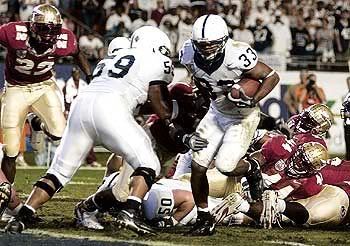 More like this, please.
Here we are in March. Everybody knows our biggest need is running back in this recruiting class, and so far nobody can confirm we have even offered a scholarship to a running back. Should we be concerned the staff is going to strike out two years in a row at bringing in a blue chip running back?
Concerned – absolutely but let's not press the panic button yet, it's early. We need to be careful when throwing around the term "Blue Chip" because you never know when it comes to 18 year-old kids. The key here is signing more than one decent running back with Big Ten size. Penn State can't afford to place all their eggs in one basket they need to recruit three or four running backs with the hopes of one panning out. The real worry isn't the quality of running back they are going after but the quantity. I had expected them to go after every good PA running back by now and that hasn't happened yet.
Lightning Round
Which of the NCAA tournament teams still alive looks the most impressive?

North Carolina
Which of the NCAA tournament teams still alive doesn't deserve to be there?
Like I said previously – OSU, I don't think they will be around much longer.
Coke or Pepsi?

If I have a choice I choose Coke but like most people if the waitress says all we have is Pepsi, I say whatever, that's fine.
Don't forget to stop by
Run Up The Score
and
Black Shoe Diaries
for their answers as well. As always, you can leave your thoughts in the comment section below – how are
you
doing in your bracket?