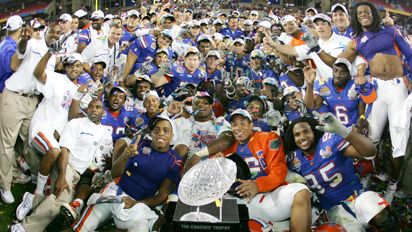 Wow. I'm simply stunned at the total dominance Florida put on Ohio State last night. Simply… stunned. After Ted Ginn returned the opening kickoff 93 yards for a touchdown it looked like OSU was going to run away with it but Florida destroyed from that point forward. I don't want to take anything away from Florida, they executed flawlessly, but as Joe Paterno always says – "You're never as good as you look when you win and you're never as bad as you look when you lose."
What have we learned?
-The 51 55 day layoff is too much for a team to handle.
This is partially due to the late date of the Championship game and partially due to the Big Ten's lack of a league championship game. I know Florida played one of the best defensive games I've ever seen but part of the blame has to go to Ohio State not at "game speed."
-The Heisman jinks continues.
Troy Smith's numbers: 4/14 for 35 yards 0 TD, 1 INT. That's the numbers of the best player in the land? Smith looked AWEFUL! I know he was pressured but on several occasions he caused pressure that wasn't there. At times with a sound pocket around him he got happy feet and ran outside the pocket into blocked defensive ends. Florida didn't need his help, they got enough pressure without Troy getting skittish as a cat on crack.
-When did Ohio State steal the defensive playbook from the Penn State – Notre Dame game?
The Buckeyes rarely blitzed but rarely covered anyone, allowing Leak to sit back and pick them apart. I thought I was watching Quinn throw against the Lions defense all over again. It was apparent, early on that the four down lineman of THEosu weren't going to pressure Leak by their lonesome, yet THEosu coaches REFUSED to bring extra men. Blitzing certainly couldn't hurt them, they weren't covering anyone anyway.
-How many 5 yard outs and bubble screens can a team turn into big gains?
The Gators wide receivers did a fantastic job of blocking THEosu defensive backs all night long. By the end of the game I new on 3rd and 6 Florida was throwing a 4 or 5 yard out that was going to be turned up field for a first down. It was like watching a movie script.
-Thank God we'll see Tim Tebow full time now – defensive coordinators will now have an excuse.
I've watched 3 Florida games now and I must be a defensive genius because I know what Florida is going to do when Tebow trots into the game. 90% of the time when Tebow is behind center he takes the snap and plows into the center of the line. I thought Ohio State would watch film and see this but apparently the film got lost because Tebow would receive the snap and dive ahead for 8 yards. Amazing.
-Adjustments anyone?
I've come to believe that Tressel is a "big game" coach but he never did anything different in the second half. Although the game was probably out of reach, they still plugged on without doing anything different. Some will criticize Tressel's decision to go for it on 4th and 1 in the second quarter but they needed to get something going and they were (supposed to be) one of the best offenses in the nation.
-And you thought you were sick of hearing Charlie Weis labeled a Genius.
Just wait, baby. Now you are going to hear how great Urban Meyer is – just wait. ESPN is already writing the script for several shows on Meyer's triumphant rise to college football supremacy – all they need is some touchy-feely story about a family member with a debilitating disease.
-Back to the drawing board ESPN.
The worldwide leader unveiled their Accuscore system for the bowl games; a computer simulation of the game before the game. It's prediction for the BCS Championship:
I wonder if they use the same computers for the BCS
-You knew "speed" was going to be the difference. Look, can we put to bed the whole SEC "speed" myth. Florida is definitely fast, but so are a bunch of other defenses across the country. Florida is a great defense that can get pressure with their front four which frees up a lot of options. Florida wasn't that much faster then OSU they were just that much better. If Florida was SO fast why couldn't they catch Ted Ginn on the opening kickoff? I guess SEC teams put their slow guys on special teams.

-The Big Ten can thank Penn State and Wisconsin. If not for the Nittany Lions and Badgers, the Big Ten would look like crap – actually they still do. It also helps that both beat teams with that mythical SEC "speed."

-We don't need a playoff? The last good argument against a playoff is now moot. Assuming an 8 team playoff – no team would get in with more then one loss which is the same number Florida had. BCS supporters say that a playoff would cheapen the regular season because a loss in the regular season wouldn't hurt. Well, that's what you had this season – the Gator's loss to Auburn is meaningless in the grand scheme of things. In addition the major bowl games were completely shittacular. The BCS championship game, Sugar bowl, and Rose bowl were all complete stinkers hardly worth watching. Until the system can match teams based on the quality of the matchup instead of how much money the game can make we will have the same kind of garbage games. Thank God for Boise State.