It's Wednesday so it's B&W roundtable day and Run from
Run Up The Score
has the questions this week.
1. Penn State finished 8-4 and lost to teams with a combined three losses. Should the Nittany Lions be ranked in the top 25 heading into the bowls?

No. Plain and simple, they shouldn't be ranked until they beat Tennessee. Now if they DO beat the Vols', there is no doubt they should be ranked at 9-4.
2. With so many 6-6 teams playing in the postseason, this may be a difficult question. What is the least compelling bowl game on the schedule?
I wrote about this game earlier, but the Miami – Nevada game will be a complete snorejob. The only interesting thing to tune in for will be the possibility of a bench clearing brawl.
3. How can Penn State beat Tennessee in the Outback Bowl?
Actually, I think PSU matches up better against Tennessee then Auburn. The Vols' have given up some yardage on the ground, something the PSU offense can actually exploit. Tennessee is 71st in rushing defense; Tony Hunt could keep the ball and the game close. We all know Penn State's defense can keep it close if the offense doesn't turn the ball over.
4. Are the Lions really the best four-loss team in the country?
I would feel pretty good with Penn State playing any of the four-loss teams. The three teams ranked at 9-4 are Nebraska, Oregon State, and Georgia Tech; none of those teams really put the fear of God in me.
5. What is the proper mix of non-conference cupcakes and real opponents? What should Penn State do with it's early season games? Are you happy with Florida International (0-12), Temple (1-11), and Buffalo (2-10) in 2007?

Penn State's schedule next season is atrocious and embarrassing. FIU and Buffalo are two of the worst teams in Div I. I've always been of the opinion that to be the best you have to beat the best. Moreover, if you schedule good teams early and lose one, you aren't exactly out of it, Florida got in with 1 loss.
Lightning Round:Would you take the Alabama head coaching job?

Not for all the Crimson Tide an elephant could handle – whatever the Hell that means
Most underappreciated and overrated team in 2006?

Overrated – no contest: Notre Dame, watch them get destroyed in their BCS bowl game
Underappreciated – Wake Forest (you said underappreciated not underrated): picked to finish dead last in their division, all they did was win the ACC and beat two ranked opponents. You have to love an underdog of this magnitude.
What will be the biggest bowl blowout?

Rutgers over Kansas State – KSU is 70th in run D and 63rd overall, look out!
Seriously, will you please take the Alabama job?

No one was named Bear or Bryant in my family so I don't qualify.
What gift do you want for the holidays?
Giada de Laurentiis - star of Food Network's
Everyday Italian -
for her fine culinary talents, of course.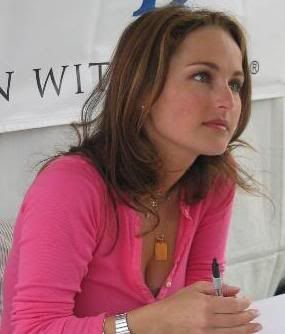 Now THAT'S Italian!
Be sure to leave your thoughts in the comment section below (coach, I'm waiting) and head on over to Run Up The Score and Black Shoe Diaries for their thoughts.