With the end of the college football regular season it's time to put an end to our
Dog vs. Experts challenge
. Before we take a look at the outcome of our little experiment lets take a look at last week. On the college side, everyone saw the ambush waiting for Notre Dame at the Coliseum – Lee agreed with Brandi and our readers were 100% unanimous in choosing USC over the Irish. The game of the week in the NFL wasn't so clean cut: our exert Aikman took Pittsburgh while Hammerin' Hank took Baltimore. Our readers agreed with Hank but only by a slim 60% margin. Baltimore handled Pittsburgh to give our readers and Hank a win to end the year and handed Aikman a loss.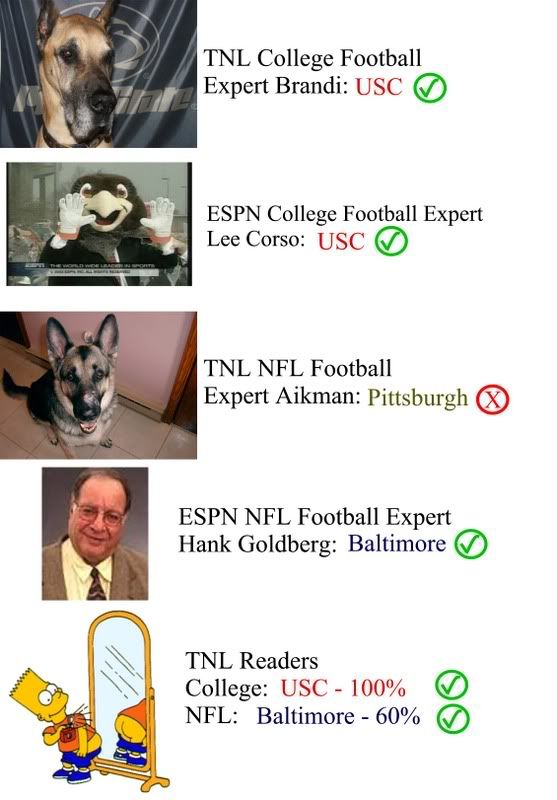 Results



Brandi distinguished herself this season while amassing a full four game lead over Lee Corso to end the season 10 – 3. She jumped out to a big lead, and like most champs, never let up as she coasted to a decisive victory over her ESPN counterpart. Let's just say there will be an extra large dog bone waiting under the Christmas tree for Miss Brandi this year; she has made her owner proud. SDIAB once asked me if I was somehow cheating and helping Brandi with her picks – my response was simple: there's no way in HELL I could have "helped" Brandi to a 10 – 3 record, I would have only hindered her – she's legit. Side note – Brandi can be rented out for weddings, parties, and bar mitzvahs for a nominal fee. See the Wonderdog in your own home! (Airfare not included)


One would think that a good working knowledge of college football teams would be a prerequisite for being 1/3 of the main crew of ESPN's most popular college football show, but apparently that's not the case. Lee finished one game under .500 at 6-7 in all the "tough" games to predict. I'm beginning to believe that Lee's presence is nothing more then a "stooge" to Herbstreit's "straight man."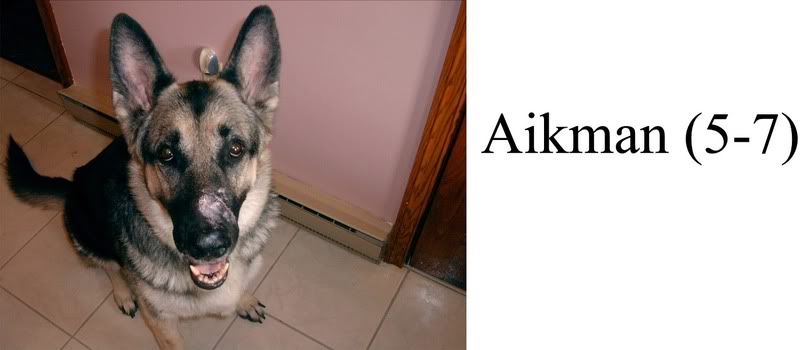 Aikman didn't have the year that Brandi did, but that didn't stop him from finishing only a ½ game behind ESPN's Hank Goldberg. At 5-7 he's not going to make anyone rich with his picks, but we'll take it nonetheless. Perhaps being named after the Dallas Cowboys' most famous quarterback might have something to do with his less then .500 record – maybe the sight of T.O. as a Cowboy has sent Aikman into a football coma; we don't know but he still did good enough for us.




Hank has been pathetic throughout his career as an ESPN analyst – seldom does he surpass the .500 mark for the year. The really sad part is "Hammerin" Hank cherrypicks games and only takes the low hanging fruit, yet even with the "easy" games he still finishes at or below .500 regularly. An inanimate object such as a coin flipped each week would statistically beat Hank. We intentionally chose games that had low spreads because that meant that the odds makers believed them to be close games – Hank rarely picked the same games we did which shows his true colors. Finishing a ½ game ahead of a dog at 5-6-1 should prove, without a doubt, Hank is an idiot.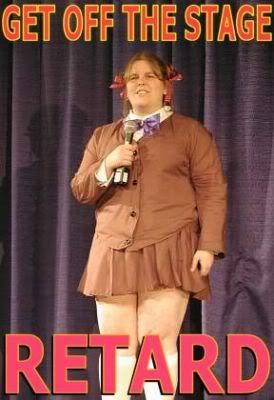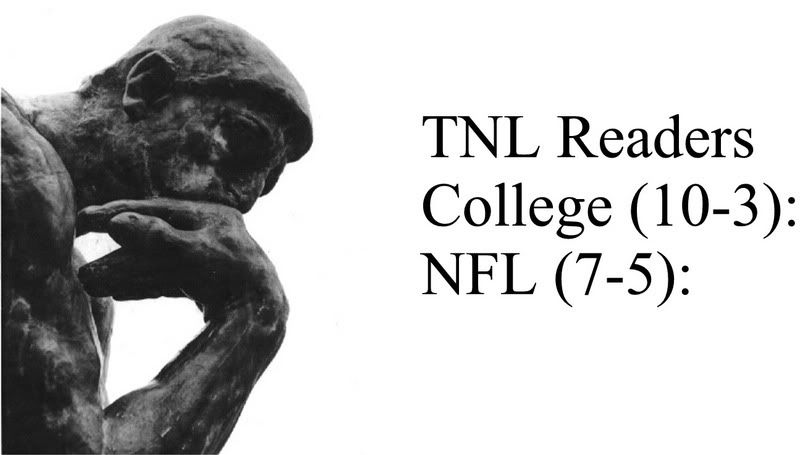 That brings us to the astute readers of The Nittany Line. You kept pace with Brandi and finished tied with her at 10-3 while easily surpassing everyone on the NFL side at 7-5. Kudos. This just further proves that the average web-surfer is better at football analysis then the paid, talking heads at ESPN.
Conclusion
We set out to prove that ESPN's "expert" analysts were so bad at picking the outcome of tough football games that our dogs could do as good a job, let alone someone who actually knows what they are talking about. Let's just say this: mission accomplished! Even though Aikman was percentage points behind Hank it was damn close and Brandi blew Lee out of the water. Furthermore, our readers were better then everyone which shows that the average Joe has more football knowledge then the dumbasses on ESPN.