Before I begin, I would like to say "suck my ass" AccuWeather and The Weather Channel. Thanks for the fantastically accurate forecasts; yeah the rain will stop at 11:00 except you got the AM and PM mixed up. If I was as inaccurate as you jerkoffs at my job, I would have been fired 6 years ago when I started. That having been said, let's get to the meat and potatoes.
In the order of satisfied to dissatisfied, here is a breakdown of the Akron game:
Special Teams
Yes they made quite a few blunders, turned the ball over, and the kickoff coverage was a tad pedestrian, but here is why I loved this part of the team: D.W. and A.J. Wallace returning kicks. Loved it, loved it, LOVED…. IT!! Finally, after watching Paterno put in the "safe" guy returning kicks while the best athletes sat on the sideline, we get the Nits' thoroughbreds carrying the ball on kick returns. Wallace is obviously a star in the making and the coaches see that. He had a magnificent reverse and a great kickoff return that he unfortunately fumbled. I'll forgive him because of the conditions and apparently Paterno did as well because on the ensuing kick return he did the same thing, but held onto the ball this time. Mark my words; these two guys will win a game for Penn State with kick returns this season. Kevin Kelly was a big question mark coming into this season because of his Orange Bowl mishaps; but he answered questions right away with field goals of 39 and 42 yards in rainy damp conditions.
A.J. Wallace made it look easy


Quarterback

Speaking of answering questions, how about Anthony Morelli completing his first pass as a starter for a 42 yard TD? Yes he only completed 50% of his passes and looked to rush the ball at times, but he looked comfortable, went through his progressions and controlled the offense well. For his first game, it was good. He will have to be much better to beat Notre Dame, but so will the whole team.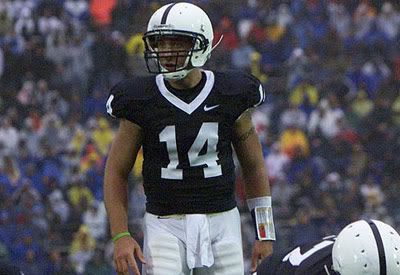 Good, even in damp conditions
Wide Receivers/Tight End
The receivers did what was expected of them and helped Morelli transition into his starting role. They made tough catches and held onto the ball. Jordon Norwood had a big day with 7 catches including his first touchdown as a starter. The tight end situation seems to still be up in the air. Kevin Darling was tabbed as the starter but there was a lot of Jordan Lyons, especially in passing situations. Lyons seems to be the logical choice as far as a receiving threat but didn't have a great game.

Defense
So you shut down Mr. Butkus, well taste the deadly assault of Dan Connor. Apparently someone put extra sugar on Connor's Wheaties Saturday morning because he was all over the field recording 13 tackles, 3.5 TFL, and 2 sacks. Like I had hoped, Jimmy Shaw was a force to recon with before injuring his ankle on a hold/tackle that ended his day. He will be a big loss in the Notre Dame game because early reports have him out. He didn't record any sacks but was impossible to block for the Akron line and will put a lot of punch back into the Defensive front when he returns. The D-line wasn't impressive and will need to generate more pressure if they wish to win in the upcoming games. The secondary held its own and Donnie Johnson was a pleasant surprise, sticking his nose in a lot of plays at or around the line of scrimmage. Sean Lee is everything Penn State fans are hoping for and will keep the 3-4 in the back of coach's minds when things get rough.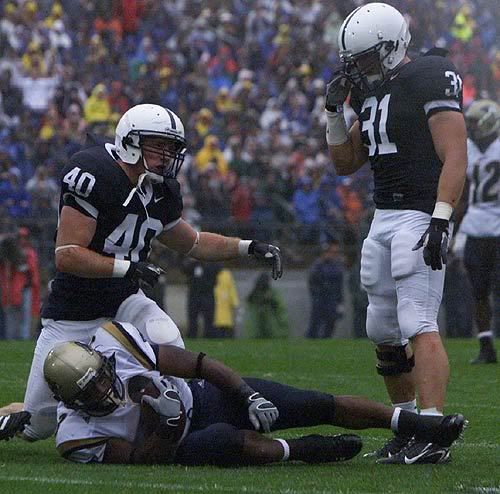 Pick your poison


Offensive line

Paterno was worried about his buffet busters because of their lack of experience. His worries were validated as the running game didn't materialize. Tony Hunt didn't have room and Levi Brown was visibly aggravated at Penn State's inability to run block, throwing his helmet in disgust at one point. On the flip side of the coin, the line did a very good job of pass protection. Morelli had a decent pocket to pass from and he certainly wasn't running for his life. The line gave up no sacks, which is a very good sign. For their first start together, they did a decent job, but much work is needed, quickly if they are going to be able to handle Notre Dame's more athletic front 7.
Overall

Last season the coaches put the team's chances on the capable shoulders of Michael Robinson; relying on him to make plays in the clutch. This season the coaches made sure new QB Morelli didn't have to do it all on his own. Last year it took Robinson several games till he was comfortable passing the ball and really didn't get things going until the Northwestern comeback. To his credit Morelli looked calm and cool and the offensive line gave him time. Morelli seems to be a step ahead of where Robinson was at this time last season but then again it was only one game. The offense did what it was supposed to and scored on the first three drives (2 TD, 1 FG) putting Akron behind the eight ball early. The defense was good enough to win, not allowing Akron to get into the end zone until early in the second half after a fumbled kick return. The pass rush still is a question mark and will be needed against Brady Quinn next week.