We're getting ever so close to the real meat and potatoes of the schedule, the day that teams play for (or at least they used to): New Year's Day. But first there's the day before and before you venture off to consume large quantities of alcohol just so you have an excuse to kiss that semi-attractive and slightly overweight chick at the end of the bar at midnight, there's some games to get through. As always we start with the system.
BELL HELICOPTER ARMED FORCES BOWL
Houston (10-3) vs. Air Force (7-5)
Dec. 31, 12:00 PM - ESPN

A word from our sponsor: The Bell Helicopter Armed Forces bowl is in its seventh year and is currently under contract with Conference USA and the Mountain West conference through 2013. Of course how can you not like a bowl whose main sponsor is a Helicopter manufacturer, the Army, and the Marines? Of course it wouldn't be a sporting event if it wasn't also sponsored by a Budweiser product.

On the field: This will be a rematch of last year's Armed Forces game which Houston won 34-28, and it could be even more exciting and high scoring. In this game you have the best passing offense in Houston against the best passing defense in Air Force. You also have the 3rd best rushing attack in Air Force against the 112th ranked rushing defense. Cougar QB and Davey O'Brian Award finalist Case Keenum has the kind of numbers you only see in video games. This season Keenum threw for 5449 yards, 43 touchdowns and only 9 interceptions. He's completing 71% of his passes. Three wide receivers have at least 985 yards led by Iowa transfer James Cleveland. For Air Force watch for Jared Tew and Asher Clark who have 797 and 736 rushing yards on the season. This could be a battle of wills, can Air Force control the ball and the clock with their rushing attack or will Houston get a lead and force Air Force to throw more?

+1 Military academy – if you don't watch the terrorists win
+1 Award finalist QB with crazy stats
+1 great passing offense vs. great passing defense
+1 great passing offense vs. great rushing offense
MCR 4 (Viper/Shelby Cobra)

BRUT SUN BOWL
Oklahoma (7-5) vs. Stanford (8-4)
Dec. 31, 2:00 PM - CBS

A word from our sponsor: I'll bet you didn't know this little piece of info: The Sun Bowl was first played on January 1, 1935, as a fund-raising event for a local service club, to benefit underprivileged children and to finance improvements to the El Paso High School Stadium. It has grown into El Paso's number one national attraction and is second only to the Rose Bowl in longevity. So they're the second longest running bowl that had such noble beginnings… and now they're sponsored by deodorant. Something stinks alright: it's called corporate greed.

On the field: Oklahoma coach Bob Stoops has lost five of his past six bowl games. TNL favorite Jim Harbaugh is coaching in his first. This will be a matchup of Heisman finalist Toby Gerhart the nation's top rusher against the 7th best rush defense. Oklahoma also ranks 7th in total defense as well. After QB Sam Bradford went down the Sooners relied on freshman quarterback Landry Jones. Jones has completed 58% of his passes for 2780 yards and 23 TD's but has been inconsistent at times. He threw four or more TD passes in three games this year but also had a five interception game in a loss to Nebraska.

+1 Heisman finalist
+1 chance to put a mic in front of Jim Harbaugh
+1 great running back vs. great rush D
MCR 3(Jessica Simpson Sex Tape)

TEXAS BOWL
Navy (8-4) vs. Missouri (8-4)
Dec. 31, 3:30 PM - CBS

A word from our sponsor: At least this makes sense; the main corporate sponsor for the Texas Bowl is Houston. As in the city of. Finally a bowl partner that makes sense. Oh, don't get me wrong there are lots and lots of other sponsors but at least there isn't any real shame in using this main sponsor.

Quick side note, in there information page under Quick Facts they list the results of past Texas Bowls, and they have this year's listed:
2009 Texas Bowl

* Date: Thursday, December 31, 2009, 2:30pm CST
* Television: ESPN
* Conferences: TBA

Except they haven't updated the page yet to reflect this year's teams. Come on, who the hell is asleep at the switch? That should have been updated the night the game was announced. But I digress…

On the field: Another matchup of contrasting styles, Navy has the 4th best rushing offense in the country and Missouri has the 14th best passing attack. The Tigers have scored at least 32 points in each of its past 5 games and are led by wide receiver Danario Alexander, the nation's leader in receiving yards with 1644. Navy has two players with at least 925 yards led by running QB Ricky Dobbs who has only thrown for 901. Dobbs set an NCAA record for rushing TD's in a season with 24. It won't be easy for the Midshipman though as Missouri boasts the 12th best rushing defense in the country.

+1 Military academy – if you don't watch the terrorists win
+1 record-setting QB
+1 best WR in the nation
-1 blowout possibility
MCR 2(Microwave dinner)

INSIGHT BOWL
Minnesota (6-6) vs. Iowa St (6-6)
Dec. 31, 6:00 PM - NFL NETWORK

A word from our sponsor: Ok, this is just fucking sweet, on the sponsor page of the Insight Bowl website there's a blurb about the company Insight: Insight is a technology solutions provider serving global and local clients in 170 countries. Today, thousands of clients, including more than 80 percent of the Global Fortune 500, rely on Insight to acquire, implement and manage technology solutions to empower their business. Stick with me here, they're a "technology solutions provider" which means they should know their shit when it comes to something as trivial as say… an internet hyperlink, yet when I click on their link I get the following page.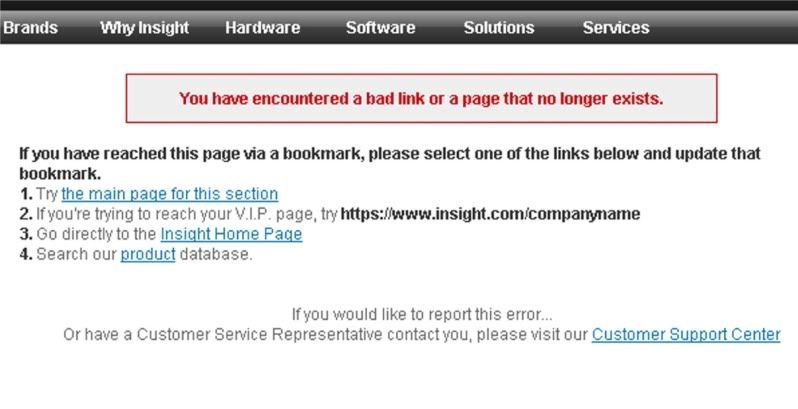 That my friends, is delicious.

On the field: Iowa State's offense is built around the run game and is led by Alexander Robinson who rushed for 1,058 yards this season (4th best in the Big 12). Minnesota's bread and butter is the passing game and all-Big Ten wide receiver Eric Decker. Unfortunately Decker went down with a season ending foot injury. Without him, the Gophers went 2-2 losing to lowly Illinois and Iowa, a game the failed to score a single point. Minnesota will have to rely on QB Adam Weber who has had mixed results since Decker's injury. Against Michigan State Weber threw for 416 yards in a 42-34 win, but against South Dakota State he only managed 94 yards (also a win).

+1 even match-up
-1 two pathetic offenses
MCR 0 (Rosie O'Donnell Talk Show)

CHICK-FIL-A BOWL
Va Tech (9-3) vs. Tennessee (7-5)
Dec. 31, 7:30 PM - ESPN

A word from our sponsor: Chick-fil-A boasts that tasty and nutritious are one in the same, that's why they use only the most wholesome ingredients, prepared fresh daily. Yes, they use only the freshest, most wholesome ingredients… then coat the bastards and dunk them in artery clogging partially hydrogenated cooking oil. I'm feeling more healthy just reading about it.

On the field: Tennessee has the advantage at quarterback with Jonathon Crompton who improved down the stretch and has tossed 26 touchdowns and 12 picks. Virginia Tech has the advantage at running back with super freshman Ryan Williams who rushed for 1538 yards, eighth-most by a freshman in NCAA history. Both offenses are pretty evenly matched, both score about 30 points a game and both gain about 390 yards per game, they just get there differently: Tennessee favors the pass while Virginia Tech favors the run. The difference may come down to defense and the Vols have Jim Thorpe Award winning safety Eric Berry who does a little of everything.

+1 two evenly matched teams
+1 award winning safety
+1 chance for Lane Kiffin to put his foot in his mouth on a national stage
MCR 3(Jessica Simpson Sex Tape)