TNL said – ???? – I was swamped at the end of last week and therefore unable to get in my preview. Sorry about that my bad, when asked for a prediction before the game at my tailgate I said 55 – 17 (PSU), so there you go.
Actual Score – 45 – 3 (PSU)
After watching last year's game I assumed Temple would get a touchdown on the first team D. I felt the offense would do just what they did and run up points early but I assumed Temple would get some garbage scores on PSU's 2nd and 3rd string defenses, but they didn't. I knew a slow start for Penn State was inevitable I just hope we won't see a repeat of that next week.
Offense
There were really two sides of the story for the offense against Temple, they were able to mow through an overmatched defense when they held onto the ball, but they were extremely sloppy. Darryl Clark threw his first interception on Penn State's second drive and the team fumbled 5 times losing one. Clark's pick was a terribly overthrown ball while trying to connect with Brett Brackett and he said it best:
"We stunk in the first quarter," Clark said. "The interception - the ball was intended for [6-foot-5] Brett Brackett. He's our tallest receiver. If you overthrow him, that was a bad throw."
Indeed.
The fumbles are particularly disturbing; the bounces won't keep going Penn State's way if they continue to put the ball on the ground. Derrick Williams tried to field a punt on the run (unsuccessfully) and was lucky Scirrotto was there to scoop up the fumble. In a situation like that Williams has to keep in mind his job is to get the defense off the field first and foremost, any return is just gravy. Penn State's offense doesn't need good field position to mount a scoring drive but they do need the ball.
Clark settled down and the offense caught fire in the second quarter scoring 31 unanswered points to put any thoughts of an upset out of the minds of the PSU faithful. Wide Receivers Brett Brackett and Graham Zug each caught their first career touchdown catches and Evan Royster and Clark added touchdown runs before intermission. Brackett's TD was a beautiful strike over the middle of the field that was put right on the money by Clark allowing Brett to waltz into the endzone. No one wide receiver had a spectacular day but 10 different players caught the ball. We even saw the return of erstwhile doghouse denizen Andrew Quarless who tied for the team lead in catches with 4 for 50 yards.
If Quarless plays like he did Saturday it's going to add another dimension to an already dynamic offense.Royster averaged his normal 8.1 yards per carry on 9 attempts and looked his normally solid self but the story of the day was Stephfon Green who blew through the center of the line broke a tackle and bolted 69 yards for a score. After the Blue-White game I openly questioned Green's vision and ability to run inside and as it turns out I am, once again, wrong. Green has done a good job of following his blocking reading the play and breaking arm tackles and you can't ask for much more. I knew he had the speed once he got into the open but it was his ability to get in the open that I questioned and he has answered. I'll say this much, miss a tackle on him and you might as well head for the sideline because he'll make you pay. For the record Green finished with 132 yards with an eye-popping 14.7 yards per carry.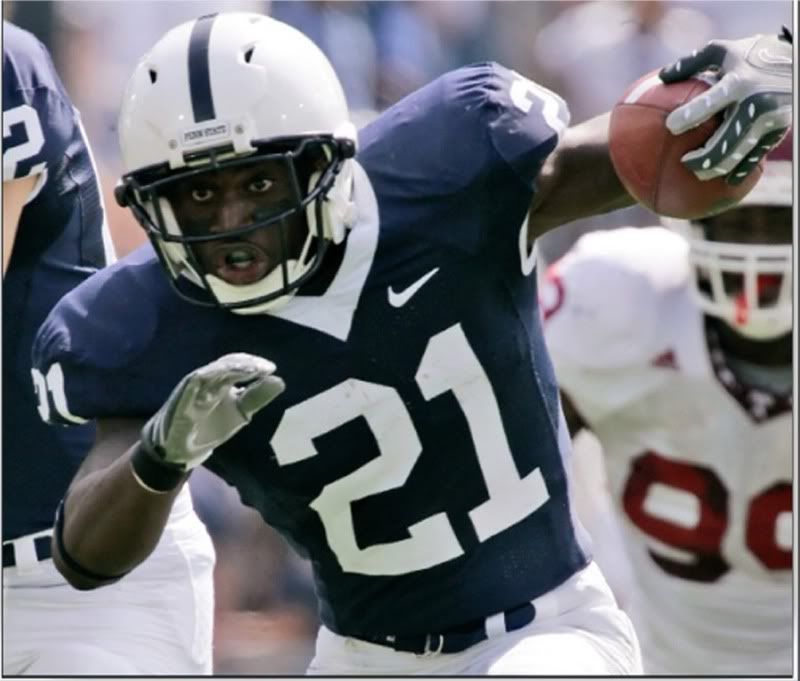 Yes he's fast.

Defense
Up until this game the biggest benefactor of the Penn State scoring machine has been the defense. The Nittany Lion offense has pounded its cupcake opposition early and often allowing the defense a lot of rest and a gigantic lead to play with, Saturday afternoon was a different story. The good news is the defense answered the call and kept Temple in check until the offense got the wakeup call and started scoring. Temple managed just 10 first downs and 138 yards of total offense. Temple did manage a couple first downs early when the game was scoreless but once Penn State turned on the jets, Temple all but abandoned the run. It didn't help that Aaron Maybin knocked Temple quarterback Adam DiMichele out of the game on the first series.
Speaking of Aaron Maybin, is there anyone that has taken an opportunity and made the most of it like Maybin has. With Maurice Evans' status lying in the hands of Judicial Affairs Maybin has been a force to reckon with coming from the outside. On the one sack Maybin was chipped by the running back and blew by the tackle so fast he barely got a hand on him. One can question Maybin's size and run stopping ability but you can't question his motor, he flies to the ball.
Also flying to the ball all game long was linebacker Navorro Bowman. Bowman once again led the team in tackles but his stat line was more impressive than that.
| | | | | | | | | | | | | |
| --- | --- | --- | --- | --- | --- | --- | --- | --- | --- | --- | --- | --- |
| ## | | Solo | Ast | Total | TFL/Yds | FF | FR-Yds | Int | BrUp | Blkd | Sack/Yds | QBH |
| 18 | | 8 | 3 | 11 | 5.0/17 | 1 | . | 1 | . | . | 3.0/13 | |
A forced fumble, interception and three sacks is a big day for anyone but it's impressive for a guy making his first career start. I wish I could say the same thing about Josh Hull but really most Penn State fans couldn't remember his number he's so absent from the big plays.
Drew Astorino continues to improve and was near the ball all game long. The defense preyed on Temple backup quarterback Chester Stewart who threw three picks. Josh Gaines continues to play solid collecting 3 tackles for loss including two sacks. Even without Evans the defensive ends are still one of the best units in the Big Televen.
Special Teams
In a word: Bleeekkkkk. The kick coverage team reverted to its 2007 form allowing 221 return yards for a 36.8 yard average. Completely unacceptable. If they do that in the Big Ten against teams with an offensive pulse Penn State could be in for some serious shootouts. They have to fix that now. Is it personnel, scheme or the kickoffs themselves – I'm no expert but whatever it is changes have to be made we simply can't lose a game because of poor special team's play.
Jeremy Boone had an ordinary day averaging just under 40 yards per kick but he did have a beautiful punt that landed perfectly at the two yard line. Kevin Kelly converted a 44 yarder right down the middle that would have been good from 50 plus. At this point I'm not worried at all about Boone or Kelly, they both are an asset to this team.
Overall
I'll chalk this one up to a sluggish Penn State team looking ahead to Illinois. Once Penn State woke up they thoroughly throttled a completely overmatched opponent. I wish quarterback Adam DiMichele hadn't got knocked out of the game I would have liked to have seen Temple with a capable quarterback because backup Chester Stewart was horrendous. Temple had open receivers but Stewart couldn't hit them. I know Penn State has a great offense and I want to believe they have a strong defense but I just won't believe it until we see an offense that has some talent.
With a night game looming against a Big Ten foe I doubt you will see a slow start next week. Now Penn State finally gets the chance to show what they've got on the big stage. I expect there to be some game time jitters but I don't think you'll see a repeat of Saturday's performance. The Nittany Lions had their four game tune-up and now it's time to show their stuff.