It's time once again for our weekly look back at past Nittany Lion

cupcakes

opponents.
Coastal Carolina (2-2)
Now: The Chanticleers scored 31 unanswered points including 24 in the second half to pound Towson 31 -3. Coastal Carolina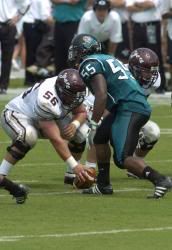 quarterback Zach MacDowall accounted for three of Coastal's four touchdowns and 197 yards of total offense (40 rush, 157 pass). He scored on a nine yard touchdown run in the first quarter and threw two touchdown passes in the third earning him a second straight Big South Players of the Week. The chicken gained 302 yards on the ground led by running back Eric O'Neal who rushed for 84 yards on just nine carries and scored the other Coastal touchdown. Linebacker D.J. Rice was also named Big South defensive Player of the Week for his 11 tackle (1 for loss) effort.
Next up: The Chanticleers travel to Greensboro, N.C. to take on North Carolina A&T.
Oregon State (1-2)
Now: Idle
Next Up: The Beavers get the fun task of hosting a Thursday night game against the USC Condoms. Good luck guys.
Syracuse (1-3)
Now: Believe it or not Syracuse won a game! I'm serious, here's proof. Ok smartass comments aside, tailback Curtis Brinkley had a career high 145 yards rushing including a touchdown as the Orange beat Northeastern 30-21. Running back Doug Hogue also had a career-high 100 yards rushing and scored three touchdowns (2 rush, 1 pass). SU EXPLODED for 438 yards of total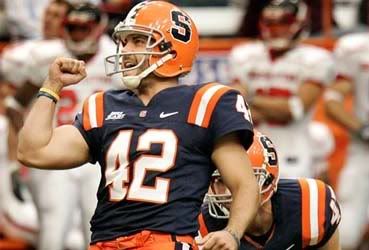 offense including 271 rushing yards. Orange place kicker Patrick Shadle was named Big East Special Teams player of the week for his three field goals of 46, 32, and 21 yards. It's Shadle's second consecutive Big East STPOW honor (yes he got it last week for his two 44 yard field goals against Penn State – who knew?)
Next Up: The Orange play host to Pittsburgh on Saturday for a noon pillow fight.