-First the unpleasantness... Penn State Tight End Andrew Quarless has been yet again suspended from the football team.
Penn State tight end Andrew Quarless has been suspended indefinitely for an unspecified violation of team rules, according to football team spokesman Jeff Nelson.



Quarless joins five other Lions who have been at least temporarily removed from the team for infractions since Jan. 25... This isn't Quarless' first visit to coach Joe Paterno's doghouse. The 6-foot-5, 252-pound sophomore sat out the first two games of last season after he was issued an underage drinking citation in August... He returned to a starting role but was often a nonfactor, catching just 14 passes for 205 yards and two touchdowns.
But hey, he still had a great freshman season.
-Now that we've got that out of the way onto the fun stuff. I would be remiss if I did not mention that one of professional football's greatest has official retired yesterday.
After flirting with retirement for years, Brett Favre means it this time. The Green Bay Packers quarterback quit Tuesday after a 17-season career in which he dazzled fans with his grit, heart and rocket of an arm.


"I know I can still play, but it's like I told my wife, I'm just tired mentally. I'm just tired," Favre, a three-time NFL MVP said.
Forget his rocket arm or no-fear attitude he displayed on a weekly basis, I'll remember Favre for all the poundings he took and yet gutted his way off the turf and back into the huddle. He IS the definition of guts. I know it has nothing to do with Penn State but you have to take a moment and tip your hat to greatness – congrats Brett Favre, you made Sunday's a little more fun to watch.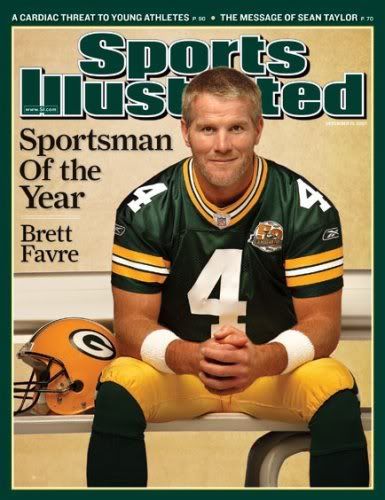 -Speaking of tipping your hat to greatness I want to end by acknowledging two of my Big Ten blogging brethren for their efforts this year: Black Heart Gold Pants won the 2008 CFBA Best New Blog and our dear old friend Mike has won the Best Big Ten Blog. BHGP deserves it simply because they are fucking funny. That expletive is totally necessary and I think I've made my point – read them, like every day.
As for Mike: what more can I say, the man breathes, eats, sleeps, and lives Penn State. I have no evidence of this but I wouldn't be shocked in the slightest if he and the old lady knock boots to the Penn State Blue Band CD – not shocked at all. Here is his humble (there's a surprise – isn't he always!?) acceptance speech.
But I plugged along because I love Penn State football. It's my hobby. It's my passion. I did it for my fellow Penn State fans like me who crave Penn State content 365 days a year. About six months after starting HTTL is when Peter approached me about coming on with SBN. So in August of 2006, Black Shoe Diaries was launched to a shaky start and the rest is history.
I remember Mike from his Hail To The Lion days and he's come a long way and made quite the success of it. It's very difficult coming up with content on a day by day basis and Mike makes it look easy.
I think shortly after I started up HTTL is when The Nittany Line and Run Up The Score started up. The three of us grew our blogs together. We encouraged each other. We bounced ideas off each other and RUTS soon came up with the idea to start the Blue White Roundtable. I consider Chris and Galen two of my best friends in the blogosphere. Thanks, guys.
The feeling is 100% totally mutual and it's been easy navigating the blogosphere when you have two skilled co-pilots pointing out the way. I've managed to meet Mike at one of his Penn State tailgates and he's just as transparent in life as he is in his blog – he's a great host and a very pleasant person. I'm excited about his win in particular because these award thingies are usually popularity contests among the bigger blogs but it's great to see the blogosphere pick one of the little guys. Congrats BHGP and congrats BSD!