Sorry about the lateness of the post people but I had a pretty bad morning – long story short, when you order a hamburger at a bar make sure you order it WELL DONE, trust me you'll thank me for it. Anyho, onto the debacle that was Temple. Yes, Penn State shut out Temple 31-0. Yes, they limited the Owls to 242 total yards and only 4 net rushing yards, but this was a horrible game that would have been a much worse outcome had it not been Temple. Again PSU gave up chunks of yards early. Again Penn State came out with a conservative defense that got ripped to shreds and again they telegraphed what few blitzes they tried (to no avail). The Nittany Lions can thank Temple for continuously shooting themselves in the foot. If Temple hadn't dropped the touchdown pass on a fake field goal, made the chip shot field goal on the first drive and didn't have a touchdown called back on a penalty, Penn State would have given up 17 points early and it would have been a completely different game.
Offense
With only one regular season game to go and said game being a road game we all just have to accept that Anthony Morelli will throw boneheaded passes on one play and beautiful darts of beauty on the next. Let's just all pray the aforementioned unthinkable tosses don't end up in the hands of defenders. I don't know if Anthony does a different routine on the road but he is just a different quarterback when Penn State travels. Morelli's line was impressive enough completing 22 of his 33 attempts for 260 yards and 3 touchdowns with one pick but several other passes should have been picked off and his fumble at the one yard line was inexcusable. Someone needs to explain to Anthony that he needs to protect the ball and stop reaching out for the extra yard – it's going to get slapped away every time.
I'm apprehensive about saying this but it appears that Derrick Williams has finally broken through to the next level. He had a career best 104 yards receiving and his 52 yard catch of a horribly underthrown ball is the kind of play we've been waiting for from Derrick. D.W. leapt over the defenders back and took the ball away – I don't care if it is only Temple it was an amazing catch.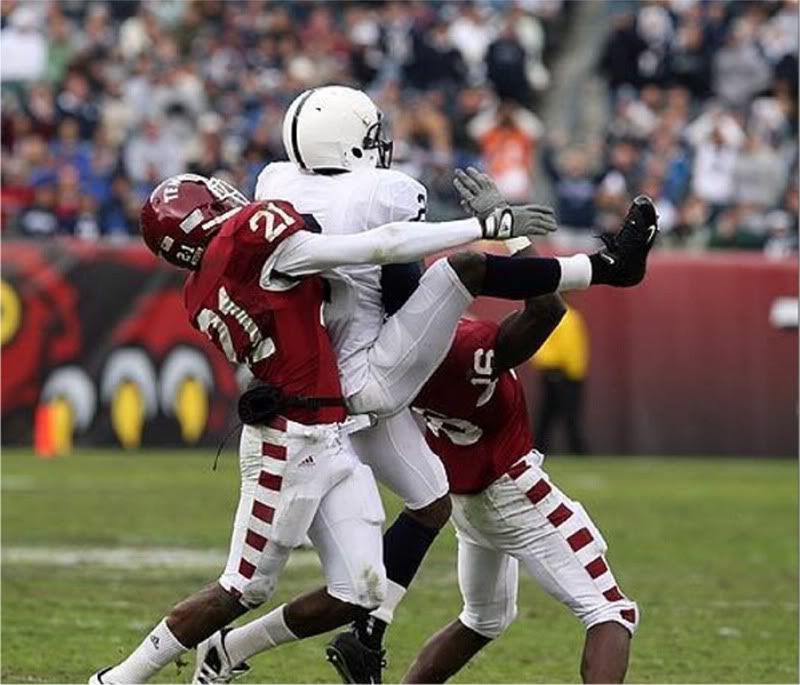 Rodney Kinlaw had a banner day rushing 27 times for 168 yards and a touchdown. His 6.2 yards per carry is pretty good although it was a pretty bad defense. Having said that Rodney eclipsed the 1000 yard mark for the year and let's not pooh-pooh that fact he's only the 11th Lion running back to accomplish that feat.
The offensive line was stellar again allowing only 1 sack and opening up some serious running lanes.
Defense
As mentioned before the kind of effort the defense put out will end in an 'L' against Michigan State. The defensive that leads the nation in sacks didn't start getting pressure until the game was settled and they could just pin their ears back and pass rush. They need to start generating pressure early in games when the game is still undecided. The defensive backs played off and consequently Temple moved the ball up and down the field early on. It was only after Penn State had control and Temple had to become one-dimensional that the defense started shutting things down. If PSU gets off to a slow start against the Spartans it's going to be a long day.
All negative aspects aside, Dan Connor was dominating while racking up 18 tackles and 1.5 sacks. For his efforts Connor was named the Big Ten Co-Defensive Player of the Week and the Walter Camp National Defensive Player of Week for the second time.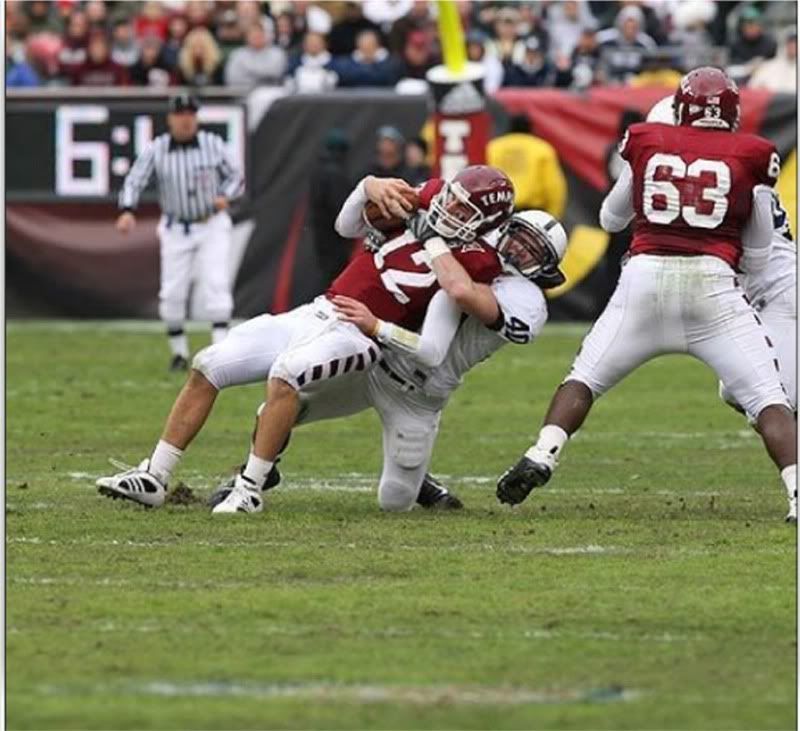 Sean Lee was all over the field as well chipping in 10 tackles of his own with two pass breakups and a fumble recovery. These two guys enjoy one–upping each other on a weekly basis. Chris Baker also came to play recording 2.5 sacks and getting a decent amount of pressure in the second half.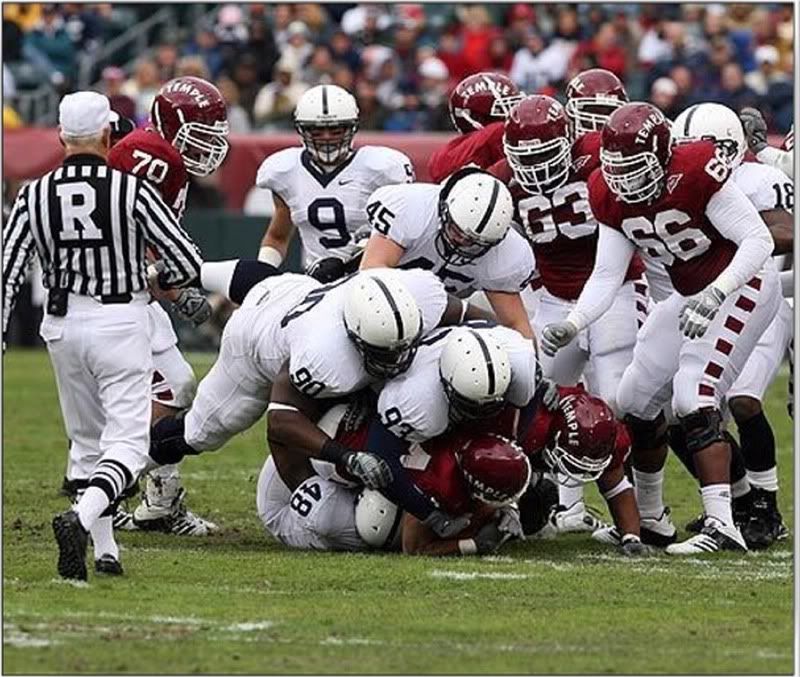 Special Teams
Another week and another piss-poor effort by Penn State's special teams. Kevin Kelley could not kick the ball into the end zone on any of his six kickoff attempts and coverage was again spotty at best. Jeremy Boone had an average day only managing 40 yards per kick with a long of 44 on three tries. With Temple getting shut out the return game never really had a chance and most of the time Anthony Scirrotto was returning punts in the "safe" formation Penn State likes to employ when they think a team has a penchant for fakes and trick plays and Temple certainly qualifies under the category.
Overall
I guess I'm being a tad on the negative side here, a win is a win and a shutout deserves some praise doesn't it? I suggested that the score was going to end up 35 – 10 so I must have thought the game would end just like this but I can't help but feel a bit worried. I just get this bad feeling in my gut that Penn State is going to play crappy against Michigan State Saturday and if they play like this they will lose. Then again that feeling could just be the rancid hamburger talking.