Allow me to start off by saying that the better team won on Saturday and I don't want to diminish in any way how good Ohio State played. The Buckeyes have a really solid team and the completely demolished Penn State. What Penn State did to Wisconsin is pretty much what Ohio State did to Penn State – dominate from beginning to end in all facets of the game.
Having said that allow me to interject that it's time for a complete scrubbing of the coaching staff. I was of the opinion that Tom Bradley was a decent defensive coordinator but even that is questionable at this point. Thinking back over the last couple years pretty much every big game Penn State has played in they have been thoroughly outcoached and Saturday was no different. With this coaching staff if Penn State isn't the team on the field with the superior talent, they lose.
Offense
No one expected Penn State's offense to score 35 points against one of the top ranked defenses in the country (statistically speaking) but I doubt anyone thought they had to. The offensive line had a decent day considering they gave up only two sacks and opened up enough holes for the team to average 6.0 yards per carry. Morelli once again threw an interception that was returned for a touchdown against Ohio State; he seems to enjoy doing that. He totaled 111 yards which won't beat many teams but then again, when you only have the ball for 49 plays you aren't going to get many chances. Kinlaw had the best day rushing for 81 yards and a touchdown on the opening drive. The offense didn't lose this game and I thought, probably like most of you, when the offense took their opening drive down the field and scored we were in good shape. Yeah, how'd that turn out? While the offense was pretty anemic they weren't the ones to blame… no the finger (you chose which one) gets pointed directly at the…
Defense
What do you do when your four down lineman can't get any pressure at all on the opposing team's quarterback and he has all day to sit in the pocket and wait for a receiver to get open? Why apparently you keep bringing four until that opposing quarterback throws for 250 + yards and 3 touchdowns. BRILLIANT!!! Never mind that Ohio State was blitzing on nearly every down and shutting down our offense or that there were a 100,000 people yelling "for the love of GOD, BLITZ!!! BLITZ DAMNIT!!!" Just keep on doing what you're doing Bradley it will all work out in the end buddy. Penn State didn't force a punt – not one! OSU was 12 of 16 on third down conversions, had 25 more plays than Penn State and held the ball for 15 more minutes. There's no excuse for that kind of play calling it was pathetic.
Penn State fans were worried at the beginning of the season that Justin King may go out early for the pros, I think fans should be worried he might come back. King was abused for the second straight game and looked terrible. It's one thing to get beat by a perfect throw when you have good coverage but it's another thing to get beat by 5 or 10 yards and that's how King's been playing these last couple games. I have no idea how Ted Ginn and Troy Smith can't beat King but Todd Boeckman and Brian Robiskie can!?! I don't know what is going on with Justin King but it's apparent that he can no longer do it on his own he needs help. Speaking of help what the hell happened to Penn State's safeties? Did they fall down a hole somewhere in Beaver Stadium? They DEFINITELY aren't blitzing because Penn State doesn't do that, so where are they on long throws? At this point I have absolutely no confidence in the defense at all. I'm actually more confident in the offense – how F'in sad is that?
Special Teams
Hey, we scored a touchdown on a kick return… yeah! Unfortunately it was in a blowout that didn't matter. Derrick Williams should not be returning kickoffs at all, that job should be A.J. Wallace's job permanently. Yeah there was some punting and a field goal made but really the special teams were a non factor in a blowout such as Saturday.
Overall
The game was essentially over when Paterno in his infinite wisdom decided to punt on 4th and 2 at Ohio State's 38 with time winding down in the 2nd quarter. The score was 17-7 and any score at all would put Penn State within one score with the ball back to start the second half. It was a stupid call that showed absolutely no confidence in the offense or the defense and it set the tone for the rest of the game. Oh and by the way how'd the punt turn out? In the endzone for a touchback – net yardage gained: 18. Awesome. Now that's hall of fame coaching if I ever saw it.
For the second straight year I walked out on a shitbag of a game in total disgust at our coaches' inability to prepare for another team and to manage the team on gameday (the other was Michigan in case you were wondering). The really really sad thing is I didn't even get mad – I walked back to the tailgate and ate some cupcakes because cupcakes make me feel better. Yeah, the others at the tailgate were yelling at the TV and throwing things and I just sat in the RV eating delicious chocolate sugary delight. I've come to expect this sort of garbage from this coaching staff and that speaks volumes.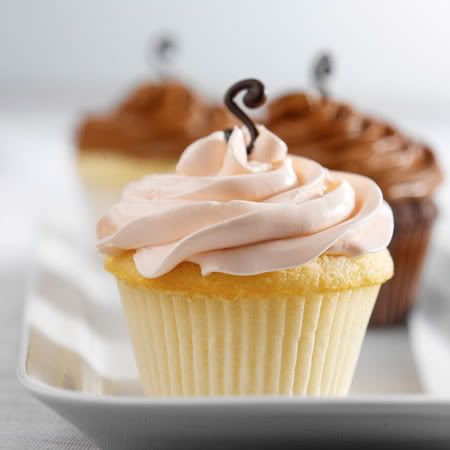 Who needs therapy when you have cupcakes?
I will say this, if I didn't have to watch the monkey crap that was the game I would have had a really great day. Gameday was fun and I got to finally meet my blogging cohort Nick and we both stopped by Black Shoe Diaries' tailgate and watched Mike's canopy blow away. So yeah, other than the game it was a pretty fun day.