It's the middle of the work week and that means Blue & White Roundtable time. This week it was our turn and I took it upon myself to come up with the lousy questions so here they are. Don't forget to check the answers of my esteemed colleagues.
Black Shoe Diaries
There Is No Name On My Jersey
The Nittany Notebook

William Yurasko
Run Up The Score
1) Will the loss of Hahn and/or Odrick have a big impact on either the offense in Hahn's case, or the defense in Odrick's case?
Galen: Hahn was an underrated player, he caught the ball well out of the backfield and had decent speed for a fullback; he will be missed. Dan Lawlor is supposedly a good blocking fullback but they probably won't be throwing any screens in his direction this Saturday. Odrick was having a fine year and will be missed because he was a starter but I think Abe Koroma and Tom McEowen will fill in nicely for him. I don't think anyone is worried about our defensive line now or for the next couple years. If there's a unit on this team that has extraordinary depth it's the defensive line.
Nick: Without question, losing Hahn could be devastating for the offense. He's been opening up gaping holes for the backs to run through and effective with the quick handoff up the gut. Now, with Scott and Hahn out, Royster and Kinlaw definitely need to step up the blocking and keep the quarterback on his feet.
2) Has Anthony Morelli redeemed himself in your eyes?
Galen: I threw this question in there to get a perspective of what people think now after Anthony has had two good games. Everyone was ready to throw him under the bus when he was throwing 60 interceptions per game but it's interesting to see how people view him now. My opinion of Morelli hasn't changed one bit I still think he's a scattershot quarterback that can look great on one play and terrible the next. The difference the last two games is the offensive line play. The line has been giving him time and when you let Anthony Morelli plant his feet he can knife you through the heart. Pressure him and he falls apart like a 1985 Dodge dart. Throw in the fact that the line has been run blocking and giving teams something else to think about and you have a more dynamic offense than three weeks ago. Let's not forget the play calling either, apparently Jay Paterno has been body snatched by aliens.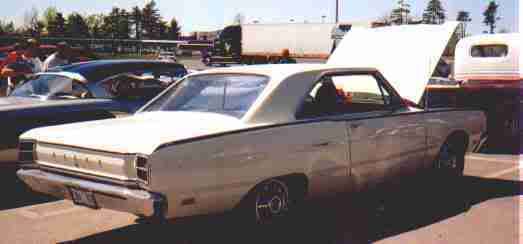 Anthony Morelli on the run
Nick: While at times he has been frustrating, I was never off of Morelli, but I have wanted to see Clark and Devlin in some more meaningful game situations. I think they are utilizing some more of Morelli's strengths now and he seems more comfortable. Hopefully, he can keep his emotions under control this week in search of the upset.
3) Is the offensive play calling where you want it to be now or do we still need help?
Galen: Speaking of play calling – yes the coaches have done a fine job the last two weeks. No conservative runs into the middle of the line and plenty of first down passes. The coaches even found that elusive area known as the middle of the field, it's amazing what you can do with a quick slant or post over the middle. I don't think anyone will confuse Penn State's offense for USC's but can we all stop the "stuck in the 70's" play calling cheer now?
Nick: We still need help, too many screens and plays that require time to develop. Time is one thing I don't expect us to have much of against Ohio State. Tighten up the Red Zone offense as well, if they find themselves there this weekend, can't rely on field goals, need to cash in those opportunities for touchdowns. Finish the deal. If they had been able to get touchdowns instead of field goals against Indiana, Hahn might still be playing this week.
Lightning Round
-Are you lucky enough to have scored tickets this week?
Galen: Considering this will be my last year for season tickets thanks to Tim Curley and his assault on the Penn State schedule – yes I'm very lucky to have tickets to this game.
Nick: No, but I know Galen has tickets. I suggest you sleep with one eye open son, because I'm about to get my ninja on. If anyone has legal means to get tickets, I only need one, so please get in touch with me. I don't want to have to snuff out my blog partner, but I will.
Editor's note: I'm not worried in the least Nick couldn't find me with directions a couple games ago
-Which Ohio State offensive player scares you the most?
Galen: Chris Wells. Stop him and make Ohio State one dimensional, let him run lose and it will be a long day.
Nick: Brian Robiskie – he could be a thorn in our side if we have a special teams coverage hiccup or he decides to go off like Hardy did last week.
-For the game Saturday are you: giddy, apprehensive, or on suicide watch?
Galen: Giddy – #25 vs. #1, what does Penn State have to lose?
Nick: Giddy – how can you not be excited about trying to take down number 1? There's really nothing negative about this game from Penn State's perspective. We're the underdog, lets give them something to choke on.