It's Wednesday and that means Blue & White Roundtable. It was RUTS' turn this week but I asked to take the reins because I'm in Vegas next week and won't have time for the questions, with all the gambling, hookers, and whatnot. So here's what I came up with… enjoy.
Let's get the recruiting questions out of the way first - two-sport star Terrelle Pryor, has narrowed his college choices to 11 schools and eliminated Pitt after a verbal commitment to play basketball for the Panthers in the spring of 2006. With PSU still one of his 11, does this look good for the Nittany Lions?
I get a hearty chuckle when I see a top recruit renege on Pitt, just like the laugh Pitt fans got when McCoy chose Pitt over Penn State. If Pryor does come to Penn State it would be the icing on a very delicious proverbial cake, but I don't see it. He lists Florida in his finalists and I'd be willing to bet that's where he ends up. The Gators are the sexy pick with those two shinny new national titles and what 18 year old wouldn't choose the sunny state of Florida with its year-round tan women over the feet of snow of central Pennsylvania? If he wants to play basketball and football why not go to the school that does both pretty damn well? But stranger things have happened.
Do you think Paterno's injury is hampering recruiting?
I would say from a physical standpoint I'm sure JoePa isn't getting out as much this offseason as he has in the past and I'm sure that hurts. You know opposing recruiters are using his injury against him but I don't know how successful playing up an injury could be. I could hear them saying "look the old man has to work from his house; you probably won't even see him." Early on I'm sure it worked against him but as he regains his health and starts to get out more I'm sure it will be a non-factor.
Paterno recently said that this year's football team has as much skill-position talent as any he has coached in a while (''maybe since 1994,'' he said) but needs leadership to temper its youth. Do you agree?
The message boards are livid with the "youth" part of the comment which is always good for a chuckle. My first reaction to this was one of skepticism, I thought the old man had really lost it, but when you think of the teams from 94 on I really can't name a team with more skill-position talent. I would say possibly the 99 team.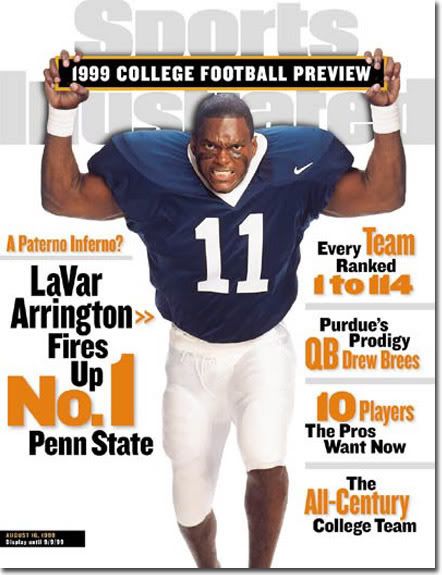 That team probably had similar overall skill-position talent but didn't have the offense that this year's team should have. Taking into consideration that this year's defense isn't far off from the 99 team I would think this team has more potential. The real problem is the two lines, how will they perform? I don't care how much improvement Morelli shows if he doesn't get time to pass it won't mean a thing.
Florida made basketball coach Billy Donovan and football coach Urban Meyer the highest-paid basketball-football coaching tandem costing the University more than $40 million through 2013. Are coaches' salaries getting out of control or is it just par for the course?
Colleges are starting to get into the realm of the absurd and the student body is going to pay for it. I love college football but when I have to take out a second mortgage so my son or daughter can go to college because the school wants a big-name coach, then I have problems. Schools need to remember that they are institutions of higher learning first and foremost; college football is secondary to that.
The NCAA recently booted Brian Bennett a writer for The (Louisville, Ky.) Courier-Journal for live blogging a game of the NCAA baseball tournament. Was the NCAA just or should we bloggers rise up and unit in protest?
Can the NCAA be any more transparent? The only reason they threw this guy out was to protect the networks that broadcast the games. It's a simple case of corporate greed and nothing more, there's no other logical explanation. The guy was live blogging, who is going to choose reading words in a quasi-live manner when they can watch it on TV? No one. Now if he was streaming live video or something of that manner I can understand the NCAA's beef but that wasn't the case. The NCAA is getting out of hand.
Lightning Round
Where will Zach Frazer end up?
Rutgers – they're close to home.
The Phillies are four games out of first place – now that Philly fans are sucked back in and have hope, how long till they tank and drive fans suicidal again?
Now it's down to three games – I'll say July 2 when they play my Astros, they'll start the skid.
How many licks does it take to get to the center of a tootsie pop?
32… or maybe 33.
There you have the pure genius of me asking questions and then answering myself – something that would normally require therapy of some variety but perfectly normal in the Blogosphere. As always, leave your thoughts in the comment section below and head on over to Run Up The Score and Black Shoe Diaries for their answers as well.