PSU Broadcaster Jeff Byers Named Broadcaster of the Year

Jeff Byers, the long-time voice of Penn State wrestling, has been named the
National Wrestling Media Association's Broadcaster of the Year
. He has been broadcasting Penn State wrestling since 1990. For those of us that follow Wrestling steadfastly we've come to recognize Jeff as part of the Wrestling program. Jeff announces the Big Ten and NCAA championship sans color man so he has the daunting task of keeping track of up to 8 matches at once some of which are in different weight classes. It's possible to have multiple PSU wrestlers on the mat at the same time yet Jeff does a seamless job of keeping you in tune with the action in each. I didn't realize it but Jeff also currently works for Fight On State magazine and the fightonstate.com website. Congrats Jeff, you deserve it.
(HT: Elihu)
Imagine if they had to spell the Shenandoah River!
It really couldn't have happened to a more appropriate school, but West Virgin(i)a's NIT championship T-shirts had a bit of a problem, it seems there's no "i" in team and only two in Virginia; according to the NIT.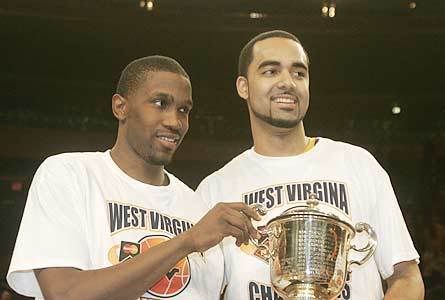 VU sports information director Shelly Poe said the NIT printed the shirts, and that even her inbred hic workers could spell the name of the state. Ok, I made that last part up.
(HT: BSD)

It's Deja Vu All Over Again
As if Buckeye fans don't already have a hatred of Florida, the Gators added fuel to the fire by beating Ohio State 84-75 in the NCAA basketball national championship game last night. It brings a smile to my face knowing an entire generation of buckeye fans will grow up hating two schools. Perhaps they can change their annoying chant to "we don't give a damn for the whole states of Florida and Michigan." Maybe they can get clever and combine the two and call it Flichigan or Morida. Yeah, Flichigan sounds the best. Whatever the case may be, rest assured that elementary schools all over the great state of Ohio are changing their Geography curriculum to include new maps.
Update:
BALLS OF STEEL AWARD
This has nothing to do with sports but it's too good not to mention and hey, it's a PA guy. For a story like this I'm forced to introducing a new addition to The Nittany Line: the TNL Balls Of Steel award – given to a person or persons displaying intestinal fortitude of Herculean magnitude or carrying oneself with a total disregard for the outcome of one's actions.

The inaugural TNL Balls Of Steel award goes to Paul H. Zeigler, 45, of Glen Rock, PA. Not only was Mr. Zeigler charged with DUI, but our hero decided to show up to his court hearing for his (now first) DUI with twice the legal limit of alcohol in his blood stream. Police report Paul "appeared to be intoxicated" at the hearing and gave him a portable breath test. At twice the legal limit, I'm guessing it didn't take an ace detective to deduce that Mr. Zeigler was drunk.
Judge: Mr. Zeigler are you currently intoxicated?
PZ: Fuuccckkk you juddddge and fuuuucckk tisss court. *sound of head bouncing off table as he passes out*
The TNL BOS award will remain in Mr. Zeigler's possession until someone does something to snatch it away and let me say this: it will have to pretty damn good to beat this out.
Update Part II:
My next car will be a Zamboni
More from the world of drinking and driving: a New Jersey man was cleared of DWI charges by Superior Court Judge Joseph Falcone on Monday and his license revocation and penalties were overturned. The man was charged with DWI in 2005 after a fellow employee at the Mennen Sports Arena in Morristown told police the Zamboni he was driving was speeding and nearly crashed into the boards. Peragallo, 64, testified at his trial that he did drink beer and vodka, but not until after he had groomed the ice. However, he told police he had a shot of Sambuca with his breakfast coffee and two Valium-pills before work.
Several question come to mind - first off: how does one "speed" in a Zamboni? Those things go like a max of 5 miles an hour. Don't you think you have a problem if you are taking a shot of Sambuca with your Cocoa Pebbles in the morning? Lastly, where do I get a Zamboni? That baby will be parked at my favorite watering hole every Friday night!

Sambuca: not just for breakfast anymore!