Notre Dame lost it's record-breaking ninth bowl game last night 41-14 to LSU in the BCS Sugar bowl, but Charlie Weis is still a genius.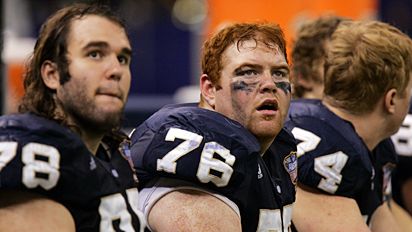 First I would like to point out that FOX has been covering most of the BCS bowls and their coverage has been less then stellar. This comes as a huge disappointment because ESPN/ABC need some competition and FOX isn't the answer. Instead of brining in fresh personalities we get a conglomerate of FOX's NFL guys who seem like they are doing this gig for a couple extra bucks instead of brining something new to the table. How many times did we have to hear about JaMarcus Russell's size last night? Yes he's big, I knew that because I've watched LSU before and showing pre-game pictures of 6'4" Bradshaw standing next to 6'6" JaMarcus did nothing to emphasize that point. If you want to make a real impact have a 5'10" guy standing next to him - that would add emphasis. I'm not 6'4", and neither is the average guy… get it? In addition, how many times did FOX come back from commercials late or get lost panning the crowd while the play is going on?!? Note to FOX execs: I'm a football junkie, I like to see the pre-snap motion and defensive alignments. Notre Dame cheerleaders or face painted LSU fans are nice and all but I
WOULD
like to see the FUCKING GAME!
Anyhow, it's another ranked opponent and another blowout for Notre Dame. How long must we be subjected to over-ranked bowl losses from this team? LSU did what Michigan and USC did earlier in the year – exposed the lack of speed and tackling of the Notre Dame defense. The Irish were written off from the start and they came out with a chip on their shoulder trying to prove everyone wrong. Unfortunately they made boneheaded mistakes and poor coaching decisions from the get-go. On their first drive Jeff Samardzija caught a pass for a first down and was promptly flagged for unsportsmanlike conduct for flipping the ball at the defender. Later in the drive on 4th and 3 at their own 34, super Genius Weis called a fake punt that was stuffed and gave LSU the ball deep in Irish territory. Two plays later the score was 7-0. It was a stupid call from a man who stressed not falling behind early and giving his offense a chance.
LSU jumped out to a two score lead but to their credit Notre Dame tied it up at 14 in the second quarter. That was the last time the score was close. Ironically the FOX announcers were raving about Weis' ability to adjust at halftime because he coached under Bill Belichick and Parcells, two guys adept at halftime adjustments. LSU then scored 20 unanswered points in the second half. Quinn had one of his worst days and Notre Dame is left searching for answers. Now Weis has a daunting task ahead – replacing a lot of talent on offense and trying to build something that resembles a defense. Hopefully after nine bowl loses, the last couple lopsided, people will stop giving Notre Dame the benefit of the doubt and make them earn their bowl invites; I'm not holding my breath.